Best tips to overcome acidity problem without medication

Due to our changed life style and eating habits, one of the most common problems which we are facing everyday is acidity. In this article I have given some basic ideas of the symptoms of acidity, reasons for its cause, some best ways to overcome this problem and some home remedies to cure this disease without medication.


Introduction
One of the commonest problem uttered by any common man in this modern world at present is Acidity. Acidity is usually caused due to excess secretion of gastric juice by gastric glands of stomach. This excess secretion of gastric juice leads to certain symptoms like burning sensation in the stomach, burning in the throat, heartburn, constipation, indigestion, gas formation, belching, vomiting sensation, sour taste, stomachache, restlessness etc. Prolonged continuation of this problem will lead to ulcer formation like problems. From very beginning of this problem if we give some care we can avoid Acidity problem without using medicines.

Constantly following the below explained tips will keep a person away from acidity problem and there is no need to use even medicines to control it.


Control your body weight gain
Weight gain is one of the cause for various health problems including Acidity. Weight gain leads to abdominal pressure, acid reflux, heart burn etc. Acidity and body weight gain are interlinked problems. Creating acidic conditions in your body leads to pH imbalance in your body. Imbalance in pH conditions in our body leads to hormonal imbalance which is the root cause for your weight gain. One can successfully balance the body pH by making changes in diet and life style changes. Eating healthy natural foods, taking supplements that helps you to maintain alkalinity of your body system, doing exercises which help to burn the fat to lose weight are necessary steps to lose weight.


Avoid drinking alcohol completely
Stop consuming alcohol in any form which is a risk factor for acidity problem. Alcohol in any form will irritate our stomach and increase the production of acids. With the influence of acidic conditions, esophageal valve gets opened up resulting in acid reflux, stomach pain, vomiting, sore throat, burning sensation in stomach, heart burn etc. Due to excess secretion of acids in the stomach, the protective layer of the inner stomach wall will be damaged leading to ulcer formation.


Stop smoking completely
Smoking promotes abdominal pressure which causes acid reflux. Smoking increases the acidity of duodenum which leads to ulcer formation and promotes the damage of inner protective tissue of stomach and duodenum. Smoking weakens sphincter valve present between stomach and esophagus. Due to this acidic content of the stomach gets back into esophagus or throat which causes acid reflux, heartburn or cause sore throat.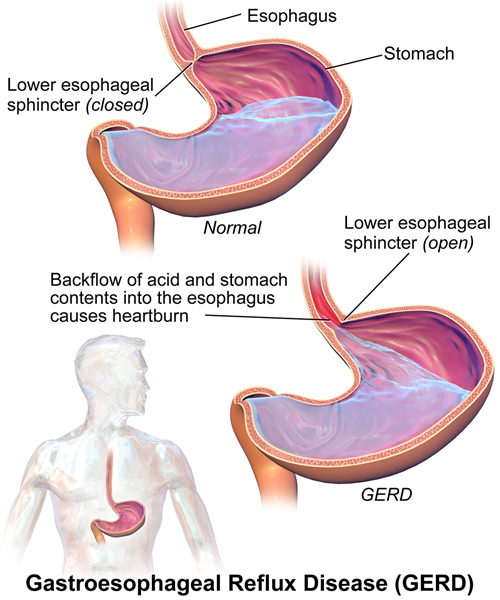 [Image Courtesy:-www.wikipedia.org]


Stop over consuming Coffee or Soft cool drinks
Caffeine present in Coffee and soft drinks will create acidic conditions in your digestive canal which prevent the closer of sphincter valve present between stomach and esophagus. This condition will lead to pushing of acidic food content back into throat which is a common experience felt by us when we consume excess Coffee or cool soft drinks. So one must avoid consuming excess Coffee or Soft drinks daily on regular basis.


Don't eat and sleep irregularlyEating food at irregular times will lead to acidity problem. Our digestive system will be tuned to secrete digestive juices at specific times of the day. If we don't eat at regular times, we find indigestion problem due to lack of digestive juices at the irregular times we eat. This is one of the major reason for the cause of acidity problem in an individual. Similarly if we don't sleep properly at regular time will lead to affect the metabolic activities of our body which finally affects our digestive function. This is another reason for causing Acidity problem in an individual.

Further tips The following tips will help one to overcome acidity problem without medication:


Timely eating, timely sleeping and eating to the limit are the most important rules to be followed by everyone in general to keep away acidity problem.
Don't consume more than two or three cups of Coffee or Tea everyday.
Keep away consuming Carbonated Sodas, Cool drinks or aerated drinks heavily which increases acidity problem.
If you have acidity problem, don't eat your heavy meal at one go and let divide into small portions and eat it at regular intervals which will help you to get digested very easily
Don't sleep immediately after eating. Leave at least two hours gap before you go to bed at night which will allow the food to move into your small intestine for easy digestion
Avoid eating oily foods like fry's, meat cooked with heavy oil, spicy food, pickles, roasted food items, bakery items with fat and creams, junk foods etc. which increase acidity problem
Don't skip meals and drink plenty of water to avoid acidity problem
Completely avoid smoking and consuming alcohol in any form to keep away acidity problem
Try to eat homemade food rather than outside food
Regular meditation and exercise will keep you away from anxiety and depression which improves your body's metabolic activities which in turn helps you to keep away from acidity problem.


Some home remedies to cure 'Acidity' Problem'Here I am providing some good home remedies to cure acidity problem:


Drink plenty of lukewarm water early in the morning after you get up from the bed. This will help you to flush out plenty of acidic wastes and metabolic toxic wastes created during night time in your body and this will also help to prevent the creation of acidic contents within your body. Drinking plenty of Coconut water also prevent the formation of acids in your body.
If little ginger paste mixed with little salt and lemon juice is consumed will help you to get relieved from severe acidity problem, vomiting sensation, burning sensation in stomach and throat, gas and indigestion problems.
Consuming few Basil or Tulsi leaves or drinking water boiled with chopped boiled Mint leaves will help you to relieve from acidity problem.
Chewing few Jeera seeds or Sauf seeds or Cloves or biting little Jaggery will relieve you from severe acidity problem.
Eating Bananas, Papaya, water melon or Goa fruits are best known for reducing acidity problem.
Drinking few cups of fat free milk or sour free butter milk will keep you free from acidity problem.


ConclusionFollowing good food eating habits, eating and sleeping at regular times, avoid over eating, doing regular physical exercise work daily will keep you away from acidity problem naturally. If any body facing acidity problem, one has to change their life style of living to keep themselves safe from acidity problem without using medicines.