Chitrabharati, 4th Indian Film Festival at WeSchool, Mumbai

Chitrabharati, the 4th Indian Film Festival by Prabhat Chitra Mandal celebrating the spirit of National Award winning filmmakers concludes at WeSchool.


Mumbai, 23/5/2016: Prabhat Chitra Mandal, the film society that has been actively promoting good cinema for the past 48 years has one more feather in its cap with the conclusion of Chitrabharati, The 4th Indian Film Festival that showcased a number National Award winning films in feature and short film categories from different India languages for the discerning film lovers from the city of Mumbai. Powered by Prin L.N.Welingkar Institute of Management (WeSchool) and Pu.La.Deshpande Maharashtra Kala Academy, the festival also had a book release, exhibition of vintage film posters and a competition of short films.The event was attended by the movie buffs, writers, critics, WeSchool's faculty and young wannabe filmmakers that waited eagerly to discuss the finer nuances of film making with the National award winning directors at the end of each screening.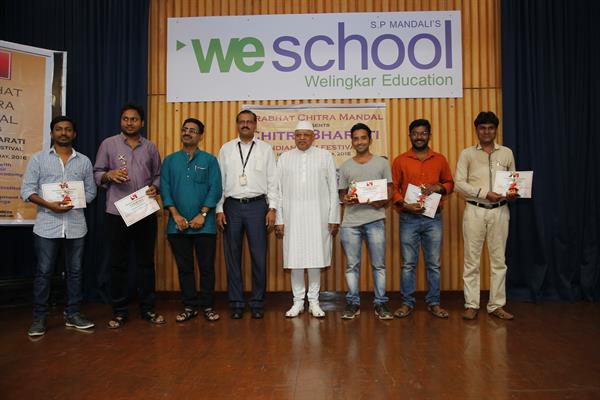 Shri Kiran Shantaram and Prof Dr Uday Salunkhe with the winners of short film competition

While explaining the thought process behind holding a festival dedicated to regional films ,the noted Producer-Director and Chairman ,Prabhat Chitra Mandal, Shri Kiran Shantaram said ," Indian films are not restricted to Bollywood. Prabhat Chitra Mandal is committed to promote meaningful and artistic international, national and regional films that are critically acclaimed as well as appreciated by the audiences the world over. Bringing the National award winning films of 2016 for the film lovers of Mumbai is one such endeavor and I am glad that a leading B school like WeSchool has joined hands with us in this initiative."

While felicitating the National award winning directors of 2016, Nishant Roy Bombarde (Best Debut Director in the short film category – 'Daravatha'), Makarand Mane (Director, Best Marathi feature film, 'Ringan') and Nilanjan Datta (Best feature film in Wancho, 'The Head hunter') Prof Dr Uday Salunkhe, Group Director, WeSchool expressed, " Films are no longer a part of the extra-curricular activities but have emerged as an important educational tool by becoming integral part of the curricula and pedagogy. Films linked to the Teaching-Learning Plan based on the curriculum help the young MBAs at WeSchool develop a better understanding of global markets, finance, investments, supply chain, entrepreneurship and ethics. More importantly it helps them develop a global awareness, an understanding of the national agenda and sensitivity to societal issues which contributes to their holistic development."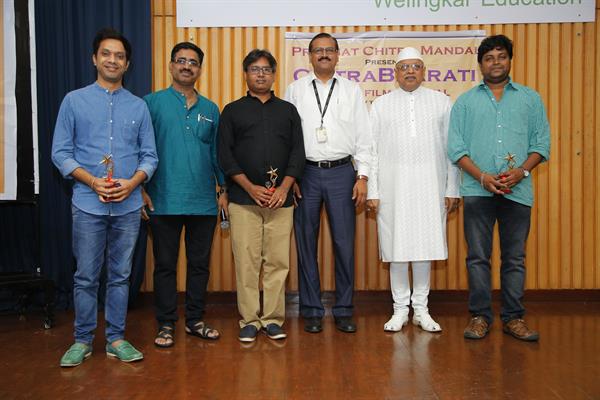 With National award winners (From Left to Right – Nishant Roy, Santosh Pathare, Nilanjan Datta, Prof Dr Uday Salunkhe, Shri Kiran Shantaram and Makarand Mane)

With a 11 month PGP-Media and Entertainment, that has opened various career paths for its young students in the fast growing media, advertising, film and television production houses, sports and event management companies, WeSchool known for its focus on Design Thinking, Creativity and innovation has recently got AICTE's approval for a two year , full-time PGDM in Media and Entertainment as well. With this WeSchool is well on its way to establish itself as a mentoring ground for the much needed large number of qualified professionals for the media and entertainment industry.

The young winners of the short film competition were also honored at the hands of Shri Kiran Shantaram and Prof Dr Uday Salunkhe amidst a big applause from their cast, crew and friends. The ceremony concluded with the screenings of National award winning films 'The headhunter' ,a heart touching film in Wancho (a tribal dialect of Arunachal) , about tragic plight of the tribals due to habitat destruction under the guise of development and 'Birds with large wings (Hindi/English ) directed by Dr Bijukumar, that focused on the environmental disaster and human tragedy created due to pesticide spraying on the lush green cashew plantations in Kerala .