Things to know before you plan to study in Switzerland

There are fine destinations all over the Globe that welcome Indian students. Specially for the aspiring Indian students those are no longer confined to the US or UK universities. This article provides a detail information about Switzerland and its culture, famous places, universities, courses, fee structures and admission procedures for International students.


Switzerland is one of the smallest countries in Europe of 41,284 square kilometers. It is a federal republic in western Europe. It is situated between France, Germany and Austria. Switzerland is famous for its scenic beauty and excellent location. It is also well known for its cultural variety, mind-blowing landscape, and beautiful environment for living, studying and working. Switzerland offers first class infrastructure both for your well being and career advancement. It is politically neutral, isolated and retains a large amount of financial power. Switzerland is popular location for World tourism, international conferences and conventions and most importantly the city of Geneva is home to the United Nations. It comprises 26 cantons and has 4 official languages: German, French, Italian and Romansh. Switzerland is not a member of the European Union and has the Swiss franc as currency. Switzerland is the country with the highest wealth per adult in the World.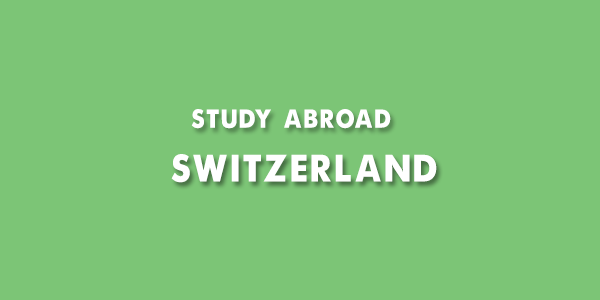 Why study in Switzerland?
Switzerland is one of the wealthiest and most productive countries in the World
Most of the universities in Switzerland are open for international students and are in English language
Universities in Switzerland are ranked one of the highest in the whole World
It is home to several outstanding special institutes in the areas of international affairs, public administration, finance and hotel management
Scientists in Switzerland produce research of the highest quality Worldwide
Universities in Switzerland

Eight universities in Switzerland are featured in the World university ranking 2015/16. Beside studies universities in Switzerland are also international in terms of their student and academic communities. The following universities in Switzerland are all ranked in the World's 100:


ETH Zurich (Swiss Federal Institute of Technology)

It is Switzerland's highest ranked university. It is currently placed 9th in the World university ranking and is the only non-UK European university to rank within the world top 10. The university was founded in 1855. Today more than 18,600 students study at ETH Zurich, there are two campuses-one is the center of Zurich, and another one in the outskirts.


University of Zurich

The University of Zurich is the largest university in Switzerland with around 26,000 students, and it is country's largest selection of study program. Currently ranked 85th in the World. It runs an impressive selection of museums, public libraries, collections, event and education programs etc.


Ecole Polytechnique Federale de Lausanne

The second Swiss Federal institutes of Technology. It was established in 1853, and it is placed 14th rank in the World. Since Lausanne is in a French-speaking part of Switzerland, most courses offered are in French. It is currently teaches about 9.


University of Geneva

Among both the largest and oldest universities in Switzerland, the University of Geneva was established in 1559. It stands 89th rank in World university ranking 2015-16. It is located in Geneva (second largest city in Switzerland). It offers undergraduate and postgraduate programs across a wide range of subjects.

Following are few more World's top universities in Switzerland:

University of Lausanne (UNIL)
University of Basel (UNIBAS)
University of Fribourg (UNIFR)
University of Bern (UNIBE)
University of St. Gallen (HSG)
Admission procedures

Each and every Swiss university or college is responsible for evaluating if your previous qualifications are valid for you to meet the minimum eligibility to apply for a first-cycle degree. However, if you have successfully completed higher secondary studies, you have to produce a valid school leaving certificate and qualify for higher education studies in your home country. You usually qualify for higher education studies in Switzerland.
If you are applying for a master's degree program at university in Switzerland, you are required to be in possession of a relevant bachelor's or equivalent degree diploma.
If you are applying for doctoral studies at university in Switzerland, you are required to be in possession of a relevant diploma or master's degree.


Language requirement

Student must have a good level of knowledge of the language of instruction of the study program they will be taking. Although there are three official languages in Switzerland, but the language of instruction might varies depending on the university. Generally, most institutes require a minimum level of command of the language of instruction corresponding to the B1/B2 level according to the European language passport.


Various courses

You may choose among various courses offered by Swiss universities. Following are the Masters 'and PhD programs:

Art, Design and Music
Economics, Political science
Engineering and Architecture
Historical and Cultural sciences
Humanities and Liberal Arts
Informatics
Law, Criminology
Mathematics and Natural sciences
Medicine, Pharmacy, Health
Social sciences, Social Work
Sport and Physical Education
Theology, sciences of Religion
Fees structure

As compare to cost of living in Switzerland, the country's tuition fees are relatively cheap. In most cases, international students pay no more than local students. The exact cost might be varies, but in most of the Swiss universities, international fees are with the range of CHF1,266-2,200 per year which is US $1,265-2,195. Few scholarships are available, from the Swiss government and from individual Swiss universities.


Living cost

Switzerland is comparatively costly place to live. It is not at all cheap. cost of living for overseas students are estimated between CHF18,000-28,000 per year which is US $17960-27,930. However, student can balanced it by the country's relatively low tuition fees.


Points of interest
Swiss Alps
Matterhorn
Lake Geneva
Kapellbrucke
Chillon Castle
Mount Pilatus
Jungfrau
Rhine Falls
Titlis
Lake Brienz
Lake Zurich
Lake Lucerne
Ballenberg
Schilthorn


Checkout IndiaStudyChannel's comprehensive guide for studying abroad in Switzerland which will help you find complete information on best universities, admission procedure, visa application process, fees and cost of living, etc.