Studying medicine in Belarus

Nowadays Indian students are exploring various new destinations for higher studies. Their choices are no longer confined to the universities of the USA or the UK. The present article provides useful information for students who want to pursue medical education in Belarus. Although relatively unexplored by Indian students, the standard of medical education in Belarus is really high and its medical degrees are recognised all over the world.


Practising meicine is considered a very noble profession in India. In addition, it is one of the most lucrative professions also. So, Indian students are always interested to pursue study of medicine. However, due to stiff competition and reservation system applicable in the country, many students are forced to leave India to pursue medical education abroad. In the age of internet, information is easily available and the students and guardians are availing full advantage of this facility. Nowadays, Indian students go to study abroad not only to the USA or the UK, but also to various other countries to study medicine. On the other hand, like many other eastern European countries, Belarus provides affordable and quality medical education. An Indian medical aspirant can explore the opportunities being provided by Belarus in the field of medical education. In the present article, various aspects of studying medicine in Belarus have been discussed.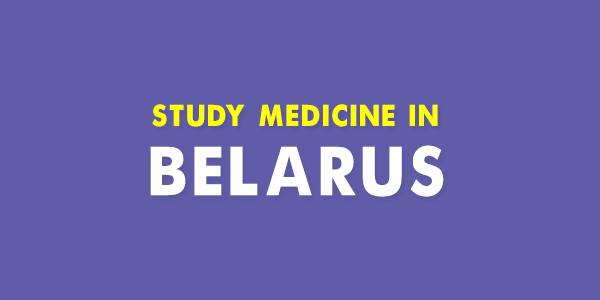 Why Belarus?
Many international students are attracted towards medical education in Belarus because of some specific advantages. These are:-
(a) The admission process is simple and hassle-free.
(b) Medical study in Belarus can be pursued in English or in Russian.
(c) The tuition fees and living cost are much lower compared to other European countries.
(d) The quality of medical education in Belarus is very high.
(e) Belarus medical degrees are globally recognized.
(f) The medical students get opportunities of intern-ship is modern hospitals.
(g) The functional and secure environment of educational institutions makes Belarus a favourable destination for foreign students.


Medium of instruction
Most of the universities of Belarus offering medicine courses have English and Russian programmes. The students have right to choose their preferred language for instruction. The students are required to furnish the proof of language proficiency of whatever medium of instruction they choose. However, the tuition fees for medical courses in English are marginally higher than the tuition fees of Russian courses.


Medical education in Belarus
Medical education in Belarus is provided by the following universities:-
1. Belarusian State Medical University
2. Vitebsk State Medical University
3. Grodno State Medical University
4. Gomel State Medical University
The duration of the medical study programme in Belarus is six years. During the first three years, the students study fundamental sciences like Anatomy, Histology, Biology, Chemistry. Physics, Latin, etc. The students of 4th to 6th year are taught at hospitals and polyclinics. Theoretical and practical training are given on internal and surgical diseases, obstetrics and gynaecology, infectious diseases, paediatrics, oncology, and other branches of medicine. In addition, the students also undergo summer practical training, outpatient practice and inpatient practice.


Other requirements
The aspiring students need to submit passport size photos, photocopy of class X+II certificate and living certificate of last two years and medical certificates mentioning HIV analysis and vaccination results, at the time of admission process in medical universities of Belarus.


Cost of medical education
Cost of medical education in Belarus is modest compared to other European countries. The annual tuition fee is USD 4300 per year. The tuition fee is required to be paid in two equal instalments. In addition, the accommodation fee is USD 800 per year. The first year students have to bear the cost of insurance, visa, medical inspection, transport, registration fee, translation and intermediary firm charge amounting to USD 1550. So, the total tuition pack for the first year is USD 6650. The total tuition pack for other years is USD 5270 per year. The tuition fees of courses of nursing and public health are less.


Climatic condition of Belarus
The climate of Belarus is continental, with cold winters and relatively warm summers. The country is exposed to different air masses, Russian or Arctic, Atlantic or Mediterranean, so it can experience sudden changes in temperature and weather. Winter is cold, with temperatures normally below freezing even during the day for a few months.The coldest periods are those in which the Siberian Anticyclone reaches the country. In Spring, the temperature increases rapidly. The thaw occurs between March and April, which is also a difficult time for travelling. Summer in Belarus is quite warm, and it tends to become warmer from the north-west to the south-east.

Indian students, who are interested in obtaining foreign medical degrees, can explore the high quality medical education opportunities being provided by Belarus. Most of the Indian students would find it beneficial in terms of standard and cost of medical education in Belarus. Due to the various positive factors mentioned in this article, it is expected that Indian students would start exploring the possibility of availing medical education in Belarus.