HETEROCHROMIA - Color difference in Eye (Iris)

Heterochromia is a condition in which there will be a difference in the colour of eye (usually iris). The article unwinds the types of heterochromia, reason behind it and the treatment for heterochomia.


Human body is a most complex design. Our body consists of different parts and organs. Of which the Eye, Ear, Nose, Tongue and Arm are called the Five organs of senses. Of all the 5 sense organs, eyes are more sensitive and needs more care.

Defects and abnormalities in human body are common. And one of such defect in eyes is called Heterochromia.


Heterochromia

Heterochromia is a condition where there will be different colors in eyes of same person. The color of the normal iris is due to the concentration and distribution of melanin. But when this melanin gets decreased we get hypochromia and when it is increased we get hyperchromia.

Heterochromia is not specifically for eyes but it is also a defect for skin and hair, but the later two are very rare. Heterochromia is common in animals than human. The defect in eye is medically called as heterochromia-iridis or heterochromia-iridium.


Types of Heterochromia

There are mainly three types of heterochromia in eyes

• Complete Heterochromia
• Partial or Sectoral Heterochromia
• Central Heterochromia


Complete Heterochromia

Complete Hetrochromia is the normal case where each eye will have different colors.



Complete Heterochromia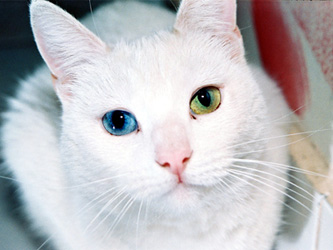 Heterochromia in Cat
Partial Heterochromia

Partial Heterochromia is a case in which a part of a iris will have different color.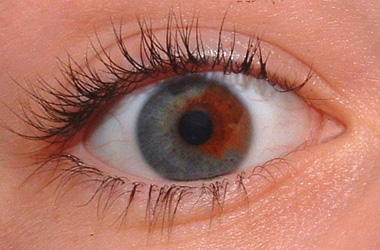 Sectoral Heterochromia
Central Heterochromia

In case of Central Heterochromia, the difference in color is seen at the centre or around the pupil of the eye.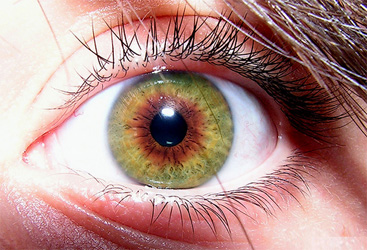 Central Heterochromia

However Partial and Central Heterochromia are very rare.


Causes

• Heterochromia is generally hereditary with Hirschsprung's disease and Waardenberg syndrome.
• It may also cause due to injury of the eye, bleeding and infection.
• Some cases of Glaucoma will also lead to heterochromia.


Symptoms and Treatment

The symptom is change in color and when a change in color of the iris is noted then there needs to be a complete and thorough examination of the eye immediately.
Only after examination it can be found whether it leads to any other medical problem.