How to make homemade Marzipan this Christmas

Looking for an easy home-made Christmas Marzipan recipe? Marzipan is one of those simple recipes that not only taste divine, but is also quick to make. Learn how to prepare marzipan in your own kitchen and surprise your family and guests this Christmas. Try the vegetarian and egg based versions of this all time favourite.


December is here and the smell of plum cake, cookies and puddings is already wafting through my home. It is nostalgia time once again, as I painstakingly prepare all the Christmas goodies, just the way my mother used to. The only difference being I have modern gadgets to help me. Thankfully, no more long hours of beating the eggs and mixing the batter till the wrist ached.

With all the baking nearly done it is time to prepare an all-time Christmas favourite of mine, Marzipan.


What is marzipan?
Marzipan can best be described as a sweet, with multiple uses. Pastry chefs have been using it for centuries to decorate cakes and also use it as filling. It goes into Stollen, a traditional German Christmas cake. It makes a perfect base for rich royal icing or fondant and can be used independently too. While the delectable confectionary makes the perfect icing for plum puddings, it also makes a great stand-alone sweat. And I love it that way.

The texture of Marzipan is like soft dough that can be easily moulded into shapes quite easily. Marzipan is traditionally prepared using almonds, but it can also be made with cashew nuts. Both preparations taste heavenly, and melt in the mouth, giving a burst of sweet, nutty flavour. I personally prefer the cashew based marzipan, because that is how I have grown up eating it.

Marzipan is prepared differently in different regions. Some recipes involve cooking on a fire, while others involve the use of raw ingredients. Mom always made two varieties of marzipan; one the traditional way with egg, and an eggless variant for vegetarian guests who'd call on us, during the festive season.

Both recipes are quite simple. You do not require major culinary skills to master the art of making marzipan.


Eggless Marzipan Recipe
So, here's an irresistible eggless marzipan recipe. Try it this festive season, you are definitely going to get many compliments and innumerable requests for the recipe.


You will need the following ingredients
Cashew nuts – 1 ½ cups or 1 ½ cups blanched almonds
Sugar – 1 ½ cups
Food colour – To your liking
A few drops almond essence
How to make Marzipan
Here is a step-by-step guide to making the perfect marzipan -


Run the cashew nuts or blanched almonds in a blender, to make a smooth paste. Make sure the texture is smooth and not grainy
Melt sugar in a heavy bottomed pan on medium flame. Stirring occasionally to ensure it does not caramelize. We want the sugar melted, not changing colour
Turn the flame to low and stir in the cashew/almond paste into the melted sugar
Cook the mixture on a low flame till it forms a homogenised mix. Continue stirring, we don't want the paste to burn
Turn off the flame, once the sugar and cashew/almond paste begin moving in a mass
Remove the pan off the fire, and set it down to cool
It is now time to add the colours and the almond essence. Take a little of the mix each time and mix in the food colour
Wear gloves as the colour can stain your hands, particularly the nails.
Press the marzipan into moulds or use your bare hands to shape the marzipan into desired shapes as shown in the image below.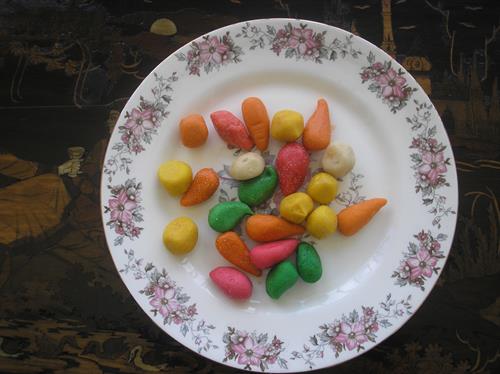 Traditional Marzipan Recipe with Egg White
The recipe requires the following ingredients –


Fine almond meal or cashew powder – 1 cup
Icing sugar – 2 cups
Almond essence – ½ tsp
Lightly whisked egg white
Food grade colour
Method to prepare the marzipan


There is no cooking required.




Make a very fine paste of the cashew/almond powders. They need to be very fine, so the marzipan binds together
Sieve the cashew/almond powder and icing sugar to ensure no lumps remain
Add almond essence to the mixture
Separte an egg white from a whole egg and use it to knead the powders. You do not need to roll and press the mix - knead it very gently
Cover with plastic wrap and set aside for ½ hour.
Divide the marzipan into portions and add colours of your choice
Get creative and shape the marzipan in attractive designs or use moulds to shape them