How to make vegetables stuffed buns at home

Looking for an easy recipe for home-made vegetable stuffed buns? If you have an oven at home or even a microwave, you can bake vegetable stuffed buns with ease, as you can see in this article. Buns can be baked either plain or with a filling of a mix of your choice. The option of stuffing the buns is entirely yours. This easy to do recipe will show you how to bake perfect buns at home.


Mom was an expert at baking; and I have fond memories of her baking loaves of bread, cakes, biscuits and buns. And it is no surprise that I inherited her passion for baking; I love the smell of freshly baked goodies wafting through my home. It is a job that de-stresses me and the appreciation the goodies I bake receive, is an added bonus.

Buns and loaves of bread are something that I bake quite often, and I especially like baking buns stuffed with veggies. I can experiment with different types of fillings, put leftover food to good use and add different ingredients, such as herbs to the dough to create unique flavours.



Vegetable stuffed buns can make a filling tea-time snack and can be your kid's favourite lunch-break snack at school. You can create healthy versions of it and get your kid to eat the yucky veggies that he/she detests. The good thing is stuffed buns are easy to bake and they taste delicious. Why don't you give this easy-to-follow recipe a try?


Ingredients
1 cup whole wheat flour
¼ cup soya flour
2 cups flour (Maida)
2 tsp dry yeast
3 tsp dry mixed herbs (I used thyme/oregano/basil)
1 tbsp chilli flakes
1 tbsp white pepper powder
¼ tsp garlic paste
1 tsp salt
1 tbsp granulated sugar
2 tbsp cooking butter (white butter)
A little warm water
1 cup warm milk
1 egg
Getting the dough ready
Preparation of the dough is the most important part of baking the perfect bun. You have to give time for the yeast to act, and the dough to raise itself. Only then will you get soft buns that are hard to resist. Learn the art of getting the dough right through these simple steps –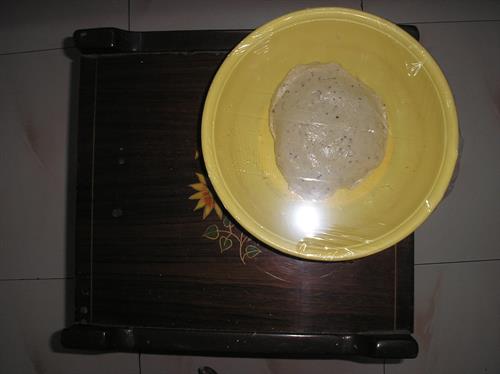 Dilute a little sugar in ½ cup warm water and add the yeast granules to it. Set aside in a warm place. The yeast should turn frothy in a bit
Sieve the flours in a bowl. Passing the flours through the sieve ensures that there are no lumps in the flour and it also incorporates air into the flour
Mix in the rest of the dry ingredients
Rub the butter into the flour such that it resembles breadcrumbs
Make a hole in the middle of the flour mix and pour in the yeast mix and mix the frothy yeast into the flour
Knead the flour to form a soft elastic dough, using little milk/water at a time. You can use only milk if you wish, but knead the dough well – for 8-10 minutes
Take a bowl and apply oil on the inside and place the dough in it.
Cover it with a cling film and leave it in a warm place to rise
In an hour's time, the dough will rise, almost doubling in size.
Knead the dough again and place it in a warm place once again
Follow this step 6 times; till the dough triples in size when left to rise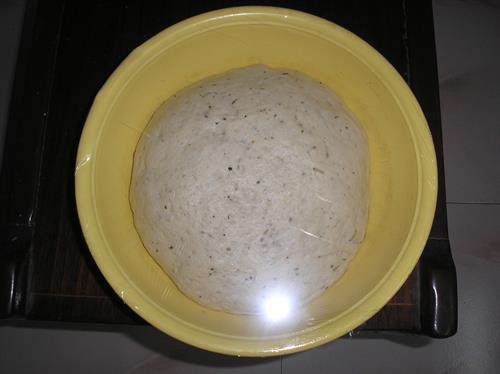 It's time to bake the buns -


You begin by greasing a baking tray; this ensures that the buns do not stick to the tray during the baking process
Next punch out all the air from the dough and shape it into small buns
Remember they will double in size; so keep that in mind when shaping them
Cover with plastic wrap and place them in a warm place; waiting for them to double in size – this should take an hour
Beat an egg and glaze the top of each bun before transferring them to the baking tray – you can use milk if you are a vegetarian
Glazing gives the buns a nice glossy, well-baked look
Stuffing the buns
The above recipe can be used to make savoury buns that can be eaten plain. If you want to stuff the buns you need to place the stuffing while you are shaping them. Use a stuffing of your choice, just make sure the ingredients are dry and do not have a runny gravy. You can use a dry potato preparation or mixed vegetable or paneer and even boneless chicken or mincemeat. The choice is entirely yours. Just make sure the dough is evenly spread out when you shape the buns or else they will have only a thin layer at the bottom...and will start to split.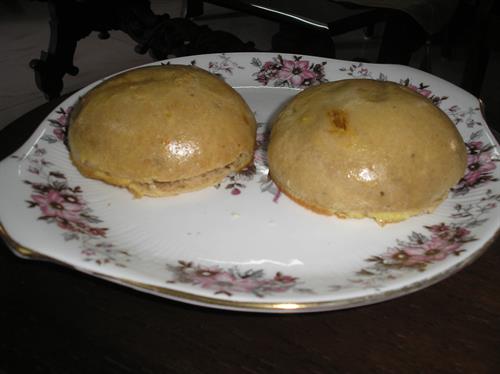 Baking the buns
If you are using a convection oven preheat it and bake at 125 degree Celsius for 20 minutes. Keep basting the buns with egg/milk for a nice brown look. Switch off the oven when you notice them taking on a golden hue. Let the buns sit for 4-5 minutes, before removing them from the oven. Letting them sit in the oven keeps them from turning hard.



You can bake the buns in the microwave too. Bake them for 5 minutes on High. Let them sit for 2-3 minutes before checking if they are done. Bake for another minute if they are undercooked.