How to deal with infertility in women in a natural way

Are you worried about infertility problem? Looking for natural ways to deal with infertility? Go through the article to find some useful methods.


Infertility is not a disease but a problem in women to conceive. Unfortunately, healthy women too, seem to suffer from infertility these days. Infertility in women refers to lack / loss of fertility. These women are incapable of conceiving and cannot / find it difficult to give birth to their offspring. There are sever seasons for infertility in women. If you are aware of female reproductive system and its function, you can try some useful methods to increase your fertility. This would help in conceiving and delivering a healthy baby.


Reasons for infertility in women
There are several reasons for infertility in women. It can be either due imperfect performance of the sexual act or failure to perform the same. Both men and women need to be aware of the proper act for healthy conception.


Proper mechanism for conception
Sperms are the male reproductive cells that are present in the testes of a male person. Egg i.e ovum is the female reproductive cell which is released by the ovary once a month during the menstrual cycle. In females only one egg is released every month which lives only for a period of 24 hours. If the egg is not fertilized within 24 hours it dies naturally and is expelled out along with the monthly cycle. In males, large number of sperms are ejected during copulation. These sperms have a life of 48 hours. At the time of the sexual act, a fluid is secreted by the vaginal walls of the female which has to be alkaline in nature so that it would help in the easy movement of the sperms through the Fallopian tubes up to the uterus. In the uterus one of the sperms become successful in fertilizing the female egg. Fertilization of egg is possible when there is a secretion of alkaline fluid in the vaginal tract. In case the fluid is acidic in nature, it destroys the sperms resulting in infertility in women.

There are several other factors that affect the female reproductive system. Following are some of the main reasons for infertility in women:

Genetic factor

If there is a family history of infertility, then there are chances of inheriting it. If infertility is in your genes, then it would be difficult to deal with it yet it is not impossible as there is medical advancement.



Egg health and quality

Poor health / quality of the egg is an important factor that is responsible for infertility in women. A poor quality egg fails to fertilize and you find it difficult to conceive. Hence, health of the egg plays a key role in conceiving and delivering a healthy baby by a woman.



Physical defects / abnormalities

Physical abnormalities or defects of the genitals / reproductive organs is one of the reasons for infertility in women. Abnormality / defects in organs results in malfunctioning or functional faults of the organs. Generally such defective organs could be congenital in nature or could be accidental or at times could be due to chronic diseases.



Hormonal imbalance

Hormonal imbalance i.e imbalance in the female hormones viz. estrogen and progesterone results in irregular periods. Women with irregular period problem cannot easily conceive. This is one of the common problems faced by women in the present days.



Poor nutrition

Poor nutrition is one of the major causes of infertility in women in some of the developing and underdeveloped countries. Women in these countries give least importance to their food habits and get adjusted / adopted to whatever food is leftover after it is consumed by the other family members. Such a mentality of women results in malfunctioning of the reproductive organs in the female and over a prolonged period, this might lead to infertility in women.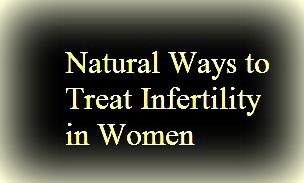 Treatment for infertility
It is always advised to consult a gynecologist in case of severity in dealing with the infertility and undergo necessary infertility treatment under the guidance / vigilance of the practitioner. Some such treatments include:

IVF i.e In Vitro fertilization

IVF is one of the most common / effective way of treating infertility. Women who find difficulty in conceiving can become proud mothers and enjoy motherhood through IVF treatment.



IUI i.e Intra Uterine Insemination

IUI is another simple infertility treatment which is in use. Women with infertility problem can undergo IUI treatment for conceiving and becoming proud / happy mothers.
Dealing infertility in women through natural ways
If infertility is not severe, you can deal with infertility in a natural way. Following are few simple and easy natural methods to deal with infertility in women:

Healthy, nutritious and balanced diet

Nothing else can substitute a healthy and balanced diet which plays a key role in the overall healthy condition of the body. Balanced diet is one of the best treatments for any kind of ill health. Your daily diet should include all the essential nutrients viz. carbohydrates, proteins, vitamins and minerals and dietary fiber in the right proportions. You must give importance to intake of healthy diet not only at the conceiving stage but right from the childhood for a healthy functioning of the reproductive system and for producing healthy eggs which are very essential for conceiving.



Regular physical exercise

Regular physical exercise is beneficial for maintaining the overall health. Walking at least for 45 minutes a day with a break on Sundays would be the best physical exercise for maintaining a healthy body. Depending on your health conditions, you can do regular cycling / exercycle which gives good to the hip region. This in turn helps in the rich supply of oxygenated blood to the ovaries and helps in the proper functioning of the ovaries and in releasing healthy egg every month. Regular exercise to the hip region helps in dealing with infertility in a natural way.

You can also do aerobic exercise like sleeping on the back on a flat surface and pedaling the legs in the air. This is a wonderful hip exercise which improves the supply of rich blood to the ovaries. Other hip exercises like moving the hip round, sideways and the like is equally good for the proper functioning of the ovaries. In most cases, the exercise that involve the exercise of hip region are considered effective for the proper functioning of the ovaries.



Acupuncture treatment

Acupuncture is a Chinese method of infertility treatment. This is one of the safer methods of treatments. Treating infertility in women through acupuncture has been found effective to some extent.



Foods that are useful for female hormones

There are certain foods which are considered very beneficial for enhancing the female hormones and improves the functioning of female reproductive system. When these foods are consumed on a regular basis, these help in improving the hormonal balance in the body. Here is a list of such foods:


Coconut

Coconut consumed in any form even the tender coconut water and coconut powder are considered very beneficial for the proportion secretion of female hormones.



Sesame seeds

Sesame seeds i.e til are very beneficial and good enhancers of female hormones. Sesame seeds mixed with jaggery i.e gur, have been found useful. Sesame seeds along with jaggery are good sources of iron which is an essential mineral for hemoglobin formation in the blood. These when consumed together helps in balancing the female hormones and improves the fertility in women. But too much of eating sesame seeds is not good as this might result in unnecessary gas formation. However, avoid eating these when you are on planning to conceive.



Papaya

Papaya also is known for improving female hormones and women fertility. It helps in regulating menstrual cycle and helps in improving the proper functioning of the uterus. It also helps in shedding the endometrium and keeps the uterus walls healthy. However, consuming papaya should be discontinued or stopped when you are planning to conceive.



Asafoetida / hing

Hing is an important spice used extensive in making Indian (South Indian in particular) curries. Consuming asafoetida helps in regulating menstrual cycle. However, avoid consuming asafoetida, if you are planning to conceive as this might lead to miscarriage or abortion of the fetus.




Yogaasanas

Certain yogaasanas like sarvagasana, matyasana, ardhamatsyendrasana, paschimottanasana and shalabhasana are very effective in dealing with infertility in women. These aasanas help in keeping the reproductive organs in good condition by rich supply of oxygenated blood. These asanas help in the proper functioning of the organs. However, it is advisable to start practicing these yogaasanas under the guidance of a yoga expert.



Treating obesity

Women with obesity problem, find it difficult to conceive. Obese women should try to control obesity by following some simple and natural methods of treating it. Once obesity is controlled, it would be easier to conceive.



Ayurveda medicines

It has been found that some Ayurveda medicines are effective in treating infertility in women. Women suffering from infertility can consult an Ayurveda doctor and get the medicines prescribed.

Reproduction is one of the most important processes of life which ensures continuity of life on Earth. Women are to have the wonderful biological organs of conceiving, carrying the fetus in the womb for nine continuous months and then delivering a baby. Women take pride in having motherhood. Women are being made aware of various facts about fertility, reproduction and conception. This helps them in dealing with infertility to a great extent and help them in making proud mothers.