How to use CanSecure software of Canara Bank and where to download it

Canara bank has introduced new software named as CanSecure to make online banking transactions more secure. So here procedure to use this latest software by Canara bank is given for operating your online banking services.


What is CanSecure software

Most of Canara Bank customers were astonished to see a page which directs them to use CanSecure software and use it after logging in to their banking account online. The bank has come up with a new software to increase the security level of online transactions. So here we have given complete procedure to use the software with ease.






Where to download and how to install CanSecure

First of all you have to download free CanSecure software from the official website of Canara Bank. In order to download the software, you need to log in to Canara Bank internet portal using your Id and password. After successful login, the system will ask you to download CanSecure software. So click on Download button and download the software. After downloading the software from bank official website, you need to install the software on your personal laptop or computer. Installation procedure of CanSecure software is very simple and any inexperienced person can also follow the simple steps and install the software easily.


How to use software

Open the CanSecure program by double clicking on the .exe file. The software will activate instantly and after few seconds, a welcome screen will appear which will prompt you to enter your Net banking user ID.




Please enter your old Internet banking ID here and click on Submit button. If you want to exit, just click on Exit button available adjacent to the Submit button.

If you are using the software for the first time, then it will show you a code. This code should match with the code that has been sent by canara Bank automated password generating systems. So check your mobile SMS inbox and verify the code. In the same SMS you will find passkey which you need to enter here. So after entering passkey click on submit button.

Now CanSecure software will ask you to set CanSecure password which should be minimum 4 digits of length. So type the password and retype the same password in the below text field. After that you have to choose a security question and set an answer for the question. This will be helpful when you want to reset the password.



You will be redirected to the page which will look similar to the old official Canara Bank Internet banking interface.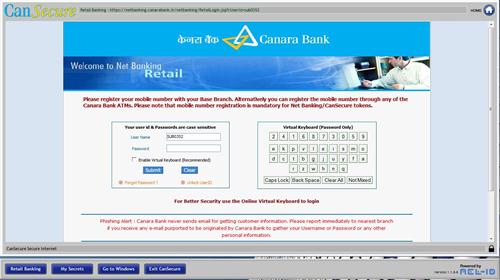 Provide the user id and password. Log in to the internet banking through CanSecure software and have a safe transaction.