Easy off Bang – Product List, application areas, advertising strategy and direction of usage

Easy off Bang act as one of well known cleaning products in markets due to its advertising strategy and nominal pricing structure. Want to know more about Easy off Bang product list along with its different areas of application including its usage procedure. Read more.


Easy off Bang Product information's
Company profile

Easy off Bang one of the multipurpose cleaning products comes from the family of Reckitt Benckiser a leading market leader for surface cleaning products in India. The product falls under the category of stain remover and had its launch in the year 2005. The initial testing of the product was done at Tamil Nadu and with the positive and good responses it received from various customers as their potential user the company decided to step its brand nationally and this happened a year after its launch. Later the name Easy off Bang become the global brand name in India and with extensive ads, product demonstration and anchor employed the brand got into the minds of the customer easily.
This product acts as a perfect cleaning solution for all kinds of stains, rust and hard water surfaces in our living area. This product comes in different quantity that helps its customers towards selections of their required products for a perfect use and a cleaning solution for all living area.


Application and Non application areas

Application areas
Due to its popularity in several ways the product become a powerful cleaner that helps widely to remove hard and rough stains easily. This product is applicable to certain types of areas as specified below.

Toilets

Washbasin

Bath Tubs

Shower

Tabs

Grills

Stainless Steel

Glass

Plastic and

Ceramic floors and tiles.



Non application areas
The user are advised and asked to be cautious and take care in below mentioned areas towards their cleaning activity. The areas where this product may not find good results are mentioned below as:

Marble surfaces

Textiles

Carpets

Aluminum fixtures

Vinyl floor tiles and

Natural stones

Product features and specialty

The product is designed with a powerful new formula of ingredients that helps to remove multi types of tough stains across various multiple surfaces in our living area.

This product acts and hold best as a perfect cleaning solution for various surfaces.

The product provides perfect protection and helps to remove bad odour from floor surfaces.

This product helps to keep the floors and other surfaces sparkling and clean.

This product is easy to handle and use that can be witnessed towards it cleaned areas.

This product can be used directly for tough cleaning or diluted in water for daily use.

Product list and price slab

The above explained products acts as one of the best products in providing its user with a multipurpose powerful cleaning. This product falls into two different categories like Easy off Bang Lime and Easy off Bang Multiuse.

The product has undergone extensive research and later it has been developed and designed in such a way that it helps to get rid of toughest problems including rust, bathroom grim and soap scum. The product can be used either directly or diluted in water for better use in different surfaces. Moreover this product also dissolves any rock hard calcium and this makes it easy to clean the surface areas.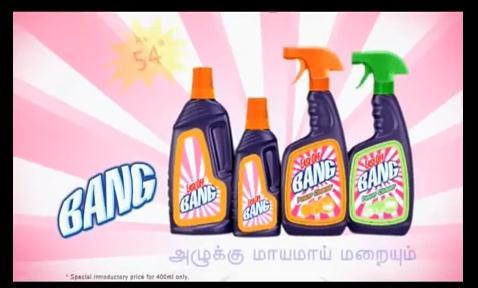 Images courtesy: Google

The product is now available nationally priced at Rs 64 and Rs 75 for 400ml in a well designed handy squirt bottle with an easy use nozzle and spray type.


TV product advertisement strategy and theme

The product provides a powerful cleaning solution and has a specific theme in presenting their ads in different types of language. According to its ad in Tamil the ad has three different roles like Servant, Old women and a housewife. The ads starts with a lady servant cleaning the tough stains accumulated in corners of the floors tiles and the old women monitoring this instructs the servant to put more pressure in cleaning for sparkling results. Meanwhile the housewife enters the house and instructs the servant not to put more pressure and asks to stop her work since the housewife like to recommend her with a new product. On seeing this old women says then how can the floors be cleaned. Immediately the house wife takes a product Easy off Bang multiuse power cleaner outside from her shopping bag. The old women questions what do you mean by powerful cleaner? To test it she takes portable heater with full rust and asks the housewife to clean it as a challenge to the product purchased. The housewife in a bucket full of water undergoes the cleaning test in front of them and finally shows her the result of outcome. This makes the servant and old women to be surprised. Then the servant questions the housewife about its usage procedure and for this the lady goes with a demo in her own language to make her understand about the product.


Direction of use

This product can be used directly on a tough surface stains or diluted in water for better results. The users are insisted to release the cap to let the liquid flow outside the surface area. For daily use the user are recommended to dissolve a full cup of product in the water for safe and better product usage and results. After applying the liquid in the required surface take a clean cloth, scrub or a mop based on your convenience and rub it over the applied surface area in order to feel the effect of outcomes all around your living area.



How to buy

Nowadays the product due to its popularity have find itself with a good place in the shelf's of all types of outlets like hypermarkets, supermarkets, general stores, departmental stores and even in small stores in and around your neighborhoods area.


My Personal Review

Due to its powerful formula of ingredients this specific product acts as a best cleaning solution that helps us to clean tough stains easily. There may be also other product List of cleaning products its tools and tipsequal to this outcomes but the choice of selection of product duly lies in the hand of an individual in their shopping activity. Due to nominal pricing of this product there would be no harm if a user buys this product at least once to check with its outcomes.