Make huge profits by investing in Australian teak plantation: budget, land, fertilizer details India

Looking to make small investments for huge turnover of profits in India? Yes, here is such a way to earn big by investing your money systematically in the Australian Teak wood plantation projects. Here in this article, you can learn about this valuable plant, its required land or area, climate condition, required budget, fertilizers, the period of its harvest and the guaranteed amount of profit in detail.


First of all, let me tell you that I am a tree lover. I have my own gardens and lands for cultivation which I have lent to some professional farmers in my locality to yield good amount of grains, cereals, pulses and vegetables during its yearly and seasonal harvest. However, I have also recently made an Australian Teak wood project in my land. Let me share here exactly what and how to do in the systematic process to this project successfully and produce huge profits.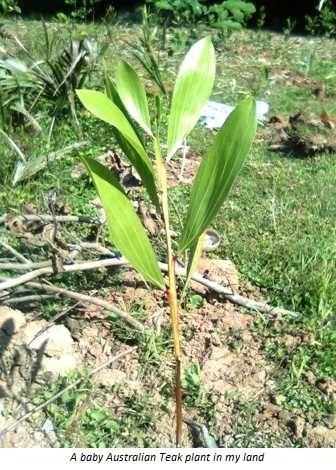 What is Australian teak special and famous for?

In a fast growing country like India, the demand for official and residential furniture has reached its peak and with the trees being cut down for the urban sprawl, there has been a necessity to plant trees which yield best timbers to serve the purposes. While there are several other plants that stand up in this regard, I recommend the Australian teak best because I have personally made my small project with 300 of this plant in my own land under a professional horticulturist's guidance.

This plant is a leguminous species and it absorbs Nitrogen and fixes it by its root nodules to increase the fertility of the soil. Science defines this phenomenon as "Nitrogen fixation". It also prevents pollution. This teak wood from Australia is widely famous for being specially used in ship building, making furnishing products like doors, cabinets or tables etc. for home or offices which provide stronger durability and exotic beauty and craft works.


How to make a successful and profitable Australian Teak wood project
Area and land required for Australian teak wood project

Generally, to make an Australian teak wood project, you need an open land and an annual mean rainfall of 1500-2500 mm with 20 to 40 degree Celsius temperature is favorable. Size or dimensions are not important but there are exact figures to know how many plants you can grow in your available amount of lands. "1 Acre of lands will grow 1000 Australian teak plants." So, according to this rule set by professional teak wood harvesters, you can calculate how many plants will be sufficient for you to grow.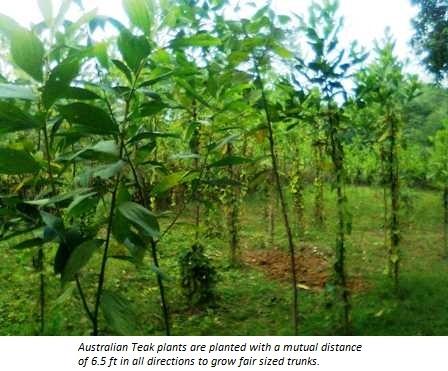 Another rule is that each and every plant will have mutual distance of 6.5 ft from other plants in all directions. Have a look at the picture given above to understand better about this. Applying this formula helps the plants grow straight and freely to have fair-sized trunks that can yield good threshold amount of profits for you.


Fertilizers to be used in Australian teak wood plantation

There are three principal fertilizers used in Australian teak wood plantation and cultivation in India. For Indian soils (especially in my native region), the following three fertility ingredients from the Super Agro India Pvt. Ltd. are widely used for the purpose. Have a deep study to understand it completely.



'Ormacomin':- This is an organic fertility element from the Super Agro India and it is produced exclusively for the purpose of applying in any type of soil to make it suitable for the teak wood plantations.

One bag contains 10 kg of its contents and its price all over India is INR 280.00. If you are using 1 acre of land for your project, you will need a compulsory amount of 50 kg Ormacomin to apply in the soil before plantation. For your better understanding, I have given a picture of its 10 kg packet above which was brought for my own project.


Urea:- This well known fertilizer is applied with Ormacomin as an additional growth booster for the Australian teak trees. It helps in increasing the speed of growth of the baby plants and thereby avoids the chances of being eaten and scattered by animals like goats. Please take note that Ormacomin and Urea are applied in the ratio of 1:1 to make the soil fit for a new project i.e. for 1 acre of land, both Ormacomin and Urea will be required 50 kg each.



Super Zyme:- This fertility product from the Super Agro India is the most vital element to aid the growth of the teak plants till their adult and maturity stage. Its granulated bio-extracts and manures are to be applied after the first quarter from your date of plantation has passed and to be continued as per the guidance given by the professional team. If your soil is naturally fit enough to grow the plants, then you may not need and apply it in high scale. Remember that a 10 kg bag of Super Zyme organic soil essentials costs INR 580/- all over India.


The accurate budget of Australian teak wood project

Well, I am from the eastern part of India and the budget I am going to provide you here is as per the professional teak wood harvesters who are employed by the Government in my region. If you are from India, then the rates given here my vary according the demand of the place when compared to that of your states. But if you are from outside India, you are requested to contact the concerned and available authorities in your area/country. Here it is:-

In India (my native place), 1 Australian baby plant = INR 40.00
So, if you buy 1000 plants for 1 acre of lands, you will pay = INR 40,000.00

The rates include transportation of plants to your land, digging of planting spots, labor charges, fertilizers, the process of plantation, watering, regular or occasional checkups for spoils or damages if any and an insurance coverage up to 1 year i.e. within one year from the date of plantation of your plants, if single or multiple plants die due to several reasons, you will get replacement plants free of cost. You are also at 100% freedom up to 1 year i.e. all types of care will be taken by the team of harvesters who planted them and you will handed over the charge when the plants look exactly as given in the picture below. From this moment, there is less chance for the young trees to be washed out or died of any natural or artificial calamities (no chance).

The Australian Center for International Agriculture Research (ACIAR) of Australia concludes that its teak trees will grow up to a height of 100 fts (30 mtrs) with a stem or trunk of 2 fts (60 cms) diameters in 12 years time frame. From this, you can easily guess how quickly the trees grow to the maximum. It is here noteworthy that if you can't wait for such a long time to harness the profits, you can also sell in the interim period between 5 to 6 years with 50% incomes. But when the trees become fully matured like the picture below, you are at a point to sell the trunks as per your demand. But an average figure has been put up here to confirm of the profit.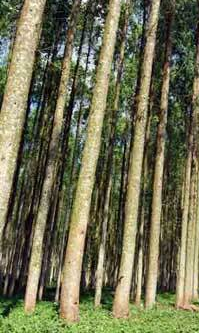 The period of harvest and guaranteed amount of profit

How much can I earn through Australian teak wood plantation? Here is the calculation:-

You invested per plant = INR 40.00
You will sell an adult tree = From INR 2300.00 (minimum) to INR 16000 (maximum), depending upon the thickness, size and quality of the trunk.
Your profit per plant = INR 2260 (min.) to 15960 (max.)
Percentage of profit = 5650% to 39900% (in 12 years)

In other words, if you invest INR 40,000 for 1000 plants in 1 acre of lands, you will easily earn a guaranteed profit of INR 90 to 100 lacs (average) in 12 years.

So, from the above realistic calculation, it is clear that Australian teak wood plantation is far better than making a long term fixed deposit in any nationalized bank or other such policies. What do you say?


Conclusion

I hope I have given you one of best areas to invest your money. Especially in India, where we are having several financial problems and high price issues of the consumer goods and products, earning money seems to be the only way to manage oneself rather than complaining to the situations. And in the context of this noble and profitable project, I want to conclude that it is also beneficial in many other ways. You can help nature by creating forests. You can get district-level, state-level or country-level award and recognition if you get noticed by the Government's horticulturists and the authorities of the Forest departments. Again, by investing your hard earned money in the Australian teak wood plantation project, you will earn an amount of money which is probably far better and larger than insurance policies, fixed deposits, mutual funds, equity investments or other such means.