Facebook game: Dragon City review, storyline, game-play and tips to play

Are you fond of playing online games? Read here all about the Facebook game Dragon City and know what this game is all about. You can also find the story-line and game-play of Dragon City and note down its pros and cons, important tips to play and complete different levels to make a successful high score.


Who can avoid the brilliant game apps in Facebook? Especially when it comes to playing online games, Facebook stands tall at the front. Here I am going to introduce you to such a thrilling game 'Dragon City' and guide you step by step to play it successfully. Before that, just note down the points given below.


Introduction of Dragon City game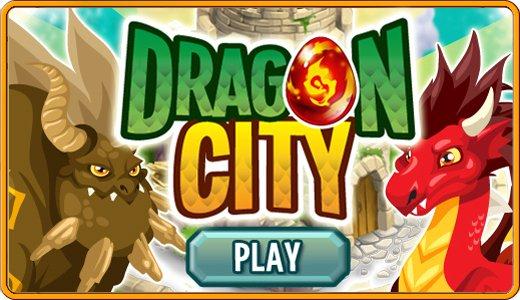 The 'Dragon City' is an ecstatic Facebook online game and as the name explains itself, the game is all about dragons. You are in a fascinating island and you have to hatch, breed, feed and grow various types of dragons and make your island turned into a pure city inhabited by dragons only. After creating your city successfully with the help of dragons, you will also be able to visit the neighboring islands of your friends, combat with their dragons in an open arena to determine who has got the best strongest group of dragons.


Pros and cons of Dragon City game

Pros:- The game is filled with thrills, excitement and rewards! As the game progresses, your interest and love for it will also be manifold in terms of the entertainment it provides.

Cons:- If you are an experiences online game player, then I am sure you will be at ease to play with fast speed. But if you are a beginner, make sure you play carefully with proper procedures and also keep your internet connection active. Never let it be idle or disconnected till you complete the game to increase your amount of gold, gems, rewards and of course the number of dragons in your city.


Game-play and story-line of Dragon City game

The action starts here. The first process is to create a hatchery hub and then you have to buy eggs of the type of dragons you want. Please note that there are various types of dragons like Terra, sea, flame, volcano, nature, electric, ice, metal, dark and legend. Again there are also different types of Terra, sea, flame and volcano dragons. For example take a look at the picture below to know various types of flame dragons.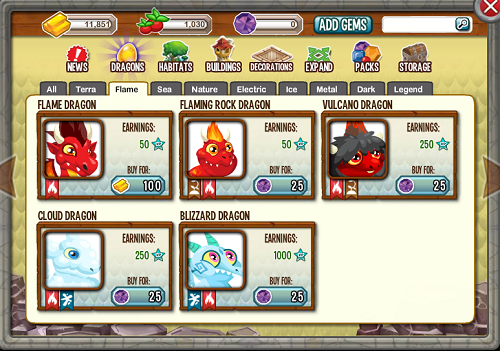 Each time you select an egg of a particular dragon to buy, you will also see its earnings. Well, before you hatch an egg, you must create a particular habitat to grow that dragon. That is, if you bought an egg of sea dragon to hatch, you need to create a sea habitat first to ensure its safe growth. The next step is to create a food farm to feed the dragons. You can buy several seeds of dragon chilies or similar favorite stuffs to grow that dragons love to eat. You must feed your dragons at least up to level 4 to enable them breed and lay eggs for new generation. Before that you must create a breeding mountain with lovely mating atmosphere! Yes! When you go on hatching and creating new dragons, you will then require to expand your area of island to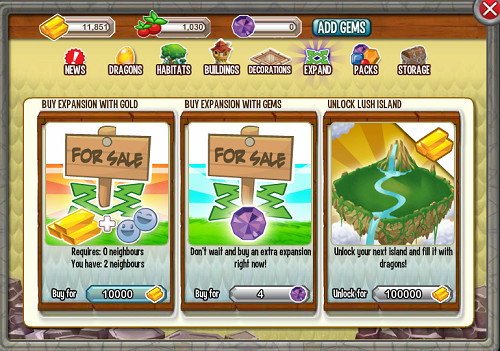 enable your team of dragons to move, play and grow freely. Remove all impediments like big trees, stones and other unwanted plants. After you successfully create your desired number of dragons, start to decorate and beautify your island with stone tiles on path, dragon flags to detect your island easily, fancy tiles, magic mushrooms etc.

Now you are half done. Real drama starts now. Since now you have a strong team of dragons, visit the neighboring islands of your friends and select which ones to combat in a bilateral tournament. Fight and play skillfully to score high and earn more exciting prizes and rewards! I think that's all briefly about this game. You will get more when you factually play it.


How to play the 'Dragon City' Facebook game - tips

Go to https://www.facebook.com/dragoncitypage/app_302826159782423 and wait for the game to load and start by itself. Before this, make sure you have Java-script and flash player in your device up to date. The play screen launches and you need to click 'play'. When the main screen starts, you will see the following scene.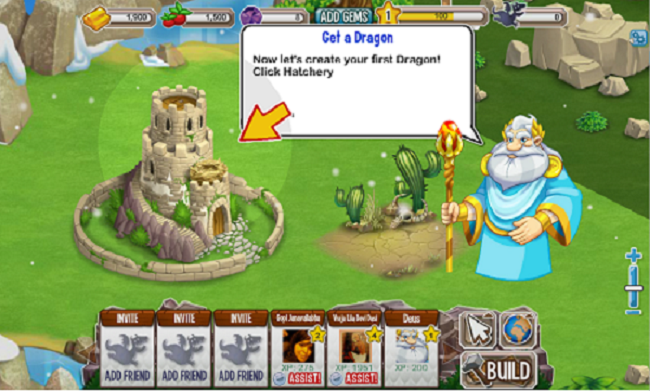 Click 'build' at the bottom bar and then 'Dragons' to see the list of available dragons and click your choice to buy its egg in exchange of its specified amount of golds or gems (Remember: Every-time you make a purchase of any item or do something new, you will earn bonus golds). To start hatching it, click on the hatchery and then click 'hatch' in the bottom bar that appears. Now your new bay dragon is born. Before this, you must have created a proper habitat by clicking build->habitat->the habitat according to your dragon type. Place your new born dragon to its habitat and it will start moving and playing straight away.

Now go to build->buildings->Food farms to make your food production. Grow and keep stock of as many foods as you can to feed your dragons at least up to level 4 to start breeding. Click build->buildings->breeding mountain to create a beautiful mating place for your dragon pairs. Go one making proper habitats and growing them. If you have enough space in your island then, keep doing the same. When you have no more land, you will need to go to build->expand->select your choice from available types to spread your area to afford all your dragons to move and live freely. Click build->decorations-> select items to decorate your island. To visit neighbors, click the 'DEUS' icon at the bottom bar and then click 'visit' to jump into your friends islands and collect gems. To start a combat between you and your friends' dragons, click the earth icon in the bottom bar and then click 'combat' to enter in to the tournament arena and play the match with spirit. Win as much as you want!

Well, if you are beginner and are confused in the middle of the game, you can invite all your friends to help you out and proceed further. Simply click 'invite' in the bottom bar and then select your friends whom you want to assist you. Your friends will be notified and join you in the action at once (Make sure you and all your friends are online at that very moment!). For complete excitement and fun, I recommend including as many friends as you can. At any moment, if you feel difficulty, then click the 'community' tab to discuss your issue. Another good point to note down is that you can sell all your dragons, un-hatched eggs and other stocks at any moment of the game and harness your profit of golds and gems! You can also use your PayPal account to buy new gems/golds to ease your game-play.


Wrap Up

I will call this game in 3 Cs – compact, crazy and cunning! Yes, just play the game yourself and leave your happy remarks below as to how useful was my basic guidance above.