Republic Day speech for school children on 64th Republic Day of India 2013.

India will be celebrating her 64th Republic Day on January 26, 2013. Parents and school teachers will ask their children to prepare speeches for the Republic Day either to be delivered by them on the stage or as a part of competition announced for the occasion by the school. This article has included such a speech for the guidance of the children and their parents and teachers. The construction of the sentences has been kept simple so that the school students can easily comprehend the gist of the speech.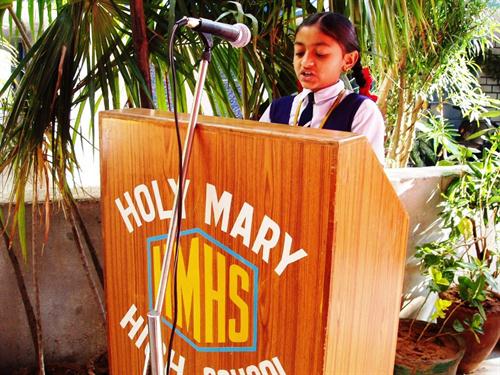 Introduction

Only a few days from now, India will be celebrating its 64th Republic Day on January 26, 2013. The various schools in India and the Indian schools in foreign countries will be readying for the occasion to celebrate the national festival of India in a befitting manner. One of the most important of the preparations for the joyous occasion will be preparing the Republic Day speeches by the school children under the guidance of the school teaching staff. Here I have made an attempt to prepare a Republic Day speech for the school children which the school administrators and school teachers can make use of while preparing their school students to deliver the speeches on the school stages erected to celebrate the Republic Day function. The school students may make additions, deletions and alterations in the speech depending on the local conditions that suit the occasion.


A sample text of the 64th Republic Day speech for school children


Respected Sir / Madam, parents, guests and my fellow students,

Today, we have assembled here to celebrate the 64th Republic Day of India. On this auspicious occasion, I convey my greetings to all my countrymen and pray for the prosperity and development of our nation so that we can all live in peace with a spirit of brotherhood. Just a few minutes ago, you have watched the chief guest of today's function hoist the national flag of India and we all sang the Indian national anthem symbolizing the unity of India with our hearts filled with patriotic feelings for our nation. The saffron (kesaria) colour of the flag at the top represents the strength and courage of the country. The white colour in the middle shows our desire for peace. The dark green colour at the bottom of the national flag shows the fertility, growth and auspiciousness of our motherland. The nave blue wheel with 24 spokes represents the Dharma Chakra. You must have read in your history books about the great king Ashoka of ancient India. This symbolic wheel in the middle of our flag belongs to a monument of King Ashoka, kept at Sarnath near Varanasi. The national anthem which we have sung now and usually sing in our school assembly was originally composed in Bengali by Rabindranath Tagore. For your historical knowledge, I must tell you that the national anthem was first sung at the Kolkata session of the Indian National Congress on December 27, 1911. The full song consists of five stanzas, but the Indian Constitution Assembly adopted the Hindi version of only the first stanza as our national anthem on January 24, 1950.

You all know that we achieved our Independence on August 15, 1947. However, we did not become a republic until January 26, 1950 since we did not have an elected head of the state till then. We became a republic on 26th January 1950 when Dr. Rajendra Prasad became the first elected President of India. It was the day when the fundamental law of our land, the Constitution of India came into force. Under this new constitution, the first general elections in our country were held in 1952. To plan the economic development of the country, the Planning Commission of India was set up in 1950. When our republic has become 63 years old today, we have seen many triumphs and tribulations during all these years. We have brought about tremendous development in the field of agriculture, industry and service sector. We have become one of the leaders in information technology and communication sector. The agricultural production has taken a great leap with the setting up of major and minor irrigation projects. However we are still suffering from shortages in electricity production. The hurdles came in our way in the form of Indo-China War and three wars with Pakistan. However, we faced the enemy powers boldly. A very big obstacle faced our nation in the shape of terrorism which first brought trouble in Punjab and is still raising its ugly head in Jammu and Kashmir and some of our metropolitans now and then. Our borders with Pakistan are always seething with trouble in spite of our best efforts to make friends with our neighbour. As such, we have always to be on alert. We have to keep our eyes open and be watchful to notice any trouble makers around us and keep our ears shut to the rumours which might try to cause a divide in our community and prevent communal violence. Ours is a country with a wide geographical spread. It is country of rivers, mountains, plains and plateaus. People of India speak a variety of languages. They practice different religions. The climatic conditions of India vary as we travel from north to south and from east to west. In spite of all these differences, the spirit of nationalism keeps us united together. We should never forget the unique feature of our nation. It is the unity in diversity.

While remaining alive to all what is happening around us, we celebrate our national festival today with a lot of jubilation and enthusiasm. On this day, we should fill our minds with patriotic fervour and work for the unity and prosperity of our nation. We should think of our nation first forgetting all our regional and linguistic differences. We are a secular nation and should respect each and every religion. The religious feelings in us should make us to live in peace, honour and dignity rather than to divide us and make us fight with one another. While we celebrate the festival in our school today, it is being celebrated all over the country. The administrative machinery starting from our Panchayats in villages and Talukas, districts to capital cities of our states are all engaged in celebrating the national festival. The spirit of festivities is common and that is the love for our country.

Our national capital Delhi has a special significance as far as the celebration of Republic Day is concerned. There is spectacular display of the country's military power. The Republic Day parade begins from Rashtrapati Bhavan and ends at Red Fort. Certain sections of the parade only march a little beyond India Gate and disperse. The President of India unfurls the national flag at India Gate followed by our national anthem. The President, who is also the Commander-in-Chief of the Indian forces takes the salute from passing columns of regiments of Indian Army, Indian Navy and Indian Air Force with men of these forces wearing a ceremonial dress. Along with the President, there is the chief guest of the Republic Day parade who is always a foreign luminary. The chief guest for Republic Day 2013 function is Mr. Qaboos Bin Said, who is the Sultan of Oman. The parade keeps moving on with the state regimens and the paramilitary forces following the regular military personnel. The different states and union territories and other departments of the government compete with each other in displaying the best of their tableaux bringing out the development in the states. Dokra tableau from the land of forests, Jharkhand will be novel entry during Republic Day Celebrations 2013. There are lot of dances performed various troupes from all over the country including those by school children. There are folk and traditional dances rendered by troupes from different states. The Republic Day is a fantastic display of the cultural unity of India.

Republic Day of India is the occasion which takes our thoughts back to our freedom struggle. It is the time to remember our brave hearts who laid down their lives while fighting for the freedom of India. We ought to remember and pay tributes to the members of our defence forces who keep a vigil on our borders so that no one can cast an evil eye on our country. They serve us living in difficult terrains and braving the hostile climatic conditions on our borders so that we can live peacefully in the comforts of our homes. An important feature of the Republic Day is the awards and bravery medals, which are given to the personnel of armed forces. Some of these awards are Param Veer Chakra, Veer Chakra and Maha Veer Chakra. Children who did outstanding deeds of bravery and selfless sacrifice are given the national bravery awards by the President of India. These children come seated on beautifully decorated elephants. In the end, the jet planes of the Indian Air Force fly past in a special formation emitting a tri-colour smoke and showering the rose petals on the spectators. The ceremony at India Gate thus comes to a magnificent end.

The constitution of India describes our country as a socialist, democratic and secular republic. The Directive Principles of State policy clearly lay down the governing principles which we should follow. My dear students, we are the builders of the future of our nation. Our past experiences have shown that we need reforms in almost every field of activity. Our country needs administrative reforms, election reforms, educational reforms, economic reforms and legal reforms. We, the youth of India has to bring about these reforms. A revolution is brewing up in the minds of the youth of today, who want to see the country's development fast. Our women are not safe at home, at place of work and while moving on the streets or travelling in public transport system. We have to change our mind sets to bring about a true change in sexual equality. We have to make our country free from the clutches of poverty and ignorance. We, the younger generation of today should make our parents and every other Indian feel proud of our rich culture, languages, religions, traditions and customs. Let's all unite together and live as true Indians. Let's all think of India first and our region, religion or caste later. Let's take a pledge deep inside our hearts to promote one feeling of oneness and with this spirit proceed ahead to make our country one of the greatest nations of the world. Once again, I convey my good wishes and greetings to one and all on this happy occasion of our Republic Day.

Jai Hind