How to start Café Coffee Day franchise: Lease enquiry, Cost, Investment

Are you willing to start new business of CCD? Are you looking for information about how to get lease for Café Coffee Day and what is the investment required for the same? Then proceed further to get complete information on all your queries related to Café Coffee Day business.


Café Coffee Day is one of favorite coffee shops in our nation. It is one of best hang out place among youth. With increased taste of this beverage among Indians, many people are making their future bright by making investment in Café Coffee Day. Although Café Coffee Day does not have started offering franchise to public yet, but still you can enjoy the benefit to be their partner. If you also want to be one of those who have made their life full of money by enjoying the revenue of this food and beverage company, then here we are having complete information for all your related queries.



CCD believes in working for the society too. It runs a trust named as "Shankarakudige Veerappa Gangaiah Hegde Education Trust", two institutions "Amber Valley Residential School" and "SVGH Vocational Training College". If you are willing to make a career with CCD, then this page may help you Café Coffee Day jobs

You can also advertise with Café Coffee Day. It has been estimated that approximately 3 lakh youngsters spend their 45 minutes everyday at across more than 1100 CCD stores. Thus you can calculate that making advertisement through large wall spaces of this hang out place would bring huge number of customer and profit to your way. More details about the past partnerships of CCD and to download a presentation for the same, you can see the official website of CCD.


How to start CCD business in India

As we have already told you that the company do not offer any franchise at all. But if you have a commercial or commercially converted/convertible retail space on a rental/revenue share basis which are having following specifications in addition, then you can enjoy the benefit to be their partner. These are:


Requirements to get Café Coffee Day lease

1. You must have a retail space area at ground floor of at least 1000- 1500 square feet.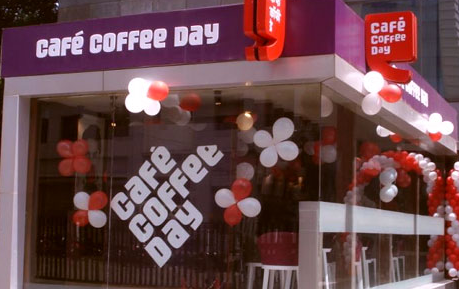 2. Good parking space is also required.
3. There must be minimum frontage area of 25 feet in running.

If you found yourself eligible and are fulfilling all the demands of the company, then you can contact the authority and they will then contact you at the earliest. Write all the following mandatory details on a clean paper. These details are:
1. Name of the person/s that is/ are the owner of the property.
2. Complete contact details of owner/s including postal Residential Address, Contact Numbers and email id.
3. Postal address of the place available for potential Café Coffee Day
4. Retail Space Area available in square feet
5. Frontage area of Retail Space available for this purpose
6. Actual pictures or photos of the location
7. Demographic specifications of the catchment area for opening Café Coffee Day.

You can also get in touch with the Café Coffee Day contact persons of different regions, viz. Bangalore, Chennai, Hyderabad, NCR, Kolkata, Mumbai, Pune and for International areas.






Region wise contact details of CCD

North Region-
Shruti Prasad
Shruti.prasad@coffeeday.com
09818945760

West Region
Gerald Dsouza
gerald.dsouza@coffeeday.com
09833880625

South Region
Priyanka Singhvi
priyanka.singhvi@coffeeday.com
09886171215

East Region
Nadeem Hossain
nadeem.hossain@coffeeday.com
09062068464

Wish you a bright career with CCD!