How to open KFC restaurant in India and get KFC franchise online

Eager to operate a KFC business in your city? Here we are givingg complete details as to investment and space requirements for starting a KFC outlet in your city or town in India.



KFC So Gooooood! It is one of India's fastest growing food outlets. If you are also willing to own an outlet with hoarding of these letters, then you are at right place. KFC franchise has turned the life of many people into the life they had ever dreamt about. Its foundation was laid back in the year 1890 when Harland Sanders was born in Henryville, Indiana. And now there are more than 200 KFC outlets in India at different cities and towns.





KFC is planning to increase this count to 500 till the year 2015. So if you also want to make your life as you are dreaming, then hurry! Grab the opportunity and make yourself one of the luckiest persons.


Capital and Space required to start KFC outlet in India
The procedure to open such an outlet of a big chain is very simple and everybody's dream, but at the same time not very easy. You need liquid assets of approximately $360,000 as per US standards. If we convert this amount with the average conversion rate of Rs. 53 per dollar (the US$ to INR rate at the time of writing this article), then this amount stands to be Rs. 19,080,000. However, this amount may vary from city to city. In other words, this amount may be a little less in backward areas of the nation.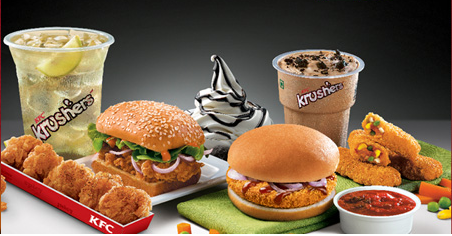 If we talk about the space required for this purpose, then there is no minimum criteria as mentioned by the company itself. However, since now the taste of chicken burger and nuggets is the favorite taste of every Indian which tingles their taste buds, thus it is recommended that you must own at least 500-1000 square feet area. And of course, the measurement will go up and down the choice of city and place where you want to open it. For example, opening a KFC restaurant at Connaught Place of New Delhi will demand more space than opening it in a small city of any other state.


Apply online for KFC restaurant
You can submit your willingness to start a KFC outlet by submitting a simple online application form. For this purpose, you need to visit the official website of KFC India. At the right bottom of the page, there is link "Contact Us". Click there and select Franchise radio button. Proceed further by submitting other mandatory fields like your name, contact number and other details. Other details can be the space and money available with you to run restaurant or it can be any other query as to how to start the franchise.





Details which we suggest you to provide are:
1. Space available with you
2. Capital you can invest in
3. Name of the owner/s who own the property
4. Contact details of such owner/s
5. Complete postal address of potential KFC store
6. Actual photographs of the venue
7. Available parking space


Contact details of KFC India
You can get in touch with the contact person Mr. Vishal Razdan, Deputy Manager – Business Development at address mentioned here:
Yum! Restaurants International, 12th Floor, Tower-D, Global Business Park,
Gurgaon -122002
His Email: franchisee.india@yum.com
Contact Number: 0124-4025100