How to use rainwater harvesting to combat water scarcity in India

World Environment Day is on 5th June. This article discusses the concept of rainwater harvesting, which can go a long way to help towards storing of one of the elements precious to the environment, namely water. You will get information on how to install a rainwater harvesting system, its costs in India and its benefits.


Overview
As we all know, global warming and depletion of ground water levels has led to an acute shortage of water in India (& other parts of the world). This has created problems for both humans and the environment. Even in major town and cities, the burgeoning population is creating a serious pressure on the existing water resources. Everybody simply depends on the monsoon for filling up the natural reservoirs which supply the water to the town and cities. In order to reduce this dependency and utilize the existing water resources sensibly, it is imperative to start looking for solutions to dealing with water scarcity in our country. One of these solutions is to install and maintain a rainwater harvesting system, known as RWH in short.


Rainwater harvesting features
How is rainwater harvesting done?
Rainwater harvesting is a very simple method of storing rainwater which falls on the roofs of structures. Instead of letting this rainwater flow away into drains, it is collected and stored in a collection tank. The tank is connected to a pipeline (or taps are attached) which then recycles the water for non-potable use.

See the picture below (taken at an exhibition in Mumbai, Maharashtra). It shows the water from the roof flowing through a pipe into a large container. The water in this storage container can then be re-used - the water being removed from it via a tap into a bucket placed below it.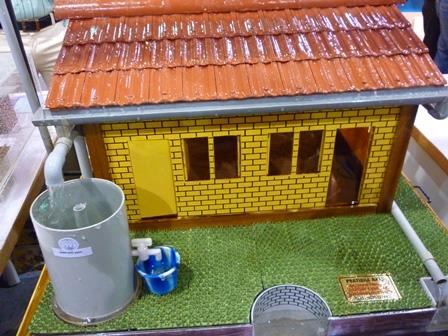 As you can see, it is a very simple system!

In fact, why not look beyond roofs? Think of the sloping driveways which lead up to the entrance of posh homes and hotels. The rainwater falling on such & other sloping areas can also be captured instead of accumulating at the bottom of the slope and flowing away into a drainage system. There are also owners of farms who create small man-made lakes through the collection of rain water during the annual monsoon season.




What is the water from rainwater harvesting used for?
As mentioned earlier, water collected and stored through RWH can be used for non-potable purposes. This includes: use in the bathroom/toilet, irrigation systems, watering plants, washing vehicles, etc.


What are the benefits?
The primary advantage of rainwater harvesting is, of course, having a source of water supply in addition to the existing sources. Secondly, rainwater harvesting can conserve the environment's surface water as well as improve the existing level of ground water. The thirst of the environment is thus quenched and living beings too benefit.


What are the disadvantages?
As such there is no disadvantage to rain water harvesting. The disadvantage lies in installing the system in terms of space. You do need proper space to install a collection tank to capture the rainwater. Problems can also arise if it is not managed properly. When people get together to install the rainwater harvesting system to get additional water supply, they need to have an efficient person in charge. This person should ensure that required papers are in order to submit to the local municipality authorities for getting permission to install the RWH. If there is a lot of dithering about taking decisions to install it and for applying for the permission, the installation cannot take place in time before the monsoon season sets in.


What is the cost of rainwater harvesting in India?
Offhand one cannot say what would be the exact cost of installing a RWH because it depends mainly on the location and the catchment area. Approximately, though, it could start at a little less than Rs. 3lakh and go up to Rs.5lakh or even more. Remember, though, that even though the installation cost can be high, it is a great long term investment because the maintenance costs are very low.




Conclusion
We can all do our bit collectively and save the precious element of Mother Nature, namely water, by being proactive. Anywhere in India, by installing the RWH not just in places where we stay, but also at our work places, we can take concrete steps towards this goal.

The problem is in the lack of awareness about rain water harvesting. Most of us think it is too difficult to implement and too expensive. What we don't realise is that by buying large bottles of drinking water and paying lakhs to hire water tankers, we are actually spending far more! By contrast, if we consider the long term benefits of rainwater harvesting, we will be creating a buffer against water scarcity – and thereby securing our own future. After all, without water can we survive?

So let's make the World Environment Day (5th June) more meaningful than just a date on a calendar by taking the initiative to save water, one of the many steps we can take towards saving the environment. In fact, this should not be the only day to save water. Make it part of your daily routine and help conserve earth's water resources.