How to apply for online admissions to Indian Idol Academy talent courses

Want to know how to join the Indian Idol Academy in Ahmedabad? Eager to know how to register online for Indian Idol Academy training programs in singing? This article provides details about the Indian Idol Academy centers locations, courses curriculum, contact phone number and the application procedure for the courses.


Introduction

The Sony TV reality show Indian Idol has been an excellent platform for an individual to showcase his/her singing talent on a national level. With music maestros & singing legends on the judging panel as well as mentoring participants, even the most timid singers come into their own. Now some of the same maestros and legends are getting together with others in the field to establish a learning academy for discovering and honing budding Hindi vocal talent.




Indian Idol Academy Mentors
There are 4 maestros who will mentor and convey their vast experience to the students enrolled in the academy. These 4 maestros are:

Padma Shri Kavitha Krishnamurthy, who has received training in Rabindra Sangeet & is one of the most reputed playback singer in the film industry.
Alka Yagnik, also a Bollywood playback singer whose voice debuted on the airwaves with All India Radio.
Padma Shri Hariharan, a voice to reckon with since over 40 years.
Salim Merchant, well known Bollywood music composer.
The Courses & Curriculum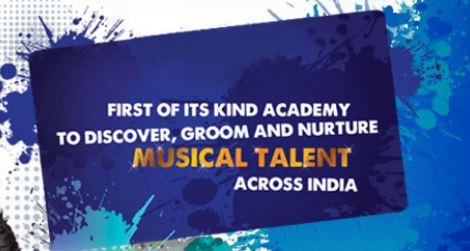 There are 3 courses for completing the academy's learning festival as it is called. Prior to starting the courses, you go through the primary stage known as the Jaagran stage. During this phase, the very essence of you your soul is awakened to discover your vocal spirit so to say.

The 3 courses and the learning features of each are:

Course 1: Basic Music Education Course
Duration: 3 months

Features: There are 3 sections:
Gyan: This section is centered on knowledge. The knowledge you gain during this learning module includes the basics of music & how to combine the technical aspects of singing with emotional modulations. You will get a good grasp of how the voice works & the correct duration for practicing. What's more, you will even gain knowledge about how to perform on a stage in terms of movement & how to dress up for such performances.
Kaushal: This section is centered on skills. The skills you will learn will include how to listen and how to connect with your audience. You will learn too how to develop your self-confidence and think of unique ways to present yourself during a performance.
Shadhana: This section is centered on practice. First and foremost during this learning module you will get to understand the correct techniques to breathe so that you are able to get the correct control over & understand the strength of your vocals. Useful tips will be given on the type of nutrition and food you should eat & what to avoid. A physical fitness regime will also be recommended. Then you will learn about how to write & compose your own lyrics and gain an understanding of the right songs to suit your own individual voice. You will also learn and practice both individually and also as part of a group.
Course 2: Talent Development Course

Duration: 6 months.


Features: Here, too, are 3 different learning modules similar to Course 1, but incorporates more advanced training, specially designed for those who are greatly inspired to develop their talents to the fullest.

Gyan: The knowledge you gain during this session will debunk the typical myths which surround singing. You will become more aware of the functioning of the physical parts of your throat, mouth and ear – how these all work together towards creating your voice. This awareness will further lead you to understand better breathing techniques. Finally you will gain knowledge about presenting yourself in front of the camera (which type of garments & colours are better for the camera?) & how to relax while facing it.
Kaushal: During this session you will be educated on how to present yourself while standing in front of a microphone on a stage. A stage performance involves a large audience so you will need to be able to get your voice to reach the last row with as much clarity as the first row of the audience. Thus you will learn about resonance, pronunciations & emotive expressions. All this will combine to make you a forceful presence on the stage, nimbly being able to not just connect but also interact with the audience. You will even get tutelage on performing when the chips are down, namely when you are suffering from a sore throat.
Shadhana: Not familiar with advanced scales? Not to worry. The academy will give an indepth workout of the various scales & will enhance your rhythm and harmony skills. In fact, you will discover your very own different vocal registers and understand the nuances of pitching them in the right way. Even the correct placement of the tongue & lip formation is essential to good singing.
Course 3: Learning from the Legends
On successful completion of the Talent Development Course, you will reach the best level of all: direct access to legendary people in the field of vocals & learning first-hand from them. Wow!
Fees of Indian Idol Academy Courses
At the time of posting this article, details about the fees for each course were not available at the official website of the academy. You can check out this article from time to time to get updates on the fees.


Indian Idol Academy Campus Venues
The Indian Idol Academy will initially be set up in Ahmedabad and later in other major cities in India. To register for the learning festival in Ahmedabad call 9743258888 (see image below)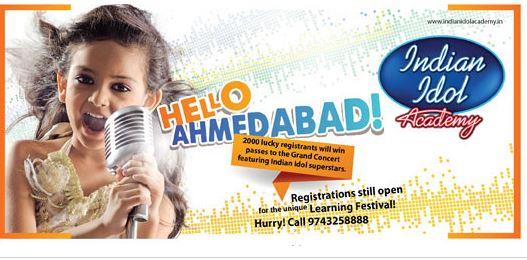 There will be various classes of the academy which will be conducted in actual classrooms (check out this article at a later date for updates on the addresses & phone numbers of the Indian Idol academy Mumbai and other cities' centers). In this regard, there will be: mega-junctions, micro-junctions and micro-junction onwheels.

The mega-junction centers will conduct special classes with up to date infrastructure and facilities for the various courses with mentors conducting these courses.

The multiple micro-junctions will be set up in existing educational institutes so that a learner can easily get access to it. These micro-junctions will be associated with a mega-junction & will be exclusively for Course 1 and Course 2. One trained maestro will be assigned to each micro-junction.

Some micro-junctions will be in mobile mode (known as micro-junction on wheels) to allow for learning on the go.


How to Apply for admission

There are 3 ways to apply for admission to the Indian Idol Academy:

Online application

Open a Gmail account if you don't have one.
Sign in with your Gmail ID here: http://portal.indianidolacademy.in/Account/Login?ReturnUrl=%2fcore%2fdashboard
Provide information about your profile.



SMS application
All you need to do to register via SMS is this: SMS IDOL to 58888


To registar via phone: call 58888777


Currently the Facebook page of the new season is accepting uploaded videos of your singing talent. See more details: How to apply for 2014 Indian Idol auditions online selection


Contact Information of Indian Idol Academy
MB 231, Ananda Bhavan,
Salt Lake East, Sector - V,
Kolkata - 700102
Mail us: reachus@ky21c.org
Call us: +91-33-64444985
Website: http://indianidolacademy.com/


Acknowledgement: all details on courses & images taken from official website - http://indianidolacademy.com/