Google's invitation for Think Mobile 2014 A Developer Summit in Bangalore

Read this article to know about Google's Think Mobile event which took place in Bangalore on 24th Sep 2014. The event was mainly taken place as the developers (publishers, advertiser and apps company) summit. You can check this article to know more detail about Google AdMob and ThinkMobile event which Google invited me for 'Think Mobile 2014 A Developer Summit'. You can know how to create, connect, succeed in a multi-platform - experts view. Why Google says Content is King & Delivery is Queen, check it.


It was / is my pleasure to receive an email and its invitation from Google for Think Mobile / Google's AdMob event at Vivanta by Taj Hotel, Tumkur Road, Yeshwantpur, Bengaluru, on 24th Sep 2014. I got an opportunity to see and meet many Mobile experts, Bloggers, Publishers, Developers from across the globe delivering insights on app ecosystem, monetization, user acquisition, mobile technology and many more.


An opportunity from ISC to attend Google's ThinkMobile event

Before telling these, I would like to inform all ISCians and visitors' that this opportunity arrived at me just because of Tony John (Webmaster of this site, ISC is called in short for IndiaStudyChannel.com), beside I am a member of this reputed educational site and Techulator.com for a long. This is the second time that I have got an invitation from Google, though the second one which I am going to tell you about the event in detail is coming little later, before that, the first one invitation one year back from Google was nothing but it was an invitation to be present in Google's office at KR Puram Bangalore, just to have a chat, expert guiding on monetizing the web content, web presentation tips, ad size and its arrangement etc.

Here you go for the second one or latest event from Google which I recently attended along with as much as of 1000+ head counts altogether of Google's Publishers, Advertisers, Apps Developers and Google's India team (altogether called Developers, and user [consumer] is a different one). It was really a good day for India as one of the app developer (Nami) said in his speech indicating all who attended over there. Other than Bangalore head counts, other Indian states people were invited by Google and they were attended too. I emailed to Tony to inform about this event, he said me to attend for the same without fail.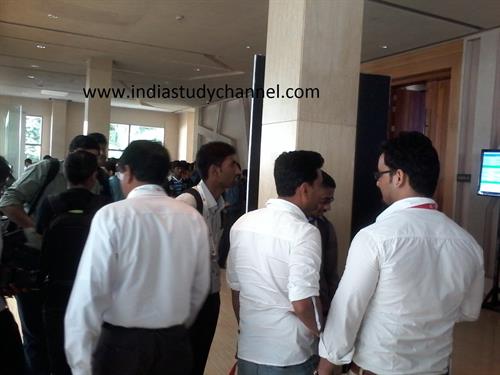 Google's ThinkMobile entry and registration


Registration at Google's ThinkMobile and AdMob event

I safely reached venue from Bangalore south to Bangalore west (Yashwantpur, Vivanta Taj Hotel - with huge traffic on the way), at 10.00am, just registration was going on and my registration was already done by one of the emailed reps (upon email / SMS confirmation) to hand over Temp ID to me, and they also given me a Google's gift bag (which contains Google 's Android shaped Pen drive, AdMob T shirt, AdMob catalogue and detail).

The auditorium was full and it was looking like double the size of a big theater in the city or town and few of them even standing without seats for them. Google's Program just started and speech of Rajan Anandan, VP Google India was going on upon my entry and his speech was on the topic of The Mobile Landscape in India and its detail. The next one came by Monisha Varadan, International Product Partnerships, Google, to give enormous detail about the success between user and developer as to Grow with Google. The third one on the stage to speech was none other than Scott Sheffer, VP, Online Partnerships Group, Google - he spoke in detail about the Global App Ecosystem and its process.


Some words from Google's Head and Experts

Though there are many things to say but I am going to write some highlighted one on this, Google team shown some of the video clips and statistics presentation which let us think and understand that even a child who is lesser than a year old would like to go with advanced, touch-integrated screen rather than a newspaper (without touch) even though the paper may not be replaced anything at anytime. The next one is, creativity who wins the business game on the toughest market globally. They said that this is a kind of war between Developer vs User. How do you identify the user's demand and fulfill their requirement is another one. Don't 'give up' is the terms to say here for any creativity which already taken place, possible to modify or create a new, add features and bring with new shape, as long as users are satisfied from that.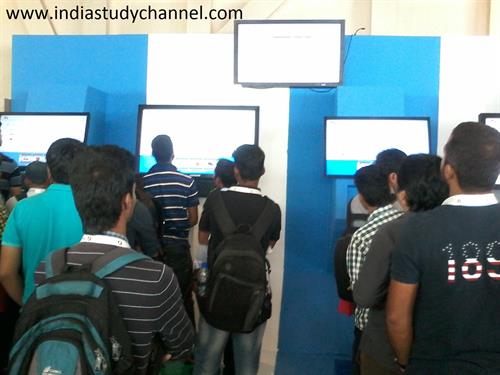 Google's AdMob and ThinkMobile contest participation for Nexus 7 Smartphone

We got a little breath from AC auditorium hall to relax at outside on a natural lobby cum open ground at 11:30 to 11:50 with a cup of Tea / Snacks. Meanwhile, there was a contest going on where there were three Computer systems at lobby for AdMob / Adsense topic to answer for couple of queries, and winner will get Google Nexus 7 smartphone. In this contest, winner will be the one who gets 200 points for around 20 questions within lesser seconds, to be won. In first half, a person won Google Nexus 7 Smartphone by answering all the questions to achieve 200 points within 51 seconds. Some of the AdMob question was related to Google Ads size and placement usage.


Apps developer for Google

Back to auditorium, there were so many topics going on around followed by, the best among few is, Sungly Mobile from China that has more customer international wise than local in China - they got success within couple of years on startup, Xiangdong Zhang said. After seeing the agenda, everyone expected the man to come on the stage who was none other than Nami Zarringhalam, Co-Founder "TrueCaller", he was really excited to be in India since this is his first visit to India that too via Google, he said.

Truecaller is one of the best apps that downloaded heavily everyday, India is number one as per their list for downloading Truecaller apps, this apps helps to become a free member, shows the callers' identity before taking calls, stop SPAM calls permanently and helps to block the unwanted calls instantly. Nami explained and entertained very well to all. After that, Junde Yu arrived on the stage to explain about the Maths behind the Apps trend in India and abroad, he basically given all the stats comparing Indian and the top 10 countries for selected apps and usages, including keywords data - it was so good and at the same time it was funny presentation as well.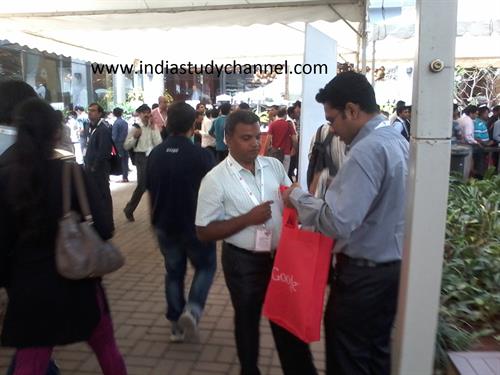 Google's gift bag and snacks / lunch

Once again we got a little breath from AC auditorium hall to relax at outside on a natural lobby cum open ground from 1:30pm to 2:30pm with nice and yummy lunch break. I got an opportunity to see / meet few known bloggers upon tea break beside Google Nexus 7 contest and participants - I was unable to participate in the contest due to heavy crowd and long queues for this three systems.


Different session in Google's ThinkMobile and AdMob event

There were different sessions going on within three different parted halls post lunch, some of the best topics were as follows;

How to capture international users


Content is King, Delivery is Queen


Fortifying Ambitions


The runway to app installs


Challenges of Monetizing Mobile games


How to create, connect, succeed in a multi-platform Universe


Measuring success with analytic


Mobile startup solutions by Google


App Promotion, Discovery and Engagement

The main speakers on those selected topics were as follows;

Aihua Huang - VP, Sungy Mobile China


Rohit Bhat - Robosoft


Kari Krishnamurthy - VP, Truecaller


Virendra Gupta - NewsHunt


Shouneel Charles - NDTV


Aloke Bajpai - Ixigo


Ravi Gururaj - NASSCOM


Shailendra Singh - Sequoia Capital


Pratyush Prasanna - VP, PayTM


Manish Agarwal - Reliance Entertainment Digital


Pankaj Chhaparwal - Cricbuzz


Sergion Salvador - Global Head Games


Evan Spytma - Unity Technology


Vineet Tanwar - Gaming, Google


Sunil Rao - Startup Ecosystem, Google


Ankur Goel - Mobile Apps, Google


Nandan Nilekani - Co-Founder, Infosys & Former Chairman, UIADA (Aadhar)


Rajan Anandan - VP / MD - Google India

At the end of the day, we got to go with main session of "Think Mobile Contest Finale" among participants and "The Next 300M Mobile Users" meets followed by, to get some detail. Few more got the Google Nexus 7 Smartphone from the AdMob contest. One of the best part from all the above VIPs are "Punctuality", "Simplicity" and "direct to the matter of the event with detail". This event was not about any SEO tips or Organic traffic or Keywords usage but a different one.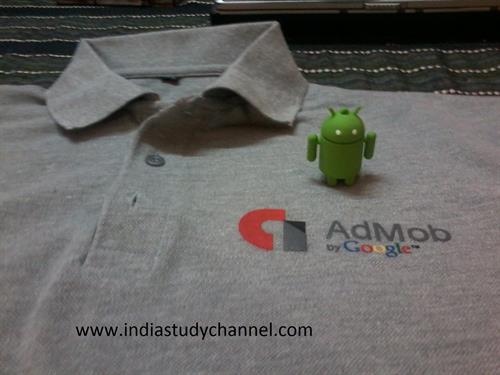 Google's T Shirt and Android shaped Pen drive gift

Note: I would like to stress all ISC members' that try to stay tuned at ISC or ISC's Sister site beside your regular and quality contribution, may be you will get a different opportunity from ISC too, like me.

You will get few more event detail from me either in this section or ISC Forum section sooner or later. That's it here. Thanks to all readers, your comments are welcome.