How to make money from Infolinks ads

Looking for a review of Infolinks ads? This article provides information on the types of Infolinks ads available for publishers, including bloggers. You will get details of how to integrate Infolinks ads with your blog or website and earn money. I have also provided a personal review of the Infolinks ads.


Google AdSense continues to rule the roost as far as monetization programs for blogs or websites is concerned. It definitely is the #1 in giving great earnings! However, it is also #1 in the difficulty level for an entry due to its stringent policies. This is to be understood, because, naturally, the aim is to ensure that publishers are providing high level platforms for the advertisers and are not indulging in fraudulent activities. Google also weans out poor quality sites which have little or vague content. Thus many a blogger & website owner get rejected applications for the Google AdSense program. Their option is to look out for other monetization programs for publishers. This article provides information on one such monetization program, namely Infolinks.


The people behind Infolinks
Launched in 2007, Infolinks is co-founded by Oren Dobronsky, who is the Chairman and Yariv Davidovich, who is the COO. Dave Zinman is the CEO. You can read more about the company at the official website (see contact info given at the end of this article).


Infolinks features
Many of us have faced the problem of banner blindness, wherein a visitor to the page completely ignores the ads which are displayed while reading the text on the page. Infolinks ads aims to overcome this problem by displaying ads in a non-traditional way so that relevant ads have good placement and attract attention. What's more, Infolinks ad units are not limited to only certain types of devices, but are enabled on all mobile devices.


Types of Infolinks ads
intext ads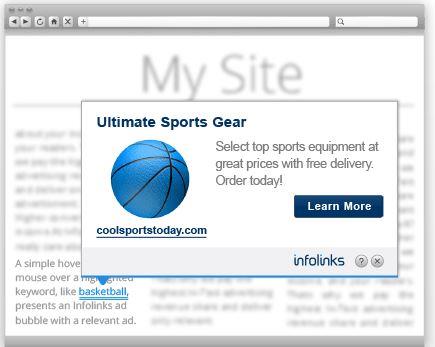 The goal of intext ads is to reduce what is known as banner blindness. Its unique analytical tool does a quick scan of your page's content and places lines under valuable keywords. When a visitor hovers on the underlined word(s), an ad will appear in a bubble over the word(s).
You can customize Intext ads by selecting:

Maximum links per page: this is up to 12. Preferably you should select between 4 to 6 only.


Link style: you can choose between double lines or dotted lines


Link colour: you can select from the colour chart which opens when you place your cursor in the box for link colour
infold Ads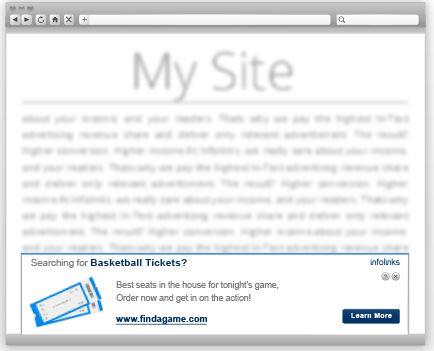 These are ads which pop up from the bottom of the screen for about 15-20 seconds. They are thus known as footer ads. The 728 x 90 ads are based on what the visitor's real-time intent was, meaning what was being searched for just prior to landing on the page. The beauty of this ad is that it does not intrude too much on the reader's vision. It pops up for a brief time and then automatically compresses itself to a small headline.

You can customize this rectangular ad display by selecting a colour form the 7 options given. Simply point your cursor arrow at the colour. You will see the border of the ad unit displaying that colour. Select (tick mark) the one you want and click on the save button.


intag ads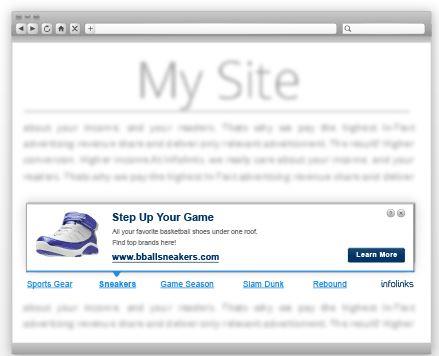 The intag ads use a unique algorithm to identify the keywords on your pages and, based on these words, display miniature ads in a little cloud. These ads are of two types: they can appear at your site either in a single line or in a double line. You can also choose to have it automatically displayed or manually displayed. If you select automatic display, you can further choose: (i) top location (ii) bottom location or (iii) top & bottom location. If you select manual display, you can copy-paste the small code which is provided in the specific place you want at your blog or website.

You can also select the colour of the link. To do this: just place your cursor in the box below 'Link colour' and the colour chart opens. Select and save.


inframe ads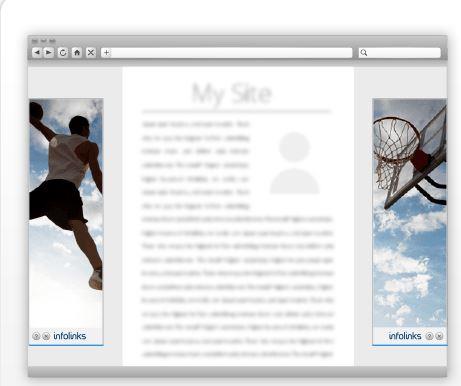 The inframe ads are skyscraper banner ads which appear at either side of your text, thereby "framing" the text. Thus, the margins at the sides which are not being utilized for any purpose becoming functional earning avenues. While the reader to your page scrolls down, the ad display remains stationary. Here, too, you can select the colour of your choice.

Note: For all the various types of ads, you need to go to the 'Customize' Tab at your Infolinks account and select the ad type, colour, etc.




Basic information about Infolinks
The publisher: It does not matter if you are not a prominent website owner or a reputed blogger. Both large and small publishers are welcome to sign up for Infolinks. Of course, the Infolinks team will screen your content and will reject a website or blog which, as per their policy, is "deemed as negative in nature, illegal or offensive in any way".


Registration fee: There are absolutely no fees to join nor is any fee imposed for use of any type of ads display.


The language of the site: Your content should be in English or Spanish. At some future date, Infolinks is likely to make provisions for websites in more languages.


Deactivation of the site: At any time, Infolinks may deactivate your website on grounds of fraudulent activity. If this happens, it will neither be re-insated nor will there be approval for any new applications. So be careful! Infolinks does have its own system to detect fraudulent activity. You can, though, make an appeal through the contact us page (the link is at the bottom of your account) in case you find that some fraudulent activity has taken place due to external agents or some traffic-related issue. You will need to support your case with proper details.


The earnings: A publisher will get 70% revenue share of the gross revenues.


Payment threshold:

Your earnings need to reach a minimum of $50 if you opt for the payment method of PayPal, eCheck, ACH and Payoneer.


Your earnings need to reach a minimum of $100 if you opt for the Bank Wire Transfer option and Western Union transfer option.


In case your earnings at month-end does not reach the minimum payout level, the amount gets carried forward to the next month. In case you find that you are paying higher fees for receiving the payment, you have the option of setting your own payment threshold.


Payment modes: Infolinks offers multiple modes of payment. You can select any one payment method via the Payment Settings page and can also change it later. The options are:


PayPal


Bank Wire


eCheck


Western Union


ACH – this is only for those having a U.S. bank account


Payoneer



Payment credit: Infolinks will issue the payment of your earnings within 45 days from the end of the month. Naturally, you need to have reached the minimum payment threshold as mentioned earlier.


Payment processing fees: You will not be charged by Infolinks for processing of your payment. However, there may be a fee associated with your payment provider. Accordingly, the fee is:


PayPal: $1 for US residents and 2% (up to $10) for all other publishers


eCheck: $6 (plus 2% conversion fees if applicable)


ACH: No fees


Payoneer: No fees


Western Union: $15 minimum fee


The above mentioned fee, as per the payment mode you select, will be deducted from your payment. There may also be an additional fee for conversion to your local currency. Once the payment is made, Infolinks will send you an email, giving the full details of the transaction – your earnings, the fee deducted, the amount in local currency.
How to apply
Infolinks has one of the quickest ways to sign up! All you need to do is go to http://www.infolinks.com/join-us for the joining process and then submit your blog or website.

The Infolinks team will review your website. Till then, at your account, the status will show as 'Pending'. Once it is approved, the status will show as 'Active'. If your application is rejected, it will show as 'Denied'.

Infolinks will let you know within 2 days maximum about the status of your applicaiton. If approved, you will get the email that you need to integrate the Infolinks script into your website/blog. The ads will right away start being displayed.


How to apply for and integrate Infolinks through IndiaStudyChannel.com
In addition to the many earning opportunities through contributions at IndiaStudyChannel.com (ISC), the site administrators are offering members the chance to earn through the Infolinks ads displayed at their contributory pages. This is through a revenue sharing program, wherein the member will get earnings from Infolinks ads displayed at his/her pages for a period of 1 year. The ads will be displayed in all the sections of ISC. Members can select the type of ad units they wish to have displayed at their pages as well as the colour for their ad units. This has to be done through their own Infolinks account.
For those not having an Infolinks account

Sign up as per the instructions given here: Sign up for Infolinks


Add the URL of your profile page under the 'Add Websites' page in your Infolinks account.


Select English as language



In the description box, write: IndiaStudyChannel.com (ISC) is an educational website which is providing Infolinks as one of the revenue sharing programs to its members. You can check 2 of my pages: (i) …. (ii)…..


Hit the submit button.
For those already having an Infolinks account
After you log in to ISC, go to: EditAdSettings page


Enter your Infolinks account number


Go to Account page at your Infolinks account and click on 'Add Website'


Enter URL of your profile page


Select English as language


Select education as category


In the Description box, write: IndiaStudyChannel.com (ISC) is an education portal. I am a contributing member to this site, which is providing Infolinks as a revenue sharing program for its members. I have added my Infolinks account number at the site. Please provide me with a wsid number so that I can fully integrate Infolinks with my contributory pages at ISC. I am providing the URLs of 2 of the pages where you can see my contributions: (i)…. (ii)…..


Hit the submit button.

In the list of your websites at your Infolinks account, you will see the word 'Pending'. You have to wait till Infolinks sends you an email letting you know that your website has been approved. If it is approved, you will see the word 'Pending' changed to 'Active'. If it is not approved, it will show as 'Denied'.

In case they have not given any clear reason for rejection, contact them and request them to let you know the reason. If you feel that you have not integrated your account correctly, you can get guidance either by posting a comment below this article or submit a forum thread. We will try and help you out with issues related to your Infolinks account.

Note that ISC is not responsible for your payments. The payment for your earnings from Infolinks ads displayed at your pages is done by Infolinks only and not ISC. So for any payment-related issue for Infolinks, you need to contact them directly and not the ISC Webmasters.


Infolinks review
I signed up with Infolinks in July 2012 to monetize my various blogs. Due to previous experience with other monetization programs, such as Affinity, Kontera, Chitika, etc I was fully prepared for and predicted (a) slow earnings and (b) not-so-prompt replies to issues / no response to queries. Well, the first did prove to be accurate, with earnings extremely slow. I got my first payment only this year! As for the second, I was in for a pleasant surprise – the Infolinks support system is simply splendid. They reply very promptly, no matter whether the issue is minor or major, within a day, maximum 2 days.

The procedure to integrate Infolinks ads at your blog or website is really easy. You simply need to copy-paste the code they provide into your site and that's it. This was a real boon for a tech-novice like me.

You are free to select the colour for the display of your Infolinks ads. This is a huge plus point I must say. After all, the ad needs to be visible against the template of your site. So if, for example, there is a blue backdrop, ads with blue underlined text will fail miserably. Another good aspect is that you can place the intag ads manually wherever you want to.

The one aspect that I found decidedly odd was that the large majority of the ads are related only to Facebook. I really can't understand this, as when Infolinks says they are giving ads relevant to the content on the page, then why are there only Facebook-related ads?

One of the possible downsides of using Infolinks ads is that it may slightly affect your earnings from Google AdSense. The reason is that visitors may get diverted to the Infolinks ads rather than the ad units of Google. This is what some publishers have stated, so you need to experiment a bit yourself to see if there is any such effect. You could use Infolinks ads for a while alongside Google AdSense. Save the reports of both. Then disable the Infolinks ads by removing the code and see the report of your Google AdSense earnings. I suggest your try this out for at least 10 days or more and not just for 1-2 days to know the effect, as Infolinks earnings may not necessarily give you daily earnings.

A final word: after I integrated my Infolinks account with ISC, the earnings have increased dramatically! Hence I would highly recommend that you join ISC right away and start earning through the Infolinks revenue sharing program, especially if you are looking for a genuine work-at-home online source of income


Contact information for Infolinks
Address: 505 Hamilton Ave. Suite 220 Palo Alto, CA 94301
Ph: +1.650.422.3391
Email: support@infolinks.com
Website: http://www.infolinks.com/

[All images taken from Infolinks official website]
Readers are welcome to give their feedback and reviews of Infolinks through the comments box below.