My interview experience at Thermax Ltd

Here I will describe my interview experience at Thermax Ltd, Pune for the post of E&I Engineer. It includes general, electrical and instrumentation related questions asked by interviewer and answers replied by me.


I had drafted this article 5 years ago in 2010, few days after my interview at Thermax Ltd and kept in draft of Gmail, never read again. Today I thought of sharing it with you all.
I am an Instrumentation & Control Engineer with 3 years of experience. My interview for the post of "Electrical &Instrumentation Engineer" in "Thermax Ltd" (Chinchwad, Pune), was scheduled in the month of FEB 2010. I was very excited because I was looking for this company when I was a Fresher.
I was asked to reach at time. I reached company at 9:30 am. Time punctuality is the important factor in Interviews. You are always seen for the discipline, punctuality & sincerity. I was not much prepared technically because I was full time working girl and did not get time to prepare. But I was more "alert" for each & every sentence which might be thrown from interviewers. I waited in waiting room for 15 minutes then HR called me up & gave me a long form to fill it up properly which included all the details like personal details, educational details, experience details, previous salary details, expected salary, reason for leaving current company, your hobbies and other details about candidate.
Anyways I filled the form & gave it to HR with my resume attached. After 1 hour I was called for interview. I entered the room, there I saw two interviewers sitting. I wished them Good Morning, they also replied & one of them pointed me to take my seat. I sat down, but was little bit nervous. Now they started throwing questions one by one as follows.

Questions asked in interview
Question 1
Tell us in brief about you?

Answer
I briefed them about my education, experience and my family background.

Question 2
What is your current company's profile & your job profile.

Answer
I elaborated about my current company, its profile & my designation with my job profile. (That time I was working as Project Engineer in a Material Handling Company.)
Now, as I mentioned my job profile they started asking relative questions like:

Which projects you have handled so far?


Who is your client?


Are you involved in meetings conducted between both the parties?


Do you visit site out of Pune?

I answered each and every question with confident. Interviewers seemed quite happy with the answers.

Now it was time for some technical query other than my current job.

Question 3
What is VFD and its basic circuit?

Answer
VFD i.e. Variable frequency drive is a device which controls motor speed by varying motor frequency or input voltage.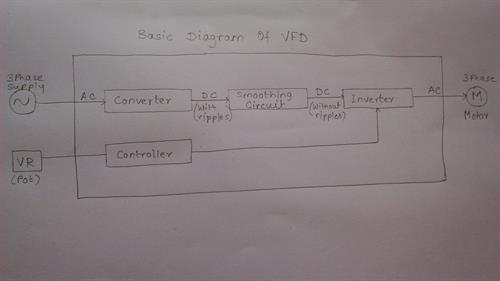 Mainly VFD consists of converter, smoothing circuit, controller and inverter.
Converter- It converts AC signal (coming from external supply) to DC signal and this output goes to smoothing circuit.
Smoothing circuit – It is used to remove ripples from DC output of converter and its output goes to inverter.
Inverter– It changes DC signal (received from smoothing circuit) to AC signal (which is supplied to motor) with variable frequency.
Controller – It receives signal from user and gives output to inverter which accordingly generates output with variable frequency.
VFD output is controlled by VR (variable resistance, maybe a pot).

Question 4
As per the safety point of view, what devices can be used for Motor?

Answer
Motor should be provided with overload protection. Overload cause overheating of motor therefore overload protection is must for motor. It can be accomplished with the use of OLR i.e. overload relay. In case of overload, OLR will trip and supply to motor will cut off.

Question 5
Mention the block diagram of PLC & PLC selection method.

Answer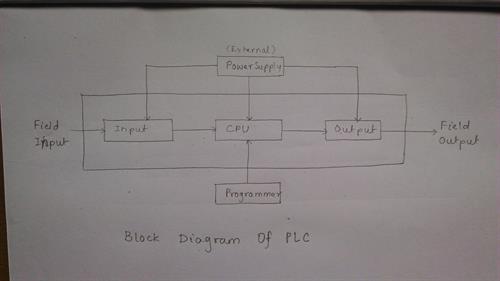 PLC mainly consists of CPU (central processing unit), Input module and output module.
Input module senses the signal coming from field (it can be any sensor, push button or switch) and converts it into a logic which can be read by CPU. CPU processes the signal as per the program fed by programmer and gives output accordingly in the form of logic. CPU output goes to output module and it converts this logic into a signal which actuates field output.
PLC Selection depends on following factors:



Number and type of input module


Number and type of output module


Program logic complexity


Software


Communication requirement (like Ethernet, fieldbus etc)


Work environment


Question 6
What is flow transmitter & which type of flow transmitter you have worked with?

Answer
Flow transmitter is a device used to measure flow of a gas or liquid and converts it into a proportional electric signal (like 4-20 mA or 0-10 VDC).
I have worked with differential pressure type flow transmitter in which flow is calculated by measuring differential pressure across an obstruction like orifice inserted in pipeline.

Question 7
RTD working principle.

Answer
Resistance is directly proportional to temperature; it means resistance increase/decreases in proportion with temperature of an object increases/decreases.

Question 8
What are the fundamentals for electrical circuit design?
I was not able to answer this question clearly.

I answered for all instrumentation related questions but I was stuck when electrical designing came. I was aware of electrical but not in designing section. As I was called for E&I engineer, it was natural that electrical & instrumentation questions will be asked. After all interview was good. I was answering confidently, that was my plus point.
That day I returned without any positive answer but after a week I was again called for 2nd round. But this time I was facing the Head of Instrumentation. He asked general questions as well as some technical questions also. 70% of the questions I answered. Head was happy with me. He saw the expected salary in the form & pointed me that it was too high. I was stuck on that amount and he wanted me to come down. He was supposed to appoint me at the salary equal to current one. I clearly refused.
After that I was told to wait for some time because they wanted me to meet with HR for salary negotiation. I was OK with it but after some time they told me to go & said that they will let me know. But no answer from their side.
Lastly I want to say everyone that if you are going for any interview prepare technically but do not lose patience & be confident for you. This will help you a lot. This is my personal experience which I mentioned above.
All the best.