2018 Nine dress colours of Navratri Festival of India and their significance

Wondering why people wear different specific colours on each day of the Navratri festival? This article explains the reason, giving an insight into the significance of the 9 colours of Navratri. Know also the 2018 Navratri colours of the garments to wear on each of the nine days.


Colours. No Indian festival is without them. The hues of Holi, the traditional decorations of Eid, auspicious symbols & flowers of Navroz, the rangoli designs & pretty lanterns of Diwali, the bright idol colours of Ganesh Chaturthi, the twinkling lights of Christmas…an endless riot of colours all year through!

Then there is the festival of Navratri, centred around nine specific colours. This festival of traditional music and Dandiya Raas and Garba celebrates the nine earthly incarnations of the divine being Goddess Durga.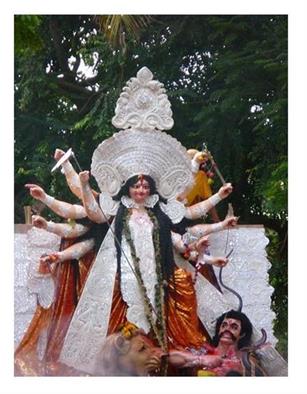 [Image taken by author]

The many forms of the Devi are worshipped over the nine days, with each form representing a particular characteristic, symbolized by the colour of the garment worn. Accordingly, people love to dress up in the colour matching the garments of the idol worshipped on that day.


Goddess Durga nine incarnations and colours 2018
10th October (Wednesday) -Pratipada: Yellow for for Goddess Saraswati who gives knowledge & is considered the hard-working Devi.


11th October (Thursday) - Dwitiya: Green for Goddess Jagadamba who represents Nature, while a parrot green colour represents Goddess Amba, the compassionate One.


12th October (Friday) - Tritiya: Grey for Goddess Bhairavi, the One who grants the devotee's wishes.


13th October (Saturday) - Chaturthi: Orange for Goddess Chamunda, the courageous Devi.


14th October (Sunday) - Panchami: White for Goddess Parvati who has all the qualities of the Devi.


15th October (Monday) - Sashti: Red for Goddess Durga, who is always in action to tackle evil and ignorance.


16th October (Tuesday) - Saptami: Royal Blue for Goddess Renuka who is a source of inspiration.


17th October (Wednesday) - Ashtami: Pink for Goddess Maha Gauri who calmly forgives her devotees' sins.


18th October (Thursday) - Navami: Lavender/purple to represent Goddess Kushmanda, to signify a fresh start.

Note: Different sources list different colours for each day. Feel free to select your choice!



An interesting point to note here is that, even otherwise, each day of the week is believed to represents a specific colour of a divine being.


Colours and divine beings associated with days of the week
Sunday: Orange, for Lord Surya who gives us light.


Monday: White or Silver, for Lord Shankar / Lord Shiva.


Tuesday: Red for Lord Ganesha in the form of Shree Sidhivinayaka (though some associate red with Lord Hanuman).


Wednesday: Royal Blue for Lord Krishna (note: Dark blue is often associated with Lord Vishnu and Sky Blue with Lord Krishna).


Thursday: Yellow – some associate this colour with Lord Vishnu (sometimes Amber or Cream colour too is considered for this day).


Friday: Green for Goddess Mahalaxmi (though some associate this day with Goddess Shakti and the colours of violet or purple).


Saturday: Grey for Lord Shani

Note: Different people have varied beliefs about which colour is representative of which day and of which divine being, so the above list need not be considered as a universally acceptable norm.




Association of Indian Banarasi sarees and Navaratri colours
In 2015, the Times of India (dt. 10th October 2015, Mumbai edition) had given details of an exhibition called 'Warp n Weft' which showcased traditional Banarasi sarees to match the colour of each day and the significance too. Thus the saris, as per the dates of that year's Navratri celebrations were:

Day 1 Pratipada Red: Red Shikargah to awaken Shakti.


Day 2 Pratipada Royal Blue: Khinkha to strengthen divine consort.


Day 3 Dwitiya Yellow: Guldavari for cosmic love & loyalty.


Day 4 Tritya Green: Tree of life designs for beauty and bliss.


Day 5 Chouth Grey: Tanchoi to illuminate harmony.


Day 6 Panchami Orange: Kora for soul & mind purity.


Day 7 Shashti White: Shwet for Dharma & Moksh.


Day 8 Saptami Pink: Jumki Buti for auspiciousness.


Day 9 Ashtami Sky Blue: Paisley Jungla for calm & wisdom.


Wishing readers a Happy & Colourful Navratri Festival!