SBI probationary officers recruitment 2015 final results, appointment letter & salary

Did you appear for the SBI probationary officers recruitment final exam in July-August and the subsequent group discussion & interview in September?This article provides information on how to check your SBI probationary officers recruitment main 2015 exam marks and download your selection letter. You will also know details of expected salary as an SBI Officer.


The Central Recruitment & Promotion Department of the State Bank of India (SBI) had issued an advertisement for recruiting freshers as Probationary Officers (POs) earlier this year in the month of May. Graduates in any discipline could apply for the recruitment. The preliminary examination, comprising of written tests in English language, quantitative aptitude and reasoning ability was conducted in June 2015, on 20th, 21st, 27th and 28th and the results were declared in July.

The schedule of Phase II, namely the online main exam, comprised of 2 parts, with a total of 250 marks. These were, firstly, an objective test of 2 hours and 200 marks and, secondly, a descriptive test of 1 hours of 50 marks.

In the third and final Phase, those who were successful in the main exam were called for a Group Discussion and Interview. These were conducted last month, in September 2015.

Now SBI has declared the results and issued the list of successful candidates for selection. They are going to have a very rewarding career ahead for sure!

Number of vacancies were as follows:

SC+ST+OBC+Gen = 2000


OH+VH = 62


Backlog vacancies: SC+ST+OBC = 393 and for OH = 14
How to check the SBI final results online
The list of successful candidates has been finalized and displayed on the SBI official website at: https://www.sbi.co.in/portal/documents/44978/12656878/SBIPO15-FINAL+RESULT-1976-15+columns.pdf/d77e1ce4-d668-4277-bc81-a1687f16a0a1

At this page, you can see the entire list of Roll numbers of successful candidates for the post of Probationary Officers. All these candidates will receive an intimation from SBI via SMS at the mobile phone contact number which they had provided at the time of applying for appearing for the PO exam.

The list of roll numbers will also be released in Employment News / Rozgar Samachar edition of 31st October - 6th November 2015.


What to do after getting results
Once you know that you are one of the successful candidates, you need to download the call letter. Here's a step by step guidance:

Step 1: https://www.sbi.co.in/user.htm?action=sbiporesultoct


Step 2: Enter your Roll Number in the box provided.


Step 3: Enter your date of birth - first date, then month, then year. You can select these from the list provided in each of the 3 boxes.


Step 4: Enter the string of alpha-numerical code which you can see on the screen (known as Captcha).


Step 5: Click on the Submit button.

See image below to get a better understanding of the steps: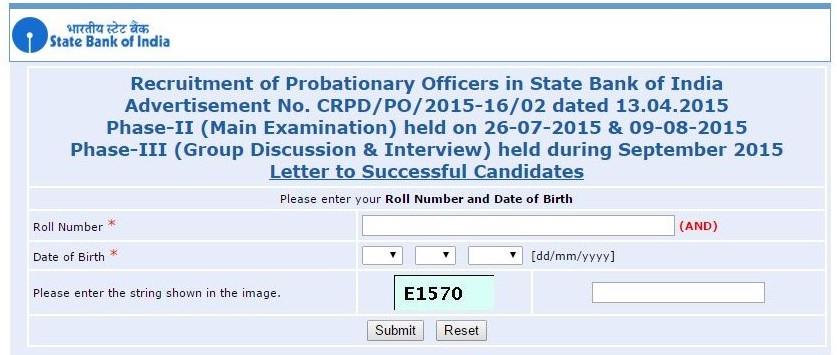 That's it! Now simply download the letter to your PC and take a print out of it right away.


SBI career path on selection as a Probationary OfficerOnce you get your appointed post with an SBI branch as a Probationary Officer, you should not take it for granted that you have a permanent Officer's post with SBI. Initially, you will need to undergo a period of intensive training to learn the ropes so to say & hone the requisite skills to be a fully qualified Bank Officer.



At the end of the 2 year period, you will undergo a screening process where your abilities will be analyzed by a screening panel. On meeting the requisite predetermined standards, you will be placed at the post of an Officer at the level of Middle Management Grade Scale-II. In case you do not meet the standards, you will be placed at the post of an Officer at the level of Middle Management Grade Scale-II or as Officer Junior Management Grade Scale-I as determined by the screening panel. Those who fail to qualify at all will have their services terminated right away.

Naturally, those who are exceptionally talented & prove their mettle can even rise to higher levels, right to the top management posts.

What salary and grade pay to expect as an SBI Officer The starting basic pay is Rs.16,900/- in the scale of Rs. 14500-600/7-18700-700/2-20100-800/7-25700 applicable to Junior Management Grade Scale I. There will be 4 increments. You will also be eligible for Dearness Allowance (D.A.), House Rent Allowance (HRA) and City Compensatory Allowance (CCA) as per the Bank's rules.

As an SBI Officer you will also be eligible for these benefits:


Medical aid for self (100%) and for family (75%)


Home travel concession/leave fare concession


Concessional interest rates for loans for house, car & personal loan


In the first recruitment notification [refer: https://www.sbi.co.in/portal/documents/44978/143453/revised-crpd-sbipo-rectruitment-english+advertisement.pdf/65da1b01-0111-48f0-8019-7c9939e1aeab] for the PO exam, SBI had mentioned the monthly compensation break-up per year at Mumbai as follows:


Cash Component: Rs. 36,046/-


Bank's contribution to PF: Rs. 1,690/-


Housing (Lease Rental): Rs. 29,500/-


Perquisites (Conveyance, Newspapers, Entertainment allowance, House & Furniture Maintenance etc.): Rs. 4,130/-



Congrats to all of you who are about to begin an exciting career with SBI & wish you all the best!