Circular Journey Railway Ticket in India - Travel tips

Indian Railways allow Indian Traveler to use its special Circular Journey ticket offer which many unaware. This one not only helps for a long journey but cost saving too. Learn how to apply for Circular Journey Railway ticket, how to write a letter for it, how to reserve Circular Journey Railway ticket, what is the benefit of this ticket and how to travel on Circular Journey Railway ticket etc.


Are you a traveler or would like to travel a long distance from Indian Railways? If so, you are in the right page to get the right information in time. This article will help you to know complete detail on Circular Journey Tickets from Indian Railways. There are only few people aware about this travel scheme, facility and getting benefits but many unaware about Circular Journey Railway ticket, thus, I would like to let you know in detail a bit for you as well. By end of this article, you will know how to apply for Circular Journey Railway ticket, how to reserve Circular Journey Railway ticket, how to travel on Circular Journey Railway ticket and so on to find the best places to visit in India.


How to apply or write a letter for Circular Journey Ticket in Indian Railways

It is all about Circular Journey ticket from Indian Railways and its process guideline herewith. If you are planning for a long trip across India by train then you may apply for a Circular Journey Tickets from Indian Railways, for that, you have to apply and the process is very simple. You need to write a letter for Circular Journey Ticket's request. Yes, take a plain paper and write the below matter.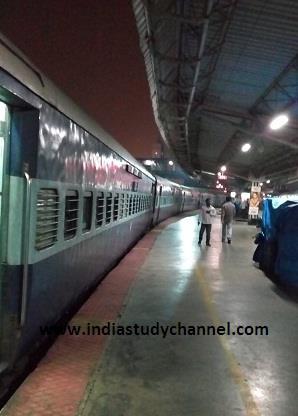 From:
Mr. XYZ, (Your Name and Address)
Address,
contact detail and Date

To,
The Station master,
Circular journey ticket section (Name)
C/O Indian Railways,
City (name of the city from where you begin travel).

Dear Sir/Madam,

Sub: "Applying for a Circular journey ticket"

I would like to apply for a Circular journey ticket start dates from 00/00/0000 to 00/00/0000 with the following routes starting point and ending destination (mention your planning date from and to - it should be less than 45 days of overall travelling which you can break up the travel within this duration and re-reserve it the booking as you wish - then mention the route for example start to travel from "Bangalore-Goa-Mumbai-Amritsar-Delhi-Kanpur-Calcutta-Bhuvaneshwar-Chennai-Bangalore". final destination will be your start to travel station).

1. Passenger Name, Age

This is for your information and request.

Kindly approve it.

Your's Truly

(Your Name / Sign)


How to get a Circular Journey Ticket from Indian Railways

Once you submitted the above letter for a Circular journey ticket as a request to Station Master, they may then check the overall distances of your travel, they would calculate and inform you 'total kilometers of your journey' and they would tell you the overall fare for it in one short to pay for. If you agree it then you have to pay the amount immediately where they direct you to go and pay for it to get the travel receipt. Once you paid the said amount, the authority would give you the Indian Railway Circular journey ticket receipt which will have mention Travel whole routes, total paid amount and approx date that has to be an end the journey (like a last date to complete the journey etc.) from today. This receipt is very important and has to keep while you begin the travel till the end of the journey. This receipt can't be re-use once a route reservation done and used it.


How to reserve Circular Journey Ticket

You have to book or reserve the ticket for the each route in advance which the station counter might maximum charges of 'Reservation fee' that would cost around Rs 50/= (Rupees Fifty or less - nominal one) excluding already paid for main (Circular journey) ticket. For example, if you have reserved as above said routes (Bangalore-Goa-Mumbai-Amritsar-Delhi-Kanpur-Calcutta-Bhuvaneshwar-Chennai-Bangalore), you may then need to book for Bangalore to Goa first by showing this receipt at station counter which the station counter won't charge extra but only 'Reservation fee' which is nominal as stated above.

Likewise, you have to reserve the choice of Sleeper class train from Goa to Mumbai and so on. You can book / reserve it in one short or you can take your time to do so after travel and break. It is better to reserve in advance with this scheme as it is normal that we usually have to book in advance to get Sleeper class in every route. This 45 days are not enough and some time possible for not getting Sleeper berth as it could be long waiting list. Once you got the approved route and paid the amount, you can't then change the different route like Bangalore to Mysore or Bangalore to Gokarna etc. from the above route example given. It must be precise and exact travel route to begin with. You may break the journey if you want to do so with the correct route only, or else, you have to pay additionally for the rest of the travel mode. Hope you have understood right now on what is the benefit of a Circular Journey Ticket and how to travel from a Circular Journey Ticket etc.

Note: This (Circular journey ticket) offer is only for Sleeper class in Indian Railways, and for some route they offer A/C class too with different train and service, this info you have to check it with Railway enquiry in advance before requesting the same. The passenger can't expect WiFi service in Indian Railways at the moment but possibly few station assist on this. This Circular journey ticket is for individual request only and if you want to go with as many people as you want with this ticket scheme then you have to request or write a letter as same as above mentioned but max six person name must be there, and their name, age, other required detail to be mentioned on the very same letter to review, approve and process the request. If you have more than ten people or above, then you may split each six request from the letter but possible to change the bogie while reserving as one person can be in queue at station counter to get six passengers' request and the other letter one may change the gap of the berth booking etc.

You may add the comment below to know more detail and clarification pertaining to this ticket process. We are ready to help you on this. Yes, you can't reserve 'online' for Circular journey ticket and it is meant for station counter booking only, at the moment. Wish you all the best for a very happy journey!