Will India fight against ISIS?

ISIS has become a major issue worldwide. Many states have come together to fight against it. Will India be showing it's part to unite with the world to stop ISIS? If India has done it in the past past, then why can't she show its military power now and prove the world that we are also with them.


A country goes to war with another, not for security, not for annexation, not even for proving its power, but for principles; principles that she believes in. This includes principles of liberty, freedom, equality, democracy and peace. And this is done with lot of will. It was in the year 1971, the Bangladesh liberation war, when India had proved its mettle to south Asia and emerged as a major regional power. It is 2016 now, the time has changed and the wars have changed.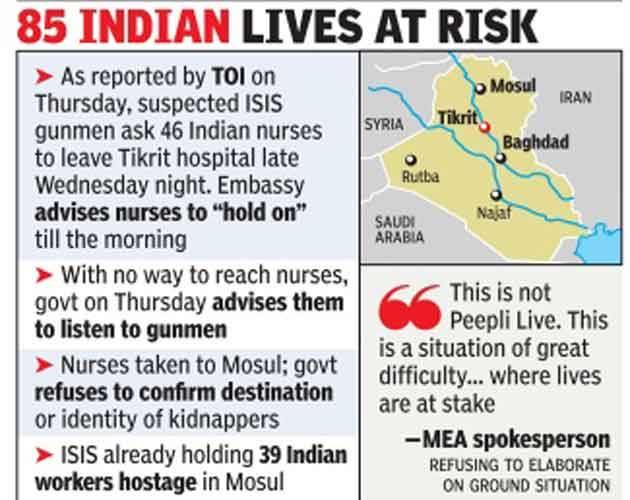 Today, the world stands on a battleground arms against a very powerful enemy, the ISIS. What should India do at this point of time? Should it stand aside and watch as hundreds and thousands are killed and yet just mortally condemn.


Role of India
India's aspiration for a permanent seat in the UNSC have been very open. Amidst murmurs of a more representative security council, India has been heavily lobbying for a permanent seat. The question is "Does India have shoulders strong enough to carry this baggage of responsibilities. What has India done so far to justify its demand for a permanent seat? It is like a child asking for beer who can't even suck a lollipop.

The ISIS is spreading at a dangerous pace. Should India not seize this opportunity that could propel its military and economic status in the global arena and justify its demand for a permanent seat? This is just the right time for India to showcase its power and plunge herself into a direct war against ISIS. Going into a direct war against ISIS would bring India to the foreground and make the world believe that we too matter, that we too can decide the fate of the world and that we too can change the course of history. A direct battle whatever the consequences be would send a message to the world that we are unafraid ready to take on anything and anyone.

Would a direct battle not put India on the ISIS radar and make it vulnerable? The answer is, we are always on the ISIS radar no matter what, with the third largest Muslim population, India has become one of the epicenters for ISIS recruitment. Recent Bangalore incidents prove the same. Next, one might ask if we are militarily equipped to fight an enemy of this magnitude? Yes, we are because we are the largest importer of arms and ammunition in the world. And all claims regarding how powerful ISIS is cannot be proven. Media has been very generous with numbers. Then again, one could argue if there's any need to fight an enemy so geographically removes? If UK can go 13000 kms far off to stand for its people in Falklands, why can't India take on any enemy just 3000 kms away.

The permanent members of UNSC having been raising a serious war against ISIS. Russia has declared operation complete destruction against ISIS. France has been bombing targets in Syria and has intensified the bombing post the Paris attack. US military has recruit local forces to fight the ISIS. And India has been busy deciding what suit to wear when head of permanent member state visits. The actions of the permanent members put them on a different time. These are superpowers in the truest sense of the word, unafraid, uncompromising, unwavering. Can India claim to be at par with these nation by staying away from taking military action?


Conclusion
Imagine our parents being blown off as you are dragged away with gunmen. Imagine wives cry and shout for help as they are raped. Imagine, you being forced to take to the sea in a boat that you know shall capsize. Would you be able to tolerate all this? 24,000 killed, 1.8 million left to wander homeless, 12 years olds given guns to fight enemies they do not know of. These are not mere number or statistics or figures in a newspapers. These are mothers who have seen their children bleed to bullet and kids who has been unable to recognize the blown off limbs of the parents. Now, its upto us to decide if already enough has been done or we need more before we take charge and stop to genocide.



Image source:[timesofindia.indiatimes.com]