United Nations University (UNU) as a study abroad option

Do you know about United Nations University (UNU)? Do you aspire to pursue your higher studies at UNU, the global university? Where are the 15 institutes and programs located in 13 different countries of the world? Read this article to know more about UNU and the available options.


Introduction
The United Nations University (UNU) is a postgraduate teaching organization headquartered in Japan. The University is comprised of 15 institutes and programs located in 13 different countries of the world. UNU offers a wide range of masters, doctoral and short term programs. UNU is a truly global university in structure, operation and ambition. UNU claims to provide its diverse international student body with first hand research experience in the heart of the United Nations. The UNU students come from all over the world and its staff include nationals of more than 75 countries recruited from universities, research institutions and international organizations worldwide. UNU is the only United Nations organ mandated by the General Assembly to grant degrees.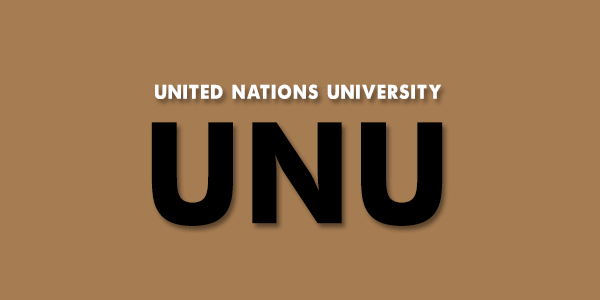 UNU System
The following is a list of 15 research and training institutes and programs located in 13 countries around the world -
UNU Center - The global United Nations University system is coordinated by UNU Center which has its headquarters at Tokyo and 4 branches at Bonn, Kuala Lumpur, New York and Paris.
Institute on Comparative Regional Integration Studies (UNU-CRIS ) at Bruges, Belgium.
Computing and Society (UNU-CS) at Macao, SAR, China
Institute for Environment and Human Security (UNU-EHS) at Bonn, Germany.
Institute for Integrated Management of Material Fluxes and of Resources (UNU-FLORES) at Dresden, Germany.
Institute on Globalization, Culture and Mobility (UNU-GCM) at Barcelona, Spain.
Institute for the Advanced Study of Sustainability (UNU-IAS) at Tokyo, Japan.
International Institute for Global Health (UNU-IIGH) at Kuala Lumpur, Malaysia.
Institute for Natural Resources in Africa (UNU-INRA) at Accra, Ghana.
Institute for Water, Environment and Health (UNU-INWEH) at Hamilton, Ontario, Canada.
Maastricht Economic and Social Research Institute on Innovation and Technology (UNU-MERIT) at Maastricht, The Netherlands.
World Institute for Development Economics Research (UNU-WIDER) at Helsinki, Finland.
Programme for Biotechnology in Latin America and the Caribbean (UNU-BIOLAC) at Caracas, Venezuela.
Iceland-based Programs (UNU-GTP, UNU-FTP, UNU-LRT & UNU-GEST) at Reykjavík, Iceland.
Policy Driven Electronic Governance (UNU-EGOV0 at Guimaraes, Portugal.
Learn more about study abroad opportunities in Japan and admission guidance services offered by IndiaStudyChannel.
Associate institutions
The following is a list of current UNU associated institutions -
Asian Institute of Technology, Bangkok, Thailand.
Center for Development Research, University of Bonn, Bonn, Germany.
Gansu Natural Energy Research Institute, Gansu, China.
Gwangju Institute of Science & Technology, Gwangju, Republic of Korea.
National Food Research Institute (NFRI), Ibaraki, Japan.
Scottish Association for Marine Science, Glasgow, Scotland.


Academic areas
Various research, training and teaching available at UNU, generally fall into following five broad areas -
Peace, security and human rights.
Development governance.
Population and health.
Global change and sustainable development
Science, technology and society.


Masters programs
UNU masters programs are open to recent graduates as well to graduates with several years of experience. This programs prepares students for continuing further studies leading to a PhD program or for working at the United Nations and other international organizations. Some of the masters program offered by UNU are as follows -
Joint MSc Programme on Geography of Environmental Risks and Human Security at Bonn.
MSc in Sustainability (UNU-IAS) at Tokyo.
MSc in Public Policy and Human Development at Maastricht.
Doctoral programs
UNU doctoral students pursue research in the field of real world problems that concerns United Nations. Some of the doctoral level program offered by UNU are as follows -
Joint PhD in Integrated Management of Water, Soil & Waste (UNU-FLORES) at Dresden.
PhD in Sustainability Science (UNU-IAS) at Tokyo.
Collaborative PhD in Development Economics at Helsinki.
Non-degree courses
UNU offers a number of non-degree course also like training programs in fisheries and geothermal exploration in Iceland or courses on climate change and human security in Japan. Some such courses allow students to earn credits towards their degree program and a UNU certificate upon completion. Some of such programs offered by UNU are as follows -
3rd African Discovery Camp for Research-based Training at Namibia.
Intensive Summer Course - 'Advancing Disaster Risk Reduction to Enhance Sustainable Development in a Changing World' (UNU-EHS) at Bonn.
PhD Research Internship Program at Helsinki.
Land Restoration Training Program at Reykjavík.
Fisheries Training Program at Reykjavík.
Geothermal Training Program at Reykjavík.
Gender Equality Studies and Training Program at Reykjavík.
Affiliated Programs
Several distinguished universities e.g. McMaster University in Canada and the University of Iceland have incorporated UNU's teaching and training components into their masters and doctoral degree programs. Such students are enrolled as regular students at the affiliated universities and on successful completion of the UNU component, receive a certificate of completion from UNU and the relevant degree from the affiliated university. One such program is 'Water Without Borders Joint Collaborative Graduate Programme (MA, MSc and PhD)' at Hamilton.


Internships
Three types of employment contracts i.e. fixed term staff positions, personnel service agreement positions and individual contractor/consultant positions are offered by UNU. Some of such opportunities are as follows -
UNU-WIDER PhD Internships (PhD Internship) at Helsinki.
UNU-INRA PhD Internship Program (PhD Intern) at Accra.
Campus Computing Center (Internship) at Tokyo.
Junior Fellows Internship Program, office of the Rector (executive management, institutional development) at Tokyo.
Institute for Water, Environment and Health (Internship) at Hamilton.
Library Internship (Library internship) at Tokyo.
Vice Rectorate in Europe – United Nations University (Internship) at Bonn.
Institute for Environment and Human Security (Internship) at Bonn.
Admissions
The prospective students of UNU may take following steps to learn more and apply to a program offered by UNU -
Explore the admissions section of unu.edu to identify the best suited program
Follow the link to the site of the institute offering the program for a more detailed overview.
Study the specific admissions requirements of the institute concerned and download necessary application documents.
The admissions office for the program offering institute may be contacted clarifications, for any, in case so required.


Scholarships and Funding
Tuition fees - It depends on the type of program i.e. whether masters or doctoral, duration of course and the location of the institute. More information about tuition fee of any specific program, can be had from the website of the respective institute.
Financial support - Available financial support is limited and selection for the same is highly competitive. UNU is unable to provide financial support to all students. Students with outstanding academic records who are able to demonstrate their need for financial assistance may be provided with tuition fee waiver etc. by the institutes offering the programs. The students should also explore the alternative sources of financial support like their home Governments, private foundations and international funding agencies.
Scholarships - A limited number of scholarships are awarded to outstanding students. Such opportunities vary with the respective degree programs. Requests for scholarships should be submitted at the time of application process for admission.
Important
The following are some of the important points related to pursuing higher studies at UNU -
No online courses are offered by UNU.
Application procedures and requirements differ by programs. The website of the institute implementing the program offers specific information.
Acquiring a UNU degree does not guarantee a job with the United Nations.
One need not essentially have a UNU degree to be employed by the United Nations.


Contact details

United Nations University
5-53-70 Jingumae
Shibuya-ku, Tokyo 150-8925
Japan
Tel: +81 3 5467-1212
Fax: +81 3 3499-2828
Website: unu.edu