Which is Better: On-Campus or Off-Campus Accommodation Abroad?

There are many advantages of off-campus and on-campus living when you are studying abroad. Find out how to make a choice between the two. Also, consider alternative accommodation options like homestays with a local family.


When you are heading out to study abroad, you have to make a choice about where to stay. In most of the popular countries for Indian students to study in – such as the USA, UK, Australia, New Zealand, Singapore etc. - both on-campus and off-campus accommodation options are available. The choice between the two types of accommodation is vital because your boarding is going to be one of the most expensive aspects of your foreign education. When you make the wrong choice without adequate research, it can make a big dent in your resources and cost you lakhs of rupees.

If you don't have a scholarship yet, learn more about best scholarship programs to study abroad.

Indian students who are going abroad to study on a scholarship, student loan or external funding will want to look for the cheapest accommodation available which is clean, safe and hygienic at the same time. Both on-campus and off-campus accommodation options have their corresponding sets of advantages and disadvantages. Here is a look at the features of both types.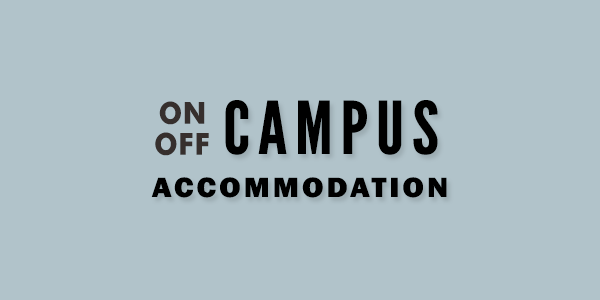 Off-Campus Accommodation

Off-campus rented flats, flat shares and other off-campus places to stay will limit the social life that you can enjoy on campus. On the flip side, it will give you privacy, which may suit some students. When you are staying off-campus, you also have an independence that staying on campus will not always give you. You will be responsible for your own safety and well-being, and this will help you in developing your judgement and life skills.

On the flip side, staying off-campus will mean that you will have to spend money in travelling to and from the university, regularly. The further your lodgings are from the university, the more time and money you will be spending each day. But in comparison to on-campus lodgings, it is possible to find lodgings outside the university at far lower tariffs than staying on-campus. This could offset the costs of transportation, but not always. There is a judgement call that you have to make when you pick off-campus accommodation over on-campus lodgings.


On-Campus Accommodation

When you live on campus, you live in proximity with other students. Usually foreign universities have a cross-cultural student population, and you can enjoy a vibrant social life if you have living with other students. You can also focus all of your energies on your studies and recreational activities, since the university will typically take care of all your needs. Most of the facilities that you would need as a student will be available on campus. You will not have to spend time and money in travelling to your classes each day. In addition, you will also have easy access to cafeterias, libraries, computer labs and other facilities.

As mentioned earlier, for the same facilities, on-campus boarding generally tends to be costlier. But this may not always be the case. Also, when you are living on campus you can rest assured that you are safe from being ripped off by landlords. In other words, you can be sure that you get at least what you pay for on campus.


How to Select Your Accommodation Off-Campus

There is a checklist of things you should consider when choosing your accommodation. The first thing to think about is, whether you can afford the accommodation you are looking at. Also find out from your landlord if there is a bond to be paid (as is the case in some countries like Australia and New Zealand). This bond counts as a security deposit, and it can be a hefty lump sum that you have to make sure you will be able to offer upfront before you take the property.

Also think about the furnishings of the property. Is it furnished enough or do you have to make purchases? Does this offset any savings that you have made in contrast to other, more furnished but more expensive lodgings?

Find out if food and facilities like electricity and water are part of the rent. Are there any hidden costs, such as for connections of power, phone, gas etc? Also think about the distance of the lodgings from the university, and if there is adequate and timely transportation available nearby.

When you have found a place that satisfies you based on the above conditions, you usually will not need to look any further. If the place is not yet affordable, you can think about working part-time to supplement the rent and earn some allowance money for leisure as well.

You can also consider alternative accommodation options such as homestays (with a local family) which can eliminate feelings of homesickness and also lead to cultural exchange. Be flexible when you are on the lookout for accommodation and you will be happier with the results of your search.

Don't forget to read our complete study abroad guide to plan your overseas education.