Free education system in abroad

Many doubts arise in students mind about free education in European countries. The reason for this is: the absence of proper understanding in the educational process. However, the main misconception and the realities are here!


Preface
Students and their parents have many concerns and myths about availability of free education in European countries. Let's see what items they basically are.

These universities have acquired or the recognition around the world?
Why European countries providing free education for international students?
Language
Education policy
Entries
Visa
Settle down


Our conception is that, if universities are providing free education then maybe they are not recognized or otherwise how they will provide free education to the students.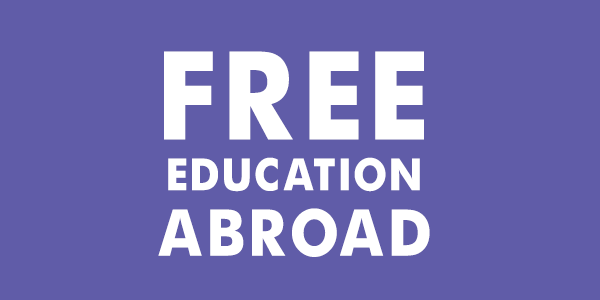 Why foreign countries providing free education to the students?

India's majority of gross domestic product (GDP) spent for the protection. So, India is not able to spend enough on education. This has to be change. But, the majority of European countries GDP will be spend on education. There is no difference between national and international students. Foreign countries will give importance to both national and international students.
Local students pay money for tuition / registration fees. This will be provided for international students. Another reason is: there is relatively small population of these countries.


Eligibility criteria

If anything is coming plenty of free then what about the quality, we think. What is the mistake here? Are we thinking not properly and spreading negativity or really do they don't have proper education? It is absolutely our mistake. Where we are lacking then? This is happens, due to lack of proper understanding and lack of gathering information related to the European countries.

Maximum of foreign universities are better known universities around the world. The universities gained international recognitions and there are persons who awarded with Nobel Prizes are from here. The world's Top 10 or/and Top 100 universities are from Europe. In the context of our educational institutions, we (our India) don't have any one university within top 200 or/and top 300 rank list.

So if we feel our universities are great then what about the top 100 ranked universities in Europe? Definitely, they would reach higher level and they are very old. They are also the world's great research universities. Funds will come from the government for foreign universities. Scholarships are available to students. European universities have agreements with some of the IITs in our country.


Language problem
Should we really know foreign languages to study there? In case of studies, the answer is a big 'NO'.

The local language learning provision is not mandatory. Karnataka, Tamil Nadu, Kerala, AP etc. states of our students go on to study anywhere in India. Do they really learn local language as per your observation? No. They learn the local language for communicating with local people. That's all. So, one should learn the local language/regional language is not compulsory.

In Europe, France, Germany or any other country where they choose to learn the local language is not necessary. English is not the native language of the task but of the teaching language. However, international students learn local language, used to communicate with the people. A student does not learn the writing and reading. It is advisable to learn language for the sake of communicate with the local candidates and for part-time job.


Education

Most of the European universities have ECTS (European Credit Transfer System). Credit transfer system, which means that students accept their credits from one university to another one or/and can be transferred from one country to another country.

In European countries they name the degrees like graduate/undergraduate/Post graduate degrees as BSC and MSC. They don't have separate names for engineering like BE, B.Tech. Most of the universities follow 10, + 2, + 3 / + 4 education system in the universities named as MS. As well as 3 years PhD. Students acquire 30 credits and for each semester 60.


Credit policy, Grading
The education year starts from mid-August to mid-June. According to the standards of ECTSc (European Credit Transfer System credits, a course is calculated as "studiepoeng". A full time academic workload will be 60 studiepoeng / ECTS credits.
Exam grades starts from A (high) to F (lowest). It is given on the basis of grade scale for degree and post graduate degree exams. Grade 'E' is the minimum pass grade. For some exams/tests, only pass/fail mark is given.


Admission Type

Many Indian students think that it would be difficult to find the entrance to the European countries. It is not true. But the seat is easy to achieve a good academic background is subjective. These universities are the state-funded universities.
So, always it is good to apply early for the advancement of entry. The student ratio assigned by the universities for local and international students is 50:50. International means students will come from not only from India but from other countries also. So to avail this free education the seeker should apply prematurely to universities.

Don't think that all universities will ask IELTS / TOFFEL / GRE score. They get access to help, but some universities allow the admission process without having IELTS / TOFFEL / GRE scores. Some universities will ask the local language certification. In those universities, subjects will be in local language. So, while applying for admission you should be aware of the teaching language too.


Visa

To get a visa to European countries, documentation is simple and clear. Obstacles less and chances are more to get a Visa. The visa process will vary for each European country. Visa process will be unique for every European country. Every country has its special needs. So, most of the students are acquiring positive response from the Embassies. If you submit requested documents to Embassy then it will be most likely to offer a visa.


Settle down

Compared to many countries of the world like UK, USA, Canada countries are considered to be suitable to settle. However, it is easy to get Permanent Residency (PR) in European countries. The new rules come in the last 10 to 20 years. International students can now easily settle in European countries. Once, if you complete the degree/post graduate/PhD then you can apply for work permit /PR. European countries offer Green, Blue, Red, White cards. As well as, you can seek any help from Indian communities.


Conclusion

I think, from the above article all your doubts vanished from your mind. Now you are clear with why foreign countries are providing free education to the other countries. So, to avail the chances then you should work hard to get good score. Good academic record will brings you to get admission process faster. You should know the detailed information about abroad countries first. Don't get tense after reaching there. Follow some tips to get successful in your abroad studies. In USA, Harward university is the best. Know the admission process details to get the chance to study in Harward University. Finally, my best wishes for your successful bright future!