SAT - A good way to crack it

Are you dreaming of securing a seat in abroad for undergraduate courses? You are at right place then. Below article entertains you all about SAT exam preparation strategy, test details, allocation of scores to each segment etc.


Preface
Generally, students prefer to study in Indian universitiesand Indian colleges after completion of +2. They utilize the opportunity to go to abroad for higher studies. Students can also do their education for Bachelor courses in foreign countries also. Compared to the number of students going to European countries for PG programs, the students are less preferred for undergraduate degree to study in abroad. The reasons may be anything. However, if the students want to complete his education in America he should have to clear SAT exam. To crack SAT (Scholastic Aptitude Test), the aspirants should attend the exam at the immediate end of class 12th. Let us see the appearance of test and how to crack it!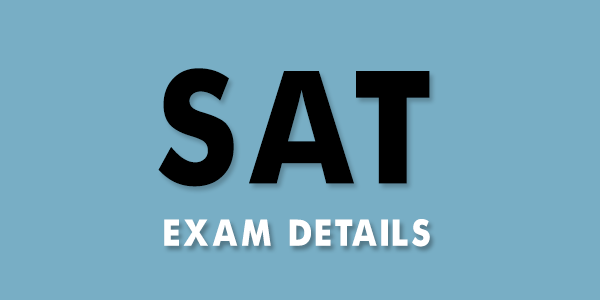 Exam details
SAT – it is a reasoning test and mandatory reading for undergraduate courses in America. The "College Board", a non-profit organization created and handling this exam.

Exam Duration: three hours
Validity of the score: five years
Registration through this URL: http://sat.collegeboard.com/register
Registration fee: $ 102.
The exam will be based 3 main sections:

Verbal
Mathematical
Reasoning skills

A total of sub-sections - 10

Image source: http://www.tqdk.gov.az/en/?ELEMENT_ID=1926


Paper pattern
The paper pattern for the SAT exam will be like as follows:


Critical Reading
The student awareness of the skills tested. Totally, it contains 3 – parts.

25-minute section
Another 25-minute section
one section will be 20 minutes

In this, total numbers of questions based on the topics are:

48 reading comprehension questions
19 sentence completion questions

The scores are between 200 to800.
70 minutes time duration.

The following are the sub-sections of this module.

Sentence completion: The student's vocabulary, understanding of the grammar and sentence structure will be tested here. This is objective type section. You should have to choose one right answer and fill it in the given one/two blanks.
Passage-based Reading: This is of two types. One is vocabulary in context and the other is literal comprehension.
Passage will be selected from various sectors like Humanities, social studies, Nature, Fiction etc.
Writing
60 minutes total time for this section. The paper score is for 100 percent and it will be divided as: 70% Multiple choice questions and 30% is for short essay.
You should improve Grammar for this section because the questions will be based on Error Identification and Sentence Improvement. To test the knowledge on the grammar part it has been included in this exam.

Paragraph improvement section is very difficult and you have to put more efforts on this. The questions asked from the paragraph and you cannot find the answers for the questions simply. Logical understanding is much important. The will be asked mainly to test the talent of you. For the remaining short essay 25 minutes will be given.


Mathematics
It is also known as quantitative section, in which the three segments will be there.

25-minute section with 20 multiple choice (Problem Solving) questions. Time limit is: 25 minutes.
25-minute section, in which 8 Multiple Choice (Problem Solving) questions, 10 questions from grid-in. Duration - 25 minutes.
Small section which contains 16 Multiple Choice (Problem Solving) questions. You should end it in 20 minutes.

The paper contains a dummy section on Variable / Equation domain name. It is also a fill in the blanks section. The duration is of 20 minutes. It should not be considered for the personal score. SAT only use it for a future edition.
SAT contains 3 different scores for three various sections named as Reading score, Writing score, Math scores. The average score is 500 on each section.

After the completion of the test, you can give official report to four universities with free of charge
In addition to the score, you can also report to various universities on the costs of 10.5 billion for each
SAT Subject Tests are also conducted. However, there are very few universities which take into account and the very low number of students attempt it.
Conclusion
Foreign education is the best one where we can find all facilities. Starting from classrooms, library, lectures, labs, lecturer and student ratio etc. we do not prefer to study in abroad for Bachelor degree. However, the reasons may be many like living cost, change in culture, atmospheric conditions, communication with others etc. Even foreign universities are offering scholarships to Indian students. If you have any financial problems try for a part-time job. Chances are more if we have an aspiration to study in abroad. Yet, why we do not prefer? The main reason is: lack of gathering information. Can't you spend time for your good career? You should spend time on gathering information and for that utilize the feature of consultancies or meet career counselor. I think, the time spent on this is very less compared to the time which you spend on social networking sites. So, students don't waste your time. Grab knowledge on English. Try to avail the opportunities for bright career. All the best!