How to earn money while studying abroad

Are you going to pursue your higher studies in a foreign university and want to know how you can earn money while studying abroad? This article provides useful tips and guidance on various ways to earn while studying abroad.


A good number of Indian students are going for foreign studies every year as there are several benefits of studying abroad. Though it's an exciting and rewarding experience for Indian students to study abroad but the expenses involved worries them a lot. There are many financial aids for studying abroad. But in case, you have to bear your own expenses for study abroad, then you need to think of a source of income while your stay at abroad. Even otherwise you can earn part-time while studying abroad. However, the best option is to get an on-campus employment than working off-campus.

Find here the top student abroad destinations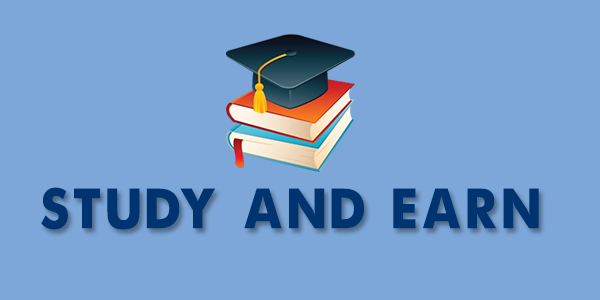 Work opportunities while studying abroad
Let's have a look at some of the ways of generating income while studying abroad.


On-campus work options
Working on campus is one of the best and the most popular options for international students, though there are limited on campus work options. In some of the countries like the U.S, this is the only available option for foreign students. For some of these jobs, you need to get permission from International Student's office. There are certain limitations for the same like maintaining valid student visa while employed on-campus, working up to 20 hours per week (which differs from one country to the other), full-time on-campus during vacation and holidays (with slight variation from one country to the other) and other such requirements. Some of these include:

One of the best ways of utilizing your academic skills is to teach other students and make money.
Directly working for your schools / colleges which includes a grant or assistant-ship.
Working for the on-campus commercial firms like school / college bookstore, cafeteria etc.
You can even work as volunteers for promoting various marketing companies. You can help them out when they organize various events in the country.
Off-campus job opportunities
There are plenty of job opportunities for international students off the campus. However, in many countries foreign students are not permitted to work in the 1st year. Off-campus work is strictly not permitted in the U.S. Some of the off-campus work options after the 1st year include:

Some countries do not allow part-time jobs while others do allow it. There are many seasonal part-time job opportunities for the international students to work. You can work in the restaurants, cafeterias, catering companies, summer camps. In most of the European countries there are plenty of summer job openings. Though this is for a short period, yet you can earn a decent amount. You can see many students fruitfully utilizing their summer vacation.

You can even go for internships in reputed companies. This is one of the great ways of earning and gaining experience.
If permissible you can work in call centres. This is demanding and you need to have good communication skills. And at the same time it provides you a good opportunity to improve your language skills.

Likewise, there are plenty of work options for foreign students while they study abroad. It depends on the way you utilize your free time in making money to meet your expenses.