Study land conservation management abroad

A lot of people have inclination towards a course in land conservation and management. Overseas universities, especially in the USA and Australia have courses on land conservation. If people do not have a problem with shifting overseas or pursuing a career abroad in land management, then they should go though this article.


Introduction
Have you ever considered choosing a course in land conservation and management? It is a genre that is less explored by people here. So this course has a bright future abroad. You would see quite a lot of scientists who are doing a research project on land in India have passed from universities abroad.


What do you get to learn?
This course has a lot of subjects combined with it. This course has parts of the Biology subject in it. You get to know about different kinds of plants and its life cycle. You get the taste of geography, as you get to learn about the demography of different lands. Also, some colleges also include study of statistical theories along with other subjects. This helps in understanding the change in land conservation and management pattern over the years.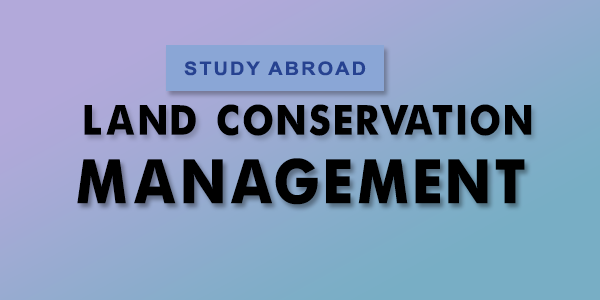 Some of the best abroad universities teaching the subject of land conservation
There is Boston Architectural college. This is a very popular college in the USA having courses on land architecture. The eligibility requirements has two parts, a) You must have either an IELTS score of minimum 7 or a PTE score of minimum 50. This will ensure that your knowledge in English Language is up to the mark. b) The second thing is that a high CGPA or score in your qualifying degree. There is no restriction on your qualifying degree though. You can study this course after your plus twos or after your graduation.


Your second option could be Nebraska University. This university offers a few prestigious scholarships to local and international students. Remember to avail any scholarship you will have to first post your application in the university stipulated format. If you get selected after this initial stage, you will be called to appear for a written or online examination and a subsequent interview. Once you clear these stages you can be a fellow of Nebraska University and will get paid monthly to complete your education. I will be giving the information about few of such prestigious scholarships in my upcoming articles.


Another university is Mississippi University. You will have to pass the college preparatory curriculum, also known as CPC to enroll income other course in this university. CPC also is a preparatory course for international students. Here your English reading and writing skills will be checked. You will also have a section called as the SAT tests which will measure your essay writing skills.


I would like to mention the details about one more university, which is Sydney university. There are many other universities also which provide courses for land conservation. But the universities I mentioned are the top ranking ones. The best thing about this university is that you can apply for a job in the same university once you pass the course. The eligibility criteria are same as that of any other university of the USA. The accommodation and food cost is less than the USA. Even if you have problems in understanding their English accent or writing the answers in English, they will provide you with English language support.
Jobs that are open for people educated in land conservation management
You can try for the position of land conservation steward in companies abroad. Here you will have to assess how far can the land that falls under your jurisdiction is sustainable for the plants that thrive upon it.


You can become a fiscal administrator after you pass this course. In many abroad countries, there lays huge expanses of vegetation as well as barren lands. A fiscal administrator helps in assessing the market value of all those land areas. He has to maintain different contract terms with different type of landowner. He has to maintain the accounts of income and expenditure and the loans granted to different people.


Once you glean experiences from such fields above, you can try for positions of preserves manager or land conservation manager. In some companies the higher positions are termed as executives. So you can become conservation executives too. You will have to go for regular fieldworks, so that the current demography of the land under your jurisdiction could be surveyed.



Conclusion

Land conservation management is a practical or fieldwork oriented course. This course should be chosen by them, who have a penchant in geography or those who have done some previous work in soil conservation. If you pass this course you literally get to serve the land of the nation (be it India or abroad). The coursework in abroad universities is more rigorous and practical oriented. Hence, I have shown all the opportunities to study land conservation management abroad.