Stay Away from Overseas Education Scholarship Scams

Scholarships can help a student fund expensive education overseas. However, there are cheats out there, waiting to take advantage of the naive. Beware of fraudsters who take advantage of students and scam them with promises of attractive scholarships.


When you are preparing to study abroad at your preferred foreign destination, one of your biggest concerns is finding the funds to finance your education. While education loans are an option, scholarships are the first choice of Indian students heading to expensive overseas locations like Australia, UK, USA or Singapore.

In the process of searching for funding, many students fall prey to scholarship scammers who take advantage of the hopes and anxieties of the students and their parents. In 2012 it was found in a US study that students and their parents lost nearly $5 million to scholarship scams a year. Indians preparing to study abroad are also vulnerable to such scams, if they are not cautious and aware of how these scams are carried out.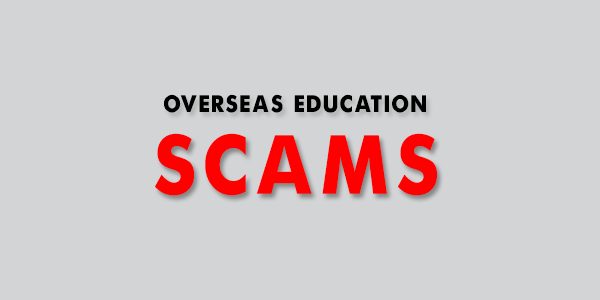 Processing Fee for "Guaranteed Scholarships"

If a "scholarship agent" promises funding of several lakhs in exchange for a small processing fee of Rs. 1000, it should raise a red flag. While the amount may not seem like much for such a large scholarship, remember that genuine scholarship awarding bodies will not charge a processing fee upfront.

Also beware of advertisements that "guarantee scholarships" for a processing fee. It is not possible to buy scholarships in this way. Scholarships are awarded on the basis of merit or other qualifications, they cannot be guaranteed by anybody.


Fake Seminars

Some groups of scammers may disguise their scam in the form of a legitimate-looking sales meet which look like seminars. These groups may organize snacks and coffee, and even offer souvenirs like key-chains, pens etc. with their branding. They may ask for a small fee from you, in exchange for a promise of scholarship if you apply through them. These are only sly scammers who know how to use sales techniques to woo victims in their scam. Be very careful to never share bank details or sign any document for such people.


Asking for Bank Details

If a scholarship awarding agency asks you for your bank details, immediately go on alert and run. It is most likely a scam. Scholarships are adjusted with tuition fees and no legitimate awarding agency will ask you for your bank details.


Scholarship Deadlines for Bigger Awards

Most scholarship applications have deadlines. But if an advert offers bigger scholarships if you apply within a certain date, there is something wrong. Genuine scholarships are awarded on merit, and all awards are equal.


Fake Online Advertisements

Always steer clear of annoying pop-up ads or emails online that make promises of pre-approved scholarships. This is a clear case of an attempt to scam. Pre-approved scholarships do not make sense. Scammers also make dubious claims aimed to attract students, such as "Over $5 million awarded in scholarships so far. Have you applied yet?"

In order to stay away from such scams and prepare for your overseas education with peace of mind, always apply directly to the university you are applying for, or to reputed scholarships by institutions like the TATA Group. A number of International Government Scholarships for overseas study are also available to aspiring students. Apart from these, The British Council, the U.S. Embassy and the Consulate of Singapore are other places where you can enquire about and apply for scholarships. When you are in doubt, always contact the awarding institution for more information. A genuine organization will help you with your queries.

Check the following for country specific scholarship details: