Study MBBS (MD) for Free in Germany!

Germany is rated among the best international destinations, to study abroad. MBBS courses in Germany are top quality and very low cost (or free) in some German universities. Find out the benefits of studying medicine in Germany and requirements for application.


Germany is rated among the best international destinations, to study abroad. MBBS courses in Germany are top quality and very low cost (or free) in some German universities. Find out the benefits of studying medicine in Germany and requirements for application.

Study MBBS (MD) for Free in Germany!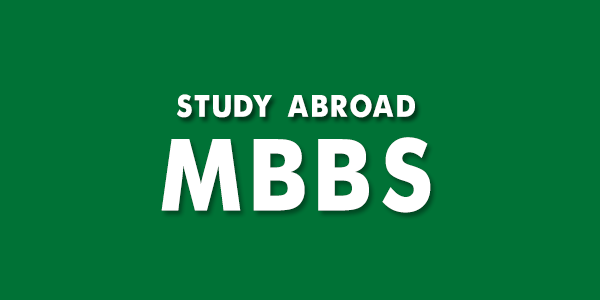 Annually, thousands of Indian students head to the US and UK for their higher studies, but many seeking overseas education are not aware that there are universities and colleges in other European countries where high-quality education is offered free of tuition costs. Germany is one such country, where you can earn a fine medical degree at very little expense.



The QS World University Rankings ranks 32 German Universities among the list of the best institutions to study Medicine. That allows for a lot of options for eligible candidates.

Most German medical colleges and universities offer programmes that are well-respected around the world. But among them, the best are the University of Heidelberg (which is considered the Harvard of German medical schools), the Universities of Freiburg, Luebeck Medical School, Witten/Herdecke University, and the Charité University of Medicine. Nearly every medical college or university in Germany has its own hospital and state-of-the-art facilities and high quality infrastructure. The quality of education at these colleges can be comparable with AIIMS, which is highly respected around the world, but their infrastructure may be superior. It is well known that the Germans are leaders in medical equipment and medical technology manufacture.


Highlights of German medical programmes

The total duration of courses for medical programmes is typically 7.5 years. This duration includes pre-language training of around 1.5 years for overseas students (which will cost you around 4000 to 5000 Euros), 5 years of study and 1 year of internship post-study.

Students can earn as much as 40,000 to 60,000 Euro during their internship (which is equivalent to INR 30 lakhs). In addition to the incredibly low tuition fees (your entire programme is not going to cost more than 10 lakhs) and generous scholarships from DAAD and other funding bodies, the benefits of medical education in Germany can seem like a fairytale. Only five federal states in Germany charge very modest tuition fees from the first semester. Other states charge (modest) fees only after ten semesters have been completed. Most universities that charge tuition fix fees at 500 Euro per semester, but generous scholarships and loans can help you finance these in states like Bavaria, Hamburg, Hessen, Saarland etc.


Benefits of studying medicine in a German university

There are plenty of other advantages to studying in Germany. The German student visa process is very easy and takes only 8 to 12 weeks for processing. You can stay up to 2 years after your course is completed, during which you can work to earn around 50,000 Euro per year (which is the starting salary after an MD degree is earned). You can also move to any EU country, as well as the UK, for practice after your degree. An MD degree also gets you a work permit more easily in Germany when compared to other countries. After you have worked for 5 years, you can apply for permanent residence in the country.

Your degree will also be recognized by the WHO, UNI, Foundation for Advancement of International Medical Education and Research (FAIMER) and other acclaimed international organizations. Your average living expenses are not going to be more than 400 Euros a month. Part-time jobs are also allowed at a maximum of 20 hours a week while you study. And there are SAARC scholarships for Indian students that can help fund the course and stay. Students can explore other options as well to fund their education in Germany

But in lieu of all these benefits, you have to keep in mind that competition for entrance to German medical colleges is high. Not that it is any easier in India, especially with introduction of NEET. Which is partly the reason that many aspirants go to neighbouring Nepal for medical studies. There is not much difference between medical degrees in different countries.


To Apply

Since only some courses are in English and most are in German, you will need to take the TestDaf, which is a standard test for German as a foreign language. You can take the test in Germany or in India. The language requirements can stump some, but if you can pass the requirements, you will have an edge over other students.

Admission requirements include a minimum of 60% in your 12th standard and cleared 1st year of graduation. TOEFL or IELTS scores are compulsory. You also need excellent academic records and benefit from German language proficiency.




Understanding the German medical degrees structure

Medical studies in Germany are split into 4 phases, over a 6 years 3 months period, as described under –

Phase 1 – Pre-clinical phase: The first phase comprises of 4 semesters, spread over 2 years. It is an introduction to the fundamentals of medicine & natural sciences. On completion of the 4 semesters, students sit for the first medical licensing exam
Phase 2 – Clinical phase: This is the central chapter of medical studies in German universities and is covered over a period of 3 years, split into 6 semesters. The course includes core subjects, taught in theory through lectures, practical lessons, seminars and internships
Phase 3 – Practical year: The practical year is a yearlong clinical training period, comprising of practical facets of medical studies, comprising of surgery and internal medicine along with an elective subject. This period offers on-the-job work experience, preparing students for medical practice
State Examination: In order to receive the medical degree, students have to qualify the State Examination, which is a standardised exam. On qualifying this exam, students become eligible for the medical license (Approbation) and start practice as a certified doctor
Conclusion

Students who later choose to pursue higher studies with an aim of becoming a medical specialist will need to study for another 5-6 years, after which they will be required to qualify the specialist examination. If you seek further details, just drop in your query in the comment section.