How to Choose Between Harvard and Yale

Harvard and Yale have little competition when it comes to academic and employment rankings among world universities. However, there are differences between the two Ivy League colleges that can be useful to know when you make a choice to study abroad in the US.


People tend to clump Ivy League schools together as the elite institutions of the world, but it is also a fact that not all Ivy League schools are created equal, at least, not in their areas of individual strengths. Harvard is ranked number 2 in QS World University Rankings while Yale is ranked 15th. While there are significant similarities between the two – both are based in New England and both are highly sought-after by the world's best talents – there are also significant differences between them.

Many talented Indians who want to study abroad apply indiscriminately to as many Ivy League institutes as they can. But it is advisable to compare the two in individual areas especially your choice of subject, before making a selection. It also helps to know that even if Harvard is out of reach, Yale is not far behind in its position as one of the world's most elite schools.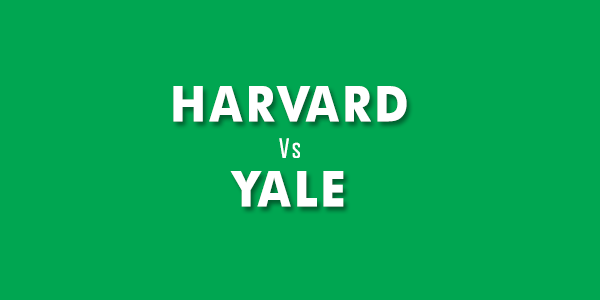 Comparison of General Strengths

Harvard at number 2 has remained in the world's top 3 for years, though Yale has dropped out of the top 10 recently. In terms of graduate employment opportunities, Harvard ranks 3rd and tops in academics. Yale on the other hand ranks 10th in academics and 11th on the basis of graduate employers.

Harvard is also a top research center, with a position of number 8 based on the number of research citations per member of its faculty. Yale is not as influential in the research sector but it is within the top 200 world institutions for research.

Yale does beat Harvard in one area, and that is the faculty to student ratio. In other words, students at Yale are likely to expect more contact with faculty than in Harvard, since the difference between them is by 33 positions.

In terms of international faculty and student members, both Harvard and Yale are outranked by other global universities. Ivy League schools have generally been known to have a lower acceptance of international students as compared with other American universities, with Harvard performing slightly better than Yale in this regard. However, on the basis of international faculty, Harvard ranks number 50, which is reasonably good, while Yale ranks within the top 150. These rankings should not discourage you as an Indian student seeking admission in Harvard and Yale, however. You could very well be among the few accepted, if you have the qualifications for it.


Comparison of subject strengths

Let us take a look at the subjects which each university ranks high for. Harvard's programs are within the top 10 for every field. Its social sciences, medicine, life sciences and management programs are number 1. Arts &humanities and natural sciences programs at Harvard are ranked number 2. The institution's engineering and technology programs rank number 10.

Yale is almost as strong in each area, though with slightly lower rankings to Harvard. Yale's life sciences, medicine, arts & humanities and social sciences and management courses rank within the world's top 10. Its natural sciences programs rank within the top 50 and engineering and technology courses rank within the top 100.

When looking at individual subjects, you will find that Harvard is also an excellent place to study physics and astronomy, as well as mathematics and earth and marine sciences. Yale is excellent for law, and other courses you should consider these include modern languages, English language and literature, politics, history, psychology, medicine and biological sciences.


Tuition fees and financial aid

Here is a look at the costs of education at Harvard and Yale. At Harvard, a graduate course can set you back by at least $43,000 with a total of around $66,000 to $72,000 annually when you factor in accommodation, travel and other costs. At Yale, undergrad fees are over $49,000 with a total estimated expense in the order of $68,000.

Graduate level courses vary in cost, with the cost for courses in medicine a little higher. At Harvard Medical School expect to pay around $55,000 for a graduate course. For MBA expect to pay around $63,000. At either of these schools, expect a total annual budget of over $102,000.

Both universities have need-blind financial assistance programs for domestic and international students. However in reality, there is a tendency for domestic students to be preferred over international students in cases of financially assisted education. It is advisable that as an Indian student you try to seek education loans and other scholarships to supplement your education costs rather than depend on university-funded programs. A number of scholarships for study in the US are available to Indian students.