Study in London: UCL or Imperial College?

University College London (UCL) and Imperial College are top London universities that attract international students each year. Both universities have their areas of strengths. Find out which university is more suitable for your higher studies in the UK.


If you are considering higher education in the UK, you are probably looking at the two top universities for high education in the city – Imperial College London and University College London (UCL). Both universities have held their position in the top 10 of the QS World University Rankings over 2015 and 2016. The two universities are head to head in the rankings, with UCL at the seventh place, while Imperial College is at the eighth place.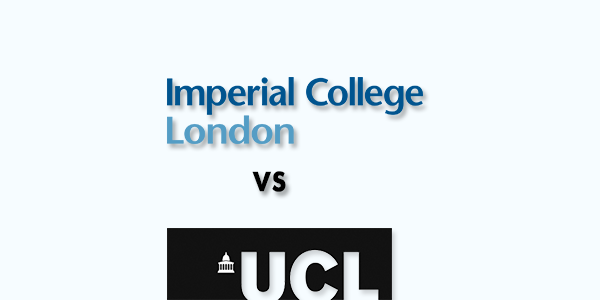 Indian students trying to choose the best place for them may be confused between the two. But your choice of subjects should make the decision easier. Imperial College offers courses in medicine, engineering, science, business and management. UCL on the other hand offers humanities, arts and social science courses, as well as the reputed Slade School of Fine Art and an elite school of architecture.

But when you consider other areas of study offered in both universities, the balance between them can swing either way. A look at the differences and similarities between the two universities can give you a better idea of which is more suitable for you.


Rankings

Overall QS rankings aside (in which UCL is one place ahead of Imperial College), there are several performance indicators for which Imperial outranks UCL. UCL brands itself as the city's 'global university'. But Imperial College has a higher proportion of international students on its rolls, as well as a greater proportion of international faculty. In other words, Indian students who want a vibrant, international campus will find it in both universities.

UCL has a higher academic reputation, while Imperial College has a better reputation among graduate employers. Their faculty to student ratio is also slightly better than that of UCL.


Subject Performance

There are some academic areas in which both universities have comparable strengths. These include medicine and life sciences. However Imperial's natural sciences programs place better than those at UCL while UCL has superior arts and humanities programs as well as social sciences & management. The latter also has eight subjects in the top 10 subject-wise rankings of global universities, including education (which ranks first), architecture, archaeology, psychology, geography, pharmacy, dentistry and medicine. Linguistics, history, anthropology, law and modern languages are also excellent at UCL.

Imperial College has fewer subject-wise rankings in comparison, but it beats UCL in technical STEM areas and subjects like mechanical engineering, materials sciences, environmental studies, civil engineering, chemical engineering, electrical & electronics engineering, mineral & mining engineering, chemistry and statistics. Imperial College's programs for medicine, astronomy & physics, mathematics, pharmacy & computer science are also reputed.


Location

Both universities lie in the heart of the Greater London Area, giving student's access to culturally dynamic London. But each university has slight differences in location to offer students different flavours of life at the universities. Imperial College is located in the posh South Kensington area, a little to the west of London's core. Nearby are the peaceful and sprawling Hyde Park, Harrods, the Natural History Museum and the Science Museum. Imperial College's main residence halls are located close to the campus in tranquil West London.

UCL is located in the equally famous and artistic Bloomsbury area. The campus is smaller than the Imperial College campus, but near the peaceful grounds are the bustling central neighbourhoods of Soho, Piccadilly Circus, China Town and King's Cross. One of the university's main residence halls is in Camden Town, where you can catch live music and enjoy a famous market and vibrant social scene. Next to the central campus is the British Library, to the convenience of students.

All other factors remaining the choice, your choice of university might depend on whether you would prefer to live in a quiet and beautiful part of London or a dynamic and frenetic one.


The Student Communities

UCL's location means that it places you in the midst of a large, active student community from nearby Birkbeck College, SOAS and the University of London Union, so you can enjoy live music, student politics and social events. The university also has a large student body of its own, of more than 38,000 students. Imperial College has less than half of UCL's student population and the campus is more self-contained, which means it has a more intimate student body.


Tuition Fees

International students at UCL can expect to pay around 16,000 to 22,000 GBP per year for most subjects (except medicine which costs around 31,000 GBP per year). Annual fees at Imperial College on the other hand is between 26,000 and 27,000 GBP for most subjects with medicine at around 37,000 GBP.


Scholarships

Both universities offer scholarships and scholarship search tools which Indian students can use to find suitable bursaries that cover tuition, maintenance and travel expenses. You can also consider Chevening and other external scholarship programs to fund your studies at both universities.