Studying engineering in Russia made easy

Russia, hitherto popular with Indian students as the destination for affordable medical study, is now opening its doors for aspiring engineers too. In case you are looking for study abroad options for quality but affordable education in engineering, then head for Russia. Learn how studying in Russia is beneficial for you.


Russia – A popular destination for medical students
Medical education in Russia has always been popular with Indian students willing to study abroad. This can be judged from the fact that 85 to 90 percent of the Indian students residing in Russia are studying medicine there. The main reason for such popularity is the low cost of medical education there. It costs far less to study medicine in Russia, when compared to the private, self-financing medical colleges in India. In most such private colleges in India, the fees for medical education are exorbitantly high and beyond the reach of the commoners. That's why it is common to see students aspiring to be a doctor, heading for Russia, when they are not able to manage a seat in one of the government medical colleges in India.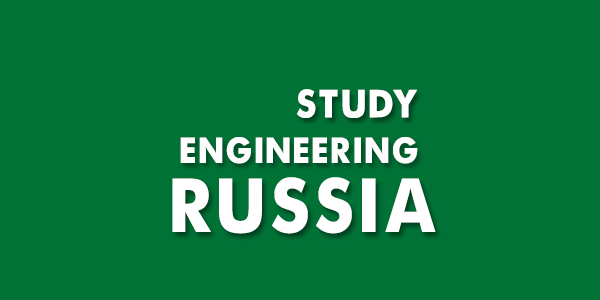 Hassle-free admission process
It's not only cheap to study in Russia, but getting a student visa to the country is a hassle-free experience. You don't get stuck by English language proficiency tests or IELTS, which the western nations like US, UK and Australia are very stringent about. You just need to have the basic qualifications and sufficient enough funds to pull you through your study period. To make things easy for the students, there are options to study either in English or Russian language. In fact studying in Russian is much cheaper and advisable too. But for that, you have to first undergo a 10 month long Russian language preparatory course before you can begin your actual classes. The Medical Council of India recognizes 57 of the government medical universities in Russia. The universities are also listed in the World Health Organisation's Directory of Medical Schools.


Benefits are now extended to engineering studies
Now the same largesse which was being enjoyed by students studying medicine, is being extended to students who are coming to study engineering in Russia. Russian universities are opening the doors and welcoming students who are coming to the country aspiring to be a engineer. Many new programmes, suiting Indian students like computer science engineering, bio-medical engineering and nuclear power engineering have been launched by the colleges in Russia. To attract Indian students the colleges and the universities are providing a range of scholarships. At present, 20 full scholarships are being awarded to Indian students for their undergraduate and postgraduate studies. More such scholarships are likely to be provided, once the number of students reaches a minimum threshold.


Ambitious about growth and recognition
With each passing year Russian universities are getting popular with international students. The country is ambitious about having at least five government universities among the top 100 institutions in the world by the year 2020. Last year a consortium of 12 universities came to India for a education fair, promoting the theme, 'It is time to study in Russia'. The fair visited a number of cities in India, including the North-East. With 5000 students already in Russia and a 20% growth in the number of students going to the country for their education, it is already paying dividends for their efforts. It was also the first time a growth in the popularity of engineering courses was reported by the universities. Aviation engineering, information technology, oil & gas and management studies are few such fields which are quite popular with the students.


Why study engineering and technology in Russia
Russia as a country has always been in the forefront of engineering and technology. The country offers opportunities and specializations in many fields like mechanical, civil, aeronautics, aerospace, electrical, electronics and oil & gas exploration. Russia has a long term history of contributing a great number of scientific phenomenon and discoveries in a number of fields. A great number of engineers and scientists who have studied in the Russian universities have been pioneers in their field, most prominently in aviation engineering, aerospace and military engineering. The strength of the country in Physics, Math and the Engineering Sciences is well documented and recognized by the West for over a century. So studying engineering and technology in Russia is as wise as a decision as studying medicine there.

Spread across nine time zones, Russia has great diversity in its geography and culture. It will be a once in a lifetime experience for a student to explore such a great and large country, its society and its people. An experience which will be worth every Rupee spend.


CFER – A friend for foreign students
Council for Foreign Education in Russia provides the necessary guidance to foreign students coming to the country for education. It is an organisation located in St. Petersburg, the cultural, education and scientific capital of the country. It aids students coming from a number of countries to study medicine, engineering, management and other fields in Russia. CFER carries out evaluation of all concerned Russian universities which are likely to host foreign students, for their ability in taking international students and providing the necessary facilities to them. The organisation helps the students in deciding a prospective course which will suit the students the most. It also evaluates the career opportunities in the field and the facilities being extended to foreign students at hostels. One can have more details of this organisation through this website - www.cferussia.ru. Prospective students are also advised to go through this website www.indianembassy.ru for guidelines regarding admission in Russian universities or they can also refer this article Tips for Indian students planning to study medicine abroad in Russia. The article is meant for medical students but also applicable for those pursuing engineering.


How to apply for a course
Prospective students looking for admission in a Russian university are to apply on their own directly to the concerned university. For enrolling in a bachelors engineering course, you need to have a minimum of 40% marks in Physics, Chemistry and Math in your Higher Secondary exam. For masters programme, you should have a bachelors degree from a recognized university. Some of the Russian universities may however ask foreign students to sit for TORFL assessment. TORFL stands for Test of Russian as Foreign Language and is desired by some of the universities for testing a student's proficiency in Russian. Other than the usual educational and birth related documents, the Russian authorities insist on certain health related certificates from every foreign student.


Duration of courses and tuition fees
Undergraduate courses – 4 years
Postgraduate courses – 2 years
Preparatory course for Russian language – 10 months
The tuition fees range from Rs 2,15,000 – 3,00,000 per year, for both the postgraduate and undergraduate courses in English medium. The courses if undergone in Russian are very cheaper, ranging from Rs 1,15,000 – 1,80,000 per year. The Russian language preparatory course costs almost Rs 1,00,000. As suggested earlier, it is always advisable to do the course in Russian language by first joining a preparatory course. English medium courses may not be up to the mark. Hostel fees are quite cheap, costing an average of Rs 30,000 per year. It includes all facilities providing you with accommodation, bedding, furniture, centralized heating, cold and hot water supply and even cooking gas facilities. The fees may fluctuate depending upon the foreign currency exchange rate prevalent at the time of admission. It must be very apparent to the reader that studying in Russia is very cheap when compared to studying in US, UK or even in India.


Universities in Russia for engineering
Following are the universities, where you can undergo your engineering education.
Novosibirsk State Technical University/li>
Tomsk Technical University
St. Petersburg Technical University/li>
Moscow State University of civil aviation/li>
Belgorod State Technical University
Tver Technical University
Irkutsk State Technical University
Tomboy Technical University
Samara Technical University
Belgorod Technical University
Ural State Technical University
Vladivostok Technical University
Kursk Technical University
Nizhny Novogorod State University
After studies, what?
Most of the Indian students, almost 99 percent of them, leave Russia after finishing their studies. Russia as a country for work and settlement is not very attractive to Indian students. They prefer to go either to the western countries in search of work or return back to India. The jobs in Russia are not attractive enough in terms of monetary benefits. The absence of an Indian community in cities in Russia, is also one reason why Indian students don't stay back in the country.


Some useful websites
These websites provide a lot of information regarding study in Russia.
www.studyinrussia.co.in
www.edurussian.com
www.cferussia.ru
www.en.russia.edu.ru
www.indianembassy.ru

So don't forget to put Russia in your priority list, when you are planning for a study abroad program for undergraduate or postgraduate studies in any of the fields in engineering. However, studying in Russia is not the only option when it comes to studying engineering. You can select your future destination from a host of countries. Other than the US and UK, a number of countries are literally inviting Indian students to go and study there. For example, there are eight world class universities in New Zealand to select from, if you want to pursue your higher education in New Zealand. Similarly, there are plenty of good reasons to study in Canada, if you wish to study and settle in the beautiful country. As far as studying in Russia is considered, it has its own advantages, unique to itself and which other countries will find it hard to match.