Top Short Term Courses to Study in Australia

Many Indian students opt for short-term professional skill-based or short-term research-based courses at Australian universities. Read on to find out more about the top universities that offer attractive short-term courses to students and professionals.


Australia's new immigration policies are very welcoming of Indians and other international students. If you want to Study in Australia, there are plenty of courses to choose from. In addition to full-time courses, the country offers several short term courses for professional development. In fact, Australia's higher education system is geared towards career-oriented studies.

Many Indians are traveling to Australia to take advantage of its short-term courses. These courses are great for students who are supplementing full-time courses and for professionals who want to hone certain skills. They cost less than full-time courses in Australia's expensive foreign education sector. They are also advantageous for the skill-based training that they offer. The following Australian universities offer some of these short term courses.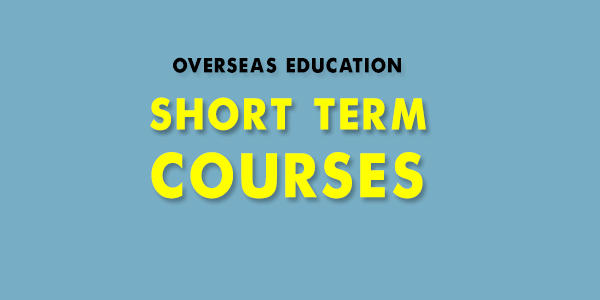 Australian National University

You can hone your skills at the Australian National University with courses as short as four days long. Short courses at the university are typically available as summer research programs on subjects approved by the university. Both graduate and undergraduate students can find courses they can apply to, and they usually run for 8 weeks. Remember summers in Australia are the reverse of the northern hemisphere. The 'summer' courses therefore run from November to January. Internships and scholarships are available. Professionals in the healthcare sector and law industry can also find courses suitable for them. Fees may range between AUD$400 and AUD$1600.


University of Melbourne

Australia's number one University in Melbourne is very popular for its short and long-term courses at the Victoria School of Arts and the Melbourne School of Engineering. The school of arts offers courses on music, dance, film studies, visual arts and theatre. The school of engineering offers professional development courses (for around $3,735) in Information systems and Business administration. The Community Access Program of the Melbourne Business School also offers single subject study for 3 months or more (with typical costs of over $23,264).


University of Sydney

Single subjects or professional development courses of around 4 to 8 weeks are offered in Sydney as well. Programs are offered in areas like Education, Business, Design & Planning, and Architecture etc. The university's Centre for Continuing Education also offers short-term courses. Many professionals from the industry such as Citigroup and Abn Amro have also collaborated with the university on programs.


University of Queensland

If you are 16 and above, you can enrol in any of the University of Queensland's eighty language courses, that do not need special entry requirements. The costs for these language courses start at AUD $370. The university's executive education branch also offers short term executive and management courses for upwards of AUD $3,900. Top courses include Supply chain reform, Managerial decision making, and Leadership challenge, among others.


Monash University

You can study a variety of short-term courses at Monash University, including First Aid, Languages, Communication & Writing, Business & Finance Matters and more. You will also find useful courses like public speaking, accounting and event management on the curriculum. Courses are split into sessions, and most are two sessions with a maximum of four sessions. Fees vary, ranging from AUD $80 for courses on hospitality and AUD $200 and more for business courses.

If you are seeking a career in the Fitness industry there are a couple of short term fitness courses that might interest you.