How to study for free in European countries?

Foreign education available for free. Wonder!! Do you want to how it is possible? If you are interest to know more details regarding this topic and the specifics of education, here is the article for you on how to enter into the abroad universities for free and entry details. Scroll down this page about complete information.


Introduction
Indian students spent lacks of money for foreign education. Mostly, they prefer to go to United States, Canada and Australia but there are a lot of countries in Europe providing quality education without any fees.

Many universities are state-sponsored and funded widely exist. So, Germany, France, Austria, Sweden, Belgium, Finland, Italy, Norway countries are providing education for free or a nominal fees of higher education. Better skilled students and those who cannot pay tuition fees of hundreds of thousands, they may prefer European countries.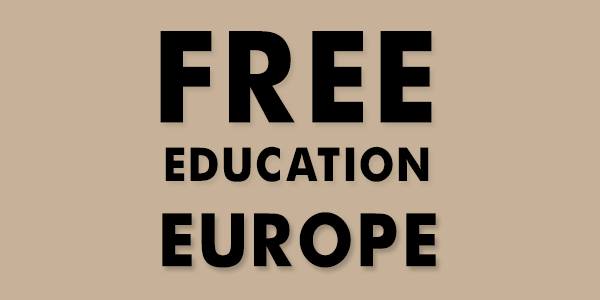 Preface
European education has lot of history in terms of research. Einstein, Aristotle, Madam Curie, Newton, Rudolf Diesel, Karl Benjamin as the best minds, the scientists are from Europe. We can find many universities/institutions which give preference to research in Europe. Many universities are also found in high positions in international rankings. That is why the European university researchers, teachers are often awarded with the Nobel Prizes.

Many countries in Europe spend 20 percent of the GDP funds to education. Most universities continue to be under the control of the government. Private companies also offer generous funds. Hence, many universities running courses without causing any tuition fees and other companies are offering courses with nominal fees. The United States, Canada, Britain, Australia, and in other countries, the fees are higher for international students than local students but the European countries applying the same fee structure for everyone whether foreign or local student.


Scholarships and Internships
Student who wants to study in European universities he should be read internship. It is the center of the curriculum. To study in Sweden, Italy and other countries, IELTS, TOFEL and GRE scores are not mandatory. GMAT score is also not required for admission to most business schools. If you have good score however it will be added benefit for you. Varieties of courses are available in European countries.


Important courses list
The below courses, is the list for various courses which are growing popularity in Europe countries.

Germany is famous for brand courses like

Mechanical
Biotechnology
Chemistry
Automobile courses

If you want to study in France then the below courses should be preferred.

Nuclear Energy
Management
Mathematics
Physics
Aeronautics

The demand for courses in Italy are

Engineering
Management
Arts
Humanities
other professional courses like Sports, Spiritual, Physical Education related courses now growing in popularity.


There was no tuition fee and for other costs many scholarships available in European countries. The European Commission, the governments of those countries, societies, industries, research institutions offer scholarships widely.
Germany (DAAD scholarships, Indo - German scholarships), France (Campus French, International Scholarships), Sweden, Finland International Scholarships are available in a variety of talented foreign students. Scholarships are available in Norway for Asian quota. Therefore, there is no need to bother about daily expenses also.

Depending on the University and on the respective schemes, fellowships are available from 1000 to 2000 Euros. You will have the opportunity to get paid as a university employee in the Netherlands to scale -4.


Integration with industries
The outstanding feature of European educational systems is the connection between the universities and the industries. Universities give high priority to working together with Industries. Students, who have completed a variety of courses in the universities, provide an opportunity to do internship in the industries related to the subject.

Student can work on live research projects. The curriculum is totally different and new. European countries are also more diverse in terms of culture and having motivation atmosphere. You will be able to learn new languages. They contribute to better job opportunities. The universities are allowed to do part-time jobs while studying. European countries give preference to the environment.


Getting admission entry harder than Visa
To obtain admission into European universities is more difficult than to achieve entry visa. Up to a maximum of 30 seats are available in public universities and in which, usually 50 per cent seats that means 15 seats are reserved for foreign students.
Another unique feature of the European education is Schengen visa. This visa is given to foreign students. Schengen visa is enough to all European countries. It is also easy to get a visa. The minimum financial documentation is required. There would be changes in visa rules and regulations in the terms of the universities. These guidelines will be incorporated in admission rules.

The students will not need to show financial security if they selected for any scholarship or fellowship schemes. Otherwise, it is necessary to show the relevant documentation (in the form of amount) to live in the country. You can show it in the form of a bank savings account or in the form of sponsorship.


Academic entry process
Students need a good academic record and should know the time to apply in advance. Most of the European universities quickly close the admissions process. This starts the entry for applying process in November and December for the coming year admission August. The deadline for academic application into Germany, France, Sweden, Finland, Norway and 50 per cent of the universities follows this process and it is deadline for academic admissions. The organizations in other countries, can apply until April. Some companies give first priority to the applied candidates first. Like first come first serve basis. In other countries in Asia, there will be a special quota of seats for students.

Final year engineering students can also apply. At the time of academic application, you may not have the scores in GRE, TOFEL, IELTS etc. These scores are not necessary for some universities. Many universities are of high quality international research centers because of no funding problems. Good academic background, international publications with 1-2 years of experience in research is easy to get access to the PhD.


During the admission process
For free education there is growing in popularity around the world. Education is available for free in various countries and mainly in Germany, Sweden, Norway, Austria, Finland, and other countries. In Europe, there are three categories of public universities. They are classified by the government as follows:
HS (University)
F. H. (Applied Sciences)
TU (Technical University)


The private universities are very low. Public universities charge very low fees compared to the private universities. Most organizations do not have the original fee also. Students should pay nominal admission fee and examination fee. Most public universities are established hundreds of years ago. Courses are available in a large number of top institutions.
Entries to the public universities are very competitive. Courses are taught entirely in English and these courses are called the International courses. These seats are less and hence more competition. European universities are mainly for Research and development activities.


Required qualification
Students should have minimum 16 years of age. In order to apply to the universities a good academic record is crucial. There would be changes in terms of admission to the University. Good marks and scores are required for public universities. These percentages are slightly lower in the private universities. More companies prefer candidates who have a total of 70 per cent in his academics.

Admission process will be at least 3-4 months and sometimes it will take more time. There may be some difficulties at the time of application directly to the universities. University officials are more likely to speak the local language. Many organizations websites are in local languages. These all are small negative things.
Of course there is a long gap between the application process and the commencement of the classes. Technical and science streams students are better able to apply quickly. So that chances are more to getting admission. One should not wait until the last date to apply. However, it is advisable to complete the application process by the end of December.


Checklist of documents
Aspiring candidates should have the below list of certificates to get admission. They are as follows one by one accordingly.
Students School Leaving Certificate
Board of Intermediate
University transcriptions
Provisional Certificate
Original degree (if available)
Recommendation letter (if possible 2)
TOFEL score card (Minimum – 90)
IELTS (6.5)
GRE (not mandatory)
Letter of motivation
Curriculum Vitae
Local language ability (not mandatory)
And other necessary documents
Language is not at all barrier
Most universities in Europe teach in English. Some organizations include courses in local languages also. Students need to take care of this at the time of application. Students should apply for the courses where 100 per cent of teaching process is in English. They will not be required to learn the local language. If at all the student learnt the local language then it will be used to achieve part - time job and it will be benefit in the case of the internship programs also.

Another major factor is what you will do after completion of your studies and where your situation stands after leaving education. In Europe, the internship is a very key part of education. This time, the students will put their talent. One should earn good experience so that he can achieve the job. At the time of the internship, 800 and 1600 Euros per month will be given as the salary. After completion of studies, the student can extend the visa from six months to a year. Once you decided to settle in the job then you can change your visa as a work permit or a PR (permanent residential) visa. A visa is being used to do the job anywhere in 27 countries of Europe.