An overview of SAARC Scholarships for Indian students

SAARC scholarships are offered each year by SAARC countries to students of other member states at Under Graduate, Master's and PhD levels. Find out more about opportunities to study abroad in South Asia.


Every year member states of SAARC (the South Asian Association for Regional Cooperation) including India, Pakistan, Bangladesh, Bhutan, Afghanistan, Nepal, Sri Lanka and Maldives offer scholarships to students of other member states in an effort to encourage cultural and talent exchanges. With the help of these scholarships, Indian students can explore avenues of overseas education in our neighboring countries, enhance their CV and build long-lasting international relationships across our borders.

Here is a look at some SAARC scholarships that Indians can use to study abroad in other South Asian countries, and the process of application.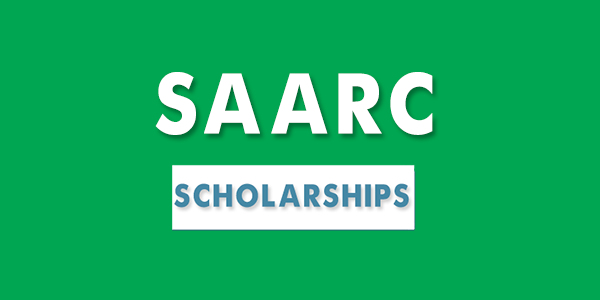 Scholarship Schemes

Offered by the Sri Lankan Institute of Information Technology, the SLIIT scholarships are undergraduate scholarship schemes awarded each year to students from SAARC countries. Intake is usually one student from each SAARC member state, so one Indian student will be fortunate enough to win this scholarship each year.

SLIIT scholarships are available for the fields of Business Management, Information Technology or Engineering. Requirements are an excellent academic record. Preliminary application forms can be downloaded online, and must be duly filled and sent with copies of education transcripts and certificates, copy of birth certificate and copy of passport. Scholarship amounts vary depending on the course applied for.

Every year the scholarships offered by other SAARC countries to Indian students changes, depending on availability. Other SAARC scholarships that have been available in the past include the 2014 UNESCO Madanjeet Singh Scholarships for SAARC countries in Bhutan, MBBS scholarships to study in Bangladesh in 2015-2016,


Applying for SAARC scholarships

SAARC scholarship and fellowship notifications are posted on member state embassy pages, the official SAARC Secretariat website and on the SAARC social media pages. National newspapers also advertise seats offered by other countries each year, and applications usually have deadlines of 30 September each year. Interview calls to candidates are usually carried out by 15 November and interviews are typically conducted by 16 December.

Scholarships are typically offered for Graduate, Postgraduate and PhD programs in SAARC countries, in purely academic programs. Fellowships are offered for PhD students who may be working in a research body or university, but are looking to build an academic career. Chairs are also offered to university professors and individuals at equivalent levels for positions in other SAARC countries.

Indian students interested in studying overseas in SAARC countries should keep an eye out for advertisements in national newspapers each year, as well as the website for ICCR.


Funding

Funding offered by SAARC scholarships and fellowships are generous. Fellowships in other SAARC countries typically offer salaries and allowances at par with the students' own university or the Host University, whichever is higher. Tuition, admission, visa fees are waived and establishment allowances, book allowances and medical care are provided. Return air fare is usually provided by the Indian government.

Scholarship stipends typically cover all local expenses comfortably. Applicants are additionally offered fee waivers, tuition waivers and visa fee waivers. Additional allowances are paid for and return airfare is funded by the Indian government in economy class.

Several talented Indians each year avail of SAARC scholarships and fellowships to pursue higher education or research and return with greater sensitivity and knowledge of South Asian problems and developmental goals.