Study in United Arab Emirates

Apart from all developed countries like US, UK, Australia, etc., candidates also show interest to have higher studies in United Arab Emirates. If you are among them, please find below the details which will help you to make your dream true.


United Arab Emirates- General Details
As establishment as a country in 1971, United Arab Emirates is a young country. It has Saudi Arabia, Indian Ocean, Arabian/Persian Gulf and Oman as borders surrounding it.
It is growing economically and following multiple social transitions to adjust internationally.
One can find this country at a center of global map which is having varying economic based on its petroleum products, education, construction and tourism and banking.
As a point of attractions, the UAE has innovative architecture, man-made islands, camel racing, water sports, amusement parks, desert safaris and many more. For all these reasons, students never mind selecting it as an option for higher studies.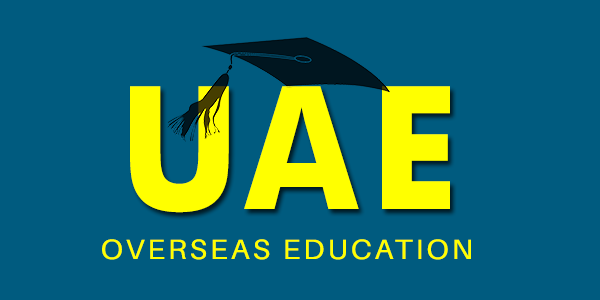 Why study in UAE
UAE is continually growing in terms of economy and education. The number of international students got doubled in the last decade. Most of the population is from top countries like US, UK and Australia. Students from other countries like France, Canada and India are also going to UAE for higher studies.
One of the basic reason for this is, the UAE has a wide range of subjects for post graduation or master's degree. It includes demanding field like Management, Information technology (IT), Business and Marketing. They have recently made IT a top priority course in education and that is again a reason for the attraction.
Apart from these above mentioned regular degree courses, the UAE also offers some professional courses for non-UAE professionals for their profile enhancement. These courses are taught in other languages, including English. They have many other part time courses which can be pursued through evening classes along with regular courses. Some accelerated courses are also available with one year duration.


University details
The universities in the UAE are basically of 2 types. These are Private Universities and State-Funded Universities. The top 3 Sate Funded Universities are United Arab Emirates University, Zayed University and Higher Colleges of Technology.
Top 3 private Universities from UAE are University of Sharjah, The American University of Sharjah and Dubai International Academic City.
Most of the UAE universities have campuses for International students. These are located in mainly in Dubai and Abu Dhabi.
Many of Universities from UK, USA and Europe are also setting their branch campuses in UAE to attract International Students.
The Academic year includes 2 semesters just like the Indian education system. It can be 3 semesters per Academic year for some accelerated programs. The session starts from September to December/January and next semester from January till June.



Fee details
The tuition fee in UAE is calculated as per credit hours of the courses and one need to calculate how much credit, he or she needs to complete a particular course. One may expect around USD$3, 000 as tuition fee for state universities. For Branch campuses, the candidate needs to pay the fee as per their home universities rules and terms.



Living cost and Accommodation for students in UAE
The staying in major cities of the UAE is not at all cheap. Particularly Dubai and Abu Dhabi are very expensive cities there.
Students can have 2 options to have a reasonable stay in UAE till their course completion. It can be any Private accommodation like a house or flats on rental basis or it can be University accommodation in the University campus. Most of the students select the later one as that is more reasonable for them and that also save their money and time by avoiding much traveling.
If one chooses to stay privately on the rent, the charges can be approximately 5,500 AED (£950) for 1 bed city center apartment, 3,300 AED (£580) for 1 bed outside city center apartment, 8,200 AED (£1400) for 3 beds outside city center apartment and so on. International students consider such options on sharing basis which makes this option a bit reasonable for them.