Things to know before you plan to study MBBS course abroad

In India, for medicine course there is a tough competition among the students in various states of our country. Many many students get disappointed after not getting any seat in any of the Indian colleges after their hard work to get through the entrance test. In this article, I gave some basic information that every student has to know before they plan to study MBBS course abroad.


Introduction
In India there is a lot of craze for medicine course among students and there are quite a few medical colleges in India . But the number of seats available to study this course is very limited and thus the competition is very high in India. But in many foreign countries, it is very easy to get medicine course seats for good and even for average students. If students select good and reliable medical colleges and if they work hard, they can achieve their aim and goals very easily.


Countries offering good and reliable medical education
China, Ukraine, Philippines, Kirghistan, Georgia, Central America, Tajikistan are the prominent countries which are giving good medical education without payment of donations or conducting any entrance examination. Indian students are fulfilling their dream of becoming a doctor by studying abroad. If students are brave enough to take their course in foreign countries, one can successfully complete their course within 15-25 lakhs including all expenditures. Students can come back India with MBBS Degree successfully in stipulated time. Then they have to undergo screening test in India to start their practice as a doctor.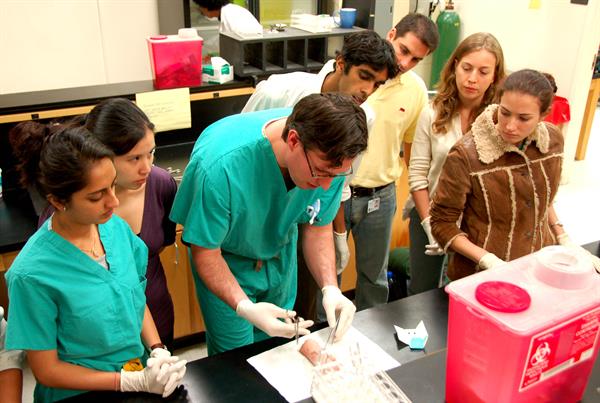 Medical students learning about stitches (Courtesy:-commons.wikimedia.org)


Qualifications required to study medicine course abroad
A student who wish to study in the medical colleges of above countries must complete 17 years of age by December 31st of joining year for the course. The student must possess a pass certificate in Intermediate or any recognized Board's plus two Certificate with Physics, Chemistry, Biology, English as subjects and the course also must include practicals for science subjects. The student must study this course with English as medium. For SC/ST candidates, a pass with 40% is enough in the Intermediate or equivalent course according to MCI rules of India.
Here is How to pursue MBBS Course with less expenditure by Indian students abroad


Student has to acquire Passport and Visa
Those students who wish to study medicine course abroad must acquire Passport well before they apply for the course. Student can apply for study Visa through any of the Passport Authority of India Offices located in major cities or from local sub Passport Offices through online. Nowadays any student who apply for Passport with proper details and support documents are getting Passport within a week.
Certificates required to apply for Passport:-

10th Study certificate/Marks Memo


For residence identity-Aadhar Card like proof


Birth Certificate (Form 5) issued by Office of the Sub-Registrar Birth & Death or Municipal Office or Panchayat Office

Student has to get admission in the chosen college through online mode or through an agent well before leaving to that country to join in the college. After getting admission, student has to get Visa stamping from that country's Embassy. Student has to appear in person in the Embassy for issuing Visa for countries like Kirghistan and China. For Ukraine and Philippines like countries there is no need for the student to appear in person to get the Visa.


Important things to remember before student leave the country
Student has to book Flight tickets well before their time of joining the college
Prepare yourself well to pay the admission fee and accommodation fee as soon as you register in that college to take the course. Take an internationally useful ATM/Debit Card of your account in our country which can be used for personal expenditure in that country.
Study in detail about the climatic conditions, customs of the country and local people, details of college environment, facilities and draw backs well before you join the college so that you can adjust yourself easily to the conditions.
Some consultancies arrange Mess facilities with Indian traditional meals and so they have to consult and utilize such facility to overcome the inconvenience of food problem for Indian students.
Taking Health Insurance is very important for the protection of the student and parents on health grounds. By bad luck if the student become ill, Insurers provide financial assistance for the student to go back to his country or the parents to visit the student in that country.
A student who wish to study abroad must possess strong will, self determination, adoptable and adjustable nature to overcome the prevailing conditions there to complete the course on foreign soil.
Precautions to be taken to choose a college for study
The following care is to be taken before a student choose a college to study the medicine course abroad.

The college chosen for study must be a recognized college of Medical Council of India (MCI) list otherwise the MBBS Degree got through the college/University has no value.
Student must ascertain well before joining that the college is giving the medical course strictly through English medium only.
Student must ascertain the tuition fee and other expenditure incurred for the completion of course.
Student must well ascertain the duration of the course, the number of semesters for the course etc. well before joining the course.
Consult the students of the previous batches of that college to ascertain the quality and standard of education that the college is providing.
Rough estimate of expenditure for MBBS course in various countries
The following is the rough estimate of expenditure for MBBS course per year in various countries. The duration of the course in Kirghistan is 5 years and the academic year starts in the month of September, January. An yearly expenditure of 3000 US dollars is expected in IUK University and 2,500 US Dollars for other colleges in this country. The duration of the course in China is 5 years and the academic year starts in September. An expenditure of 5,000 US Dollars expected in the colleges of this country. The duration of the course in Ukraine is roughly 6 years and an expenditure of 4,000-5,000 US dollars expected in this country. Academic year of the course starts in the month of September. In Philippines the course duration is 5 1/2 years and the academic year starts in June, January. The yearly expenditure expected in this country is roughly 4,000-5,000 US dollars. In Central America the course duration is 4-6 years and the academic year starts in the month of September. An yearly expenditure of 10,000 US dollars expected in this country.


What to do after completion of the course
Student has to study the course in the colleges recognized by the Medical Council of India (MCI) in the above countries. Then certificates obtained through such courses will be recognized in India after the student going through the Screening Test conducted by MCI of India. After passing in the Screening Test, the student has to do house surgeon per one year in MCI recognized hospital in India in order to get registered as a doctor.


Conclusion

Students who really wish to take doctor profession in their life need not to be worried as they don't get seat in Indian colleges and roughly with same expenditure they can complete their course in the above foreign countries. So the thing they really need is strong desire, will power, strong determination, adoptable and adjustable nature to complete their course on foreign soil.