Getting loans made easy through International Student Loan Program

Ardent about studying in one of the top universities in the United States, but unable to fulfil your aspirations due to lack of funds. Not to worry at all, when International Student Loan is there to take care of all your financial needs. Get to know more about how you can avail loans in the United States through International Student Loan Program.


International Student Loan Program – Why you should go for it?

Among all countries, studying in the United States is perhaps the most popular choice for students all over the world. The same is true for Indian students too. But studying in the United States is very expensive, especially for an Indian student. In case you do not have much support in the form of grants and scholarships, to cover a large part of your expenses, it becomes difficult or almost impossible to sustain your education in the US. Moreover the scholarships and grants that you may somehow manage after lot of competition, are often inadequate. Other than spending from your own pocket, the only option you are left with, is taking an education loan from the cheapest available source. But loans don't come cheap or very easily. You have to struggle a lot and justify yourself and your paying capacity to the loan disbursing agencies. Most often, your loan application gets rejected because of one or the other reason.

But you don't have to despair when International Student Loan Program or ISLP is there to take care of all your financial needs. It covers most of your expenses when you are in the US. From tuition fees, boarding, lodging, books, travel, transportation and insurance, it covers all. Do remember that it's not necessary that you take loan for your complete education. You can continue to avail of the grants and the scholarships which you can obtain from various sources and the shortfall can be covered up with the loan.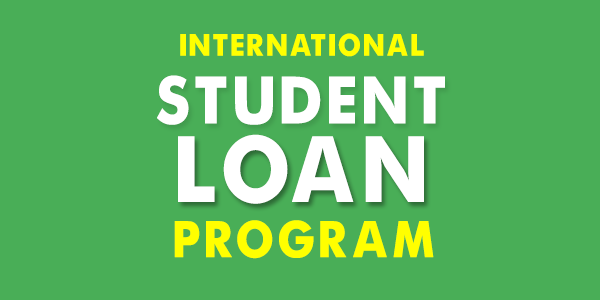 How International Student Loan Program can benefit you?

International Student Loan is an easy tool that can find you the best loan in no time. You can compare among the various loans available and decide on which is the most suitable one for you. Once you have decided upon the best possible terms, you can simply apply for the loan online. Whichever loan you apply for, International Student Loan provides you with a convenient way to borrow funds and continue your education in the United States. It can thus help you realize your dreams of studying abroad in a top university in US.


Eligibility criteria

For availing an International Student loan, the foremost criteria is acceptance of your candidature by a university in the US. Other requirements vary from lender to lender. However, the following three requirements are to be met by every international student vying to study in the US.
A student visa.
Proof of your educational qualifications.
Proof of acceptance to a college or university in US.
For students coming from non-native English speaking countries like India, there is an additional requirement. This is regarding your skills in the English language, through tests like IELTS or TOEFL. You need to score a certain minimum in such tests.


Three steps to find your student loan

A student can follow the following three steps to find the most suitable loan matching his or her needs.
The first step is to use the loan comparing tool, to compare different loans. For that you have to select your citizenship, whether US or non-US, the name of the state and the college which you will be attending. On clicking 'Find My Student Loan' you will find a list of loans meeting your criteria.
Go through the list and see which lenders are available for the college you have opted for. Review the list and compare the terms and conditions for the different lenders.
Once you have decided upon the loan, depending upon your requirement, select the one that meets most of your needs and click to start the online application form.
Evaluating your student loan

While comparing the different student loans available, you should consider certain points with respect to the fees, interest rates, repayment options and your ability to pay. Points which you should take into account are total cost of the loan, monthly installments, interest rates, repayment period and deferment options, if any.


Need for a cosigner

For all non-US citizens and for many US citizens even, it is essential that a cosigner will have to complete the online application form. The cosigner should be a US citizen or a permanent resident of US, living in the US for the past 2 years and having a good credit record. A cosigner is essential, as he or she ensures payment of any outstanding debt in case the applicant falters in repayment. The more creditable your cosigner is, the more likelihood of your loan application getting approved and lesser will be the interest rate. You will have to ensure that you are able to repay your loan along with the interest within the stipulated time. In case of any lapse from your side, the cosigner will have to pay the funds back. In case you feel that it is not possible for you to arrange a cosigner who is a US citizen, then you can look for loans through Global Student Loan Corporation. For obtaining loans through this agency the cosigner need not be a US citizen, he or she can very well be from your own country.


Approval and repaying your student loan

Once your loan application is submitted online successfully, it gets approved within weeks. Once approved, the loan amount is sanctioned by the concerned US bank directly to your college, which in turn disburses you the funds.

The terms for repaying the loan, entirely depends upon the lenders. These things are clearly laid out in the agreement and the students are expected to repay the loan as agreed. Federal lenders and other organisations specializing in student loans often have a forgiveness period. These lenders permit the students to continue their education without paying back the loan till their education is over. A further grace period of six months is allowed before the students are expected to pay back. But in comparison, private lenders expect you to pay back the due amount during your studies itself or soon after you graduate. Unfortunately, federal loans are not available for international students. They have to avail funds through private lenders. So it is essential to decide upon the lender depending upon their suitability and your level of comfort in repaying the dues.


A few other important points worth mentioning
It should be remembered that a cosigner is an essential requirement for all international students applying for a loan through International Student Loan Program. A student is expected to find a cosigner of his/her own. One can find a cosigner through friends and relatives having relations in the US. The cosigner should have an excellent credit record.
It may so happen that you may not find a lender through the loan comparison tool. In such cases the student has to contact the college itself for any loan facility for international students or apply through other agencies.
Another point worth mentioning is the school or college where one intends to join should appear in the loan comparison tool. In case your institution doesn't appear, that means no loan programs are available.
Contact details
www.internationalstudentloan.com - The website address for getting all the information regarding student loans for pursuing studies in the US. The site helps you in answering many of your queries regarding loan from various agencies.
www.internationalstudentloan.com/international_student/faqs.php - The FAQ section, that helps you in clearing your doubts.
www.internationalstudentloan.com/international_student/info.php - Interest rates and loan repayment is explained at this web page .
Email - service@internationalstudentloan.com
Postal address - 224, First Street, Neptune beach, FL 32266, USA
Boon for Indian students

International student loan program has been a boon for students from countries like India. For many it would not be possible to complete their education without availing funds through this program. The best part of such loans is the ability to borrow the total cost of your education sans the grants or scholarship you receive. So go for loans through it, in case you are thinking about studying in an American university and need money to fund your studies as well as your living expenses in the United States.