Why study in the Netherlands

One of the most economically stable countries in Europe, the Netherlands offers a vibrant student culture and lots of cost effective scientific and engineering programs. The Article talks a brief about Netherlands, its cultures, research courses, universities, famous places, etc.


Overview

The kingdom of the Netherlands consists of four countries, the Netherlands itself in Europe. The country's formal name is the Netherlands, meaning 'low countries', because most of the land is at or below sea level. It is also often called 'Holland'. The capital of the Netherlands is Amsterdam where you will find more than 20 education institution of different sizes. Though the capital city of the Netherlands is Amsterdam but the seat of the government is at the Hague. Nearly 40% of the country's population lives in Randstad- this area is made up of cities like Amsterdam, Rotterdam, The Hague and Utrecht. The people of the Netherlands are very friendly and welcoming nation. They are open minded and tolerant people. The Dutch culture is very diverse in most cities and their Universities.
The Netherlands is the home to some World famous companies like Philips, Endemol, KPMG, Unilever, Robobank and more.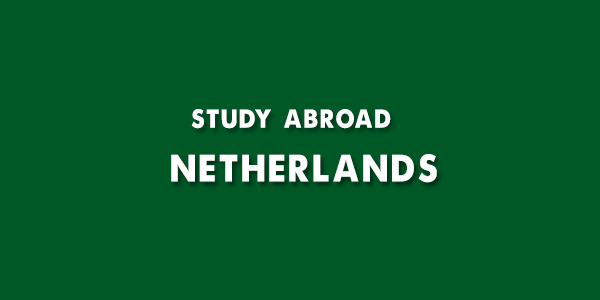 Why study in the Netherlands?

It is true to a certain extent as a majority of the institutions offer their courses in Dutch, but now more premier Dutch institutes are offering courses taught in English for overseas students. Few key points are:

The courses are extremely challenging and are designed for brilliant students
Scholarships are offered by most institutions
Chances for postgraduate research in areas like electronics, CS and engineering are high
Usually prices of essential commodities are high, but student can save money by shopping at weekly farmer markets
Standard of living is high but accommodation in student hostels or a home-stay will help students to save money
Universities

The Netherlands is one of the oldest and most highly recognized systems of higher education. It includes 13 universities in the Netherlands, five of the these are within the global top 100. The nation's highest ranking institute is the University of Amsterdam (55th rank in the World), other famous universities are: Delft University of Technology (rank 64th in hte World) and Utrecht University (rank 94th in the World). The complete list of top six Dutch universities in the World for 2015-16 are:

University of Amsterdam: It is the largest higher education institute with more than 31,000 students. Established in 1632, it is the third oldest university in the Netherlands.

Delft University of Technology: It is the oldest and largest public technical university. Established in 1842, it teaches about 19,500 students, with engineering, CS, mathematics, applied science and policy management in technology streams.

Utrecht University: Established in 1636, it is another oldest and most prestigious university in Europe. More than 30,000 students are enrolled across the universities.

University of Groningen: It is the fifth ranked university in the Netherlands which is established in 1614. About 30,000 students are currently enrolled.

Eindhoven University of Technology: It is well reputed in the engineering and technical fields. More than 7,100 students, it conducts high level of research.

Leiden University: Another oldest university in the Netherlands, Leiden University was founded in 1575. It has more than 23,000 students.

Other well known Dutch universities are:

Wageningen University
Erasmus University
VU University
Radboud University
Tilburg University
Maastricht University
University of Twente
Various courses

Higher studies in the Netherlands is subsidized by the Government. The tuition fees are comparatively low than the mail study abroad destinations- USA, Australia and the UK. High quality education with relatively favorable tuition rates and lots of English language courses are the key points of the Netherlands' study. Now almost all courses offered to international students are taught in English and Dutch. Study in Netherlands is similar to other popular study abroad destinations:

Bachelor Degree (BA, BSc, BEng): 3-4 Years
Masters Degree (MA, MSc, MEng): 1-2 Years
Ph.D.: 4 Years

There are three different types of institution, these are Research Universities, Universities of Applied Science and Institutes for International Education.

Bachelors: Available at Research Universities and Universities of Applied Sciences
Masters: Available at all Institution types
PhDs: Available only at Research Universities
Student culture

Student life and culture can be really exciting. Dutch are friendly who love football, fine art, technology, good food and drinks. Student visiting Netherlands from Asia can expect a cultural difference. Here 'soft drugs' is legal, lesbian and gay rights are respected seriously and no discrimination is made. They are progressive thinkers and they have a genuine respect for the state of the law.


Course fees and Living cost

Euro is the currency in the Netherlands. Approximate cost of living is ERO 800-1,100 per month for an overseas student. Discounts are also available on various activities and transport cost can be reduced by buying a discount card for train travel. Scholarships are also available for a variety of courses and student nationalities. It is as expensive as the UK.


Places of interest

More than 16 million people live in the country where the main language is Dutch but most of them speak excellent English. It has a chilled climate with mild winter and cool summer. Main tourist highlights in the Netherlands include:

Anne Frank Huis in Amsterdam
DAF Museum in Eindhoven
Keukenhof Gardens in Lisse
Mauritshuis in Den Haag
Van Gogh Museum in Amsterdam