Student Visa details for UAE

Planned for higher education from UAE and wondering how to get a student Visa for that? If the answer for the above mentioned question is "Yes", then you are at right place. Please find all the details related to Students Visa for UAE in this article.


Student Visa for UAE
As per the laws of United Arab Emirates (UAE), all non-national students require "Student
Entry Permit" and then a "Student Residence Visa" to pursue higher studies in UAE. These must be having validity for the duration of their course.
UAE provides visas for students pursuing any course/ academic program for the validity of 12 months. After this duration, candidates can get their visa renewed each year if required for their full-time course.
To initiate the visa process, the first thing is to obtain/accept an Offer of Admission from any UAE university. Then you need to all academic conditions and to submit all required documents including financial proofs. Once all this is done, your Entry permit as well as your Residence Visa application will be processed without any problem. This whole process takes around 15-20 working days. The application may go for security check by government authorities of UAE if they find something suspicious. This security check may delay the process of visa application approval.
UAE government also has an express service for visa approval that takes around 7-10 working days, excluding the time that may be taken for security check.
It is always recommended that students apply for their student visa as soon as possible to avoid any kind of delay in joining their respective universities and course.
Another important thing is to have medical insurance which must be valid for the duration of your study in the UAE. It is mandatory for all students who are trying for the student residence visa of UAE. Another option is to have University's medical insurance that can be purchased by paying additional cost.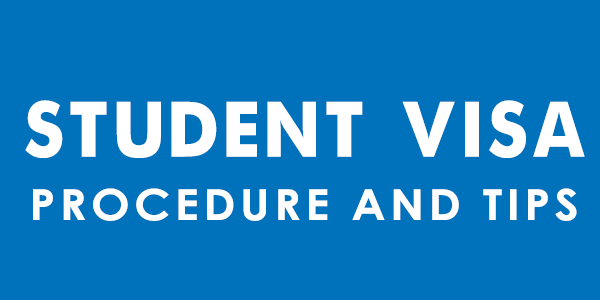 Documents required
Following is the list of required documents for Student visa application-

The very first thing is filling the visa form. This can be downloaded from- "http://www.hw.ac.uk/documents/dubai-student-visa-form.pdf"


Another important required document is Students Undertaking Letter. Its format is available at "http://www.hw.ac.uk/documents/dubai-student-undertaking-letter.pdf"


Colored Copy of Passport copy is required. Please note that your Passport must have a validity of at least 6 months at the time of application.


Passport size, colored photographs should be attached with the visa application. The dimension of the photo should be 4.3 cm x 5.5 and it should be with white background. In case of online application, the format must be JPEG and the maximum file size should not be more than 30kb.


Visa application also requires a proof of enrollment at any University in UAE. An invitation letter from university will also serve the purpose.


A copy of a receipt for tuition fees paid to the university is required at the time of visa application.


Completed medical insurance documentation is also required for the duration of stay in UAE. This medical insurance can also be purchased from the university by making separate payment.


Bank statements are required as a financial proof supporting your ability to bear the living cost in UAE.


A tenancy agreement may also be required if a candidate is willing to stay out of the university campus. In another case, letter from the university is required when students are choosing a university campus as his/her accommodation.


Certified copies of previous qualification should be kept ready to present at the time of requirement.
Fee details for student Visa
The total visa charges include the fee decided by UAE Government Services Office (GSO) and University service charges. The charges imposed by GSO are subject to change and need to inquire freshly at the time of application.
Processing of new visa- In this case, the GSO fee is 1730 AED and University charges are 900 AED. It is included medical test.
Refundable Visa Deposit- GSO does not charge anything for this. University charges are 3000 AED which is refundable at the time of completion of course.
Medical Insurance- It is only applicable when candidates are willing to get medical insurance from the university. The charges are 1399 AED for the same.

For Express Visa application, the additional charges of 1100 AED are applicable to regular GSO charges. Please note that this Express Visa service is available only for new Visa application.


Student Visa Cancellation
The UAE has strict rules for student visa cancellation. Your Residence visa must be cancelled upon completion of your full time course and it should be done before leaving the UAE. This cancellation process takes around 20days from the date of placing requests for the same.
Please note that, any candidate who fails to follow proper cancellation process may get absconded by the UAE Government Service Office. If this 'Absconder' is not removed, then you will not be able to enter the UAE in the future. The government may also charge you an 'Immigration Fine'.
The procedures required only 2 documents- Original Passport and Original Emirates ID card.


Visa Cancellation charges
The Visa cancellation charges are around 450 AED for all general cases. If anyone opts for express cancellation service, then additional 550 AED will be charged.
If any candidate is not submitting his/her documents like passport and Emirates ID card, then the charges will be 1460 AED.
For students having "Student Absconder notice", the charges are 1950 AED.


Attendance Monitoring System
This is a new a unique arrangement made by UAE universities to monitor the activities of International students enrolled in universities in the UAE. The universities take it as their responsibility that students are regularly in their class and are not involved in other objectionable activities. For this, all the universities have implemented biometric fingerprint technology, which supports them record the attendance of their students. They are supposed to inform the Government Services Office (Dubai Government), if any student has missed his classes for more than 14 days.