Why to study in Brazil?

Apart from all developed countries like USA, UK or Canada etc., students are also showing their interest to have higher studies in some offbeat countries like Brazil. This article provides you a detail information about Brazil and its culture, living cost, universities, various degree courses, fee structures, scholarships, admission and visa procedures for International students.


Overview

Brazil is as diverse a country as one can find in South America. It is a fascinating location for any postgraduate student looking to live in a country known for exciting cities, dynamic cultures, stunning beaches, soccer balls, delicious food, music and the nicest people you will meet in the World. Music is a big part of a Brazilian's life. Although a majority of Brazilians take English classes in High school and college, most of them do not speak a workable level of English. But the good news is their official language, Portuguese is not a difficult language to learn if you put your mind to it. So, before you plan for studying a Masters' in Brazil as a study destination you need at least some knowledge of Portuguese language. Most of their university sites are in Portuguese. Currently, Brazilian universities are on the rise. The Brazilian economy is one of the fastest developing in the World too.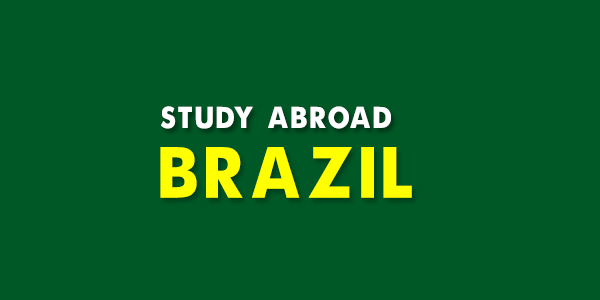 Why study in Brazil?

Brazil is South America's largest country and has so many number of universities and institutes where you can study. Its developing economy has push towards improving education standards and attracting Overseas students.
There are some types of university where you can study an undergraduate degree in Brazil include:

Federal government managed universities
State government managed universities
Municipal government managed universities
Private universities

An undergraduate program in Brazil will take 4 years to complete. But few professional degrees, such as medicine, law and engineering may take up to 5 years to complete. You must be able to speak and write Portuguese, this is a requirement here in Brazil. Whether home or international, all student will have to pass an entrance exam known as Vestibular. These normally take place in December or January.

Brazilian universities dominate rankings in Latin America, with 17 Brazilian institutes in the top 50 in the Latin America University ranking. Brazil has more than 100,000 researchers and scholars engaged in research at private and governmental institutions. Brazilian graduate program deliver 30,000 masters' every year.


Universities

Brazil is home to many of the most competitive universities in Latin America, some of them are present in World university ranking as well. BRICS (Brazil, Russia, India, China and South Africa) was developed to highlight and track the performance of universities. Following are the top universities in Brazil based on recent QS ranking releases:

Universidade de São Paulo (USP)
Universidade Estadual de Campinas (Unicamp)
Universidade Federal do Rio de Janeiro (UFRJ)
Universidade Estadual Paulista (UNESP)
Universidade Federal de São Paulo (UNIFESP)
Universidade Federal de Minas Gerais (UFMG)
Universidade Federal do Rio Grande Do Sul (UFRGS)
Pontificia Universidade Católica de São Paulo (PUC-SP)
Pontifícia Universidade Católica do Rio de Janeiro (PUC-Rio)
Universidade de Brasília
Fees Structure

Tuition fee for overseas students in Brazil vary from university to university, but you have to pay around US $2,000 per year. However, most of the public universities do not charge tuition fees, so you will have to pay a registration fee. Universities in Brazil do not offer accommodation to their students, so most of the overseas students live in private accommodation. It is always better to contact your chosen university in advance to see if they can provide you with advice on where to stay. It might be a good idea for booking into a hostel for the first month or so to find accommodation once you are in the country.


How to apply?

Master program Applicants often have to take entrance examinations but there are other selection processes also. Entrance examinations, when they are required, may include written tests and an interview. Most of the countries provide application for postgraduate courses through online via individual university websites. The academic year starts in February so make sure you check with admissions departments of individual institutes when the deadline is. You have to provide below documents as a part of the application:

Application form
Official copies of diploma courses
UG degree mark sheets and certificates
A CV to include participation in relevant courses/meeting/experiences in teaching etc.
A receipt copy of paid application fee
2 or 3 reference letters
Visas and Immigration

As a student, you have to apply for a visa belonging to the category of "temporary residence" visas which is more valuable than the simple tourist visa. Visas for studies in brazil are issued for up to 1 year (renewable). You need to apply for student visa well before your departure to Brazil at a Brazilian embassy. Usually it takes 2 to 3 months. Students have to submit the following documents for a temporary residence visa:

Application form in duplicate
A passport with minimum 6 months remaining validity
2 passport size photos
Police statement of no criminal record (less than 3 months old), 1 original and 1 photocopy
Medical examination and yellow fever vaccination card
Proof of sufficient funds for the duration of the stay. This might be bank statements, scholarship letter or a letter of guarantee from your parents

Once you are in Brazil, you have to register with your local branch of the Federal Police within 30 days limit and it will hamper your chances of applying for a visa renewal or extension. It is important for you to double check all your information with the Brazilian embassy in your home country before travelling.

As a temporary residence visa holder, you may also apply for a visa for accompanying family members. Note also that as a student in Brazil you are not permitted to take up any remunerated job and it is the same for any dependents or spouse that comes with you.

As a temporary residence visa holder, you may also apply for a visa for accompanying your family members. When you are requiring a visa renewal, you will have to submit an application to the Federal Police Department at least 30 days before the expiration date.


Scholarships

There are number of scholarships available to study in Brazil but most of them are for 1 year study abroad. The biggest expense will be associated to living costs. i.e. accommodation, transport, meals and books.
Bilateral agreements may have made by embassies to provide study in brazil.

The Brazilian Student Exchange Program for Graduates (PEC-PG)
The French embassy in Rio de Janeiro offers scholarships for French students for Masters' and Ph.D. programs
The Portuguese speaking countries also provide scholarships

Following are few more scholarships available to study in Brazil:

Ping scholarships
Fund for Education abroad
The Council on International Educational Exchange have grants available for American students to study abroad
Global Access Initiative (GAIN)
Living costs

Brazil has a relatively high cost of living as compared to other South American countries. But it is up to you, the higher the standard of living you want, the more you will pay. Eating out, drinks, public transport are all more expensive than other countries.

Lodging with a landlord: R $180-350 per month
Pensionata: R $350-800 per month (room with meals included)
Furnished flat: R $500-2,000 per month depending on the location