What to pack while going abroad for studies?

Are you going abroad studies and not sure what to pack for your overseas travel? Find here the list of items you need to carry along with you for your foreign trip.


Well, you are too excited as your admission in a foreign university is confirmed and you are done with the visa approval for your overseas studies. You / your parents might have sought ways on getting financial aid for your abroad studies.

Find out how to get financial aid for studying abroad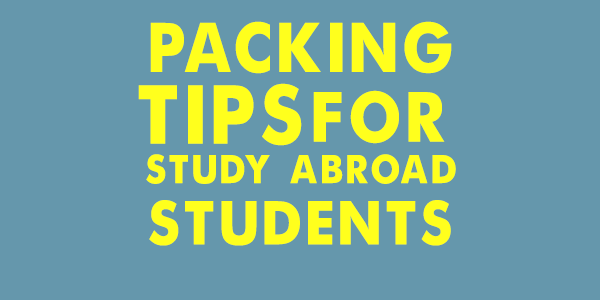 You are gearing up for your big day when you will be flying to a distant foreign land. Now getting confused on what to carry and what not and worried about the weight limit set by the airline. Just wait, stop worrying and go through the following list of items to pack for your abroad studies.

If you are going on a long air travel, then find here some tips for a comfortable air travel


Make a checklist / 'To do' list
The foremost thing to do for your foreign travel is to make a checklist of the important documents / papers that you need carry for your study abroad. Keep a separate folder for all your important things like your passport with the visa stamping page, address book, contact numbers, details of your accommodation, first aid medicines, prescription of medicines, if any and flight ticket. Keep these handy as you need these during departure. So keep these handy in your hand baggage.

Find here the general list of documents for study abroad application process

In case you are carrying reasonably good amount of money (currency), keep it in a travel pouch for extra safety.

If you are intending to go for part-time earning while studying abroad, find on how to earn money while studying abroad


Carry light luggage
Mostly Indian parents, mothers in particular, are too concerned about their children going for abroad studies. They keep stuffing the suitcase with 'this' and 'that' without thinking of the luggage problem. You cannot blame them as it is their love and affection towards their children which is making them to do so.

At times students also end up stuffing their suitcases with clothes, electronic items etc with the fear that 'what to do in a newly landed foreign land when you run out of any of the required stuff'. Remember that you will be out of home for a long period and you need to do everything on yourself. Your dear mom won't be with you to help you out. A tough time for you in the beginning but you need to adapt it. So, you pack your suit case. Keep your clothes in segregation like casuals separately, inner wear, winter wear separately and like wise. While packing clothes, be sure to carry only those which you need. After packing your suitcase, check the weight to see whether it is within the weight limit or not. If not, you need to take out those stuff which are less important for your travel.

Better to carry less winter wear as you can get these for reasonably cheaper rate in the foreign countries. However, it all depends on your affordability. In this way, you can make you luggage as light as possible for a comfortable travel. You may face the difficulty when there is no international airport in the place of your residence and you have to travel to Hyderabad, Delhi, Mumbai or Chennai for your international trip. You will find it a tough time at the time of security check. So, carry light luggage.

You can decided whether to carry or not toiletry items like soaps, talcum powders, make-up kits etc based on your necessity and usage.


Electronic items
Carry one or two universal power adapter so that you don't have issues while using your e-devices. You can carry other electronic items as per your requirement in the foreign land. If you want, you can carry your laptop.

Separate the items like 'must-carry items' and 'not to carry' items. Accordingly, you can segrate the items based on your necessities abroad. Do not carry any of the item or items which you think is excess for you.


Things to avoid
Do not carry any jewelry, particularly, gold jewelry. Girl students can do with the fancy jewelry.
Avoid sharp things like scissors, knives etc in your hand baggage as these are strictly not allowed in international flights.
Do not carry oily / gravy food as these may spill and make a mess of things.
Not to carry heavy blankets, pillows etc as you can easily get these for a better price in the foreign land.
Important tips
Carry fragile items, costly items, important documents and laptop in your hand baggage.
Avoid carrying kitchen items like induction stove, pressure cooker etc as these occupy lots of space. You can easily get these in the foreign countries for better price.
Carry only what is necessary for your foreign stay and avoid anything which you find extra / excess. Or else you get stressed at the time of departure in the international airports.
Do not carry fruits, if you are going to the U.S as these are strictly not allowed in the country.
Most importantly get a light weight durable suitcase for your foreign trip.
Keep a set of clothes in your hand baggage as you may need these in the transit halts.

And finally bon voyage. Make a list of items that you are carrying and keep it with you. Most of the airlines allow two suitcases each weighing 23 Kg. And a hand baggage weighing 7 Kg. See to it that you are carrying only the essential items and not stuffing your suitcases with unnecessary items. Take utmost care of your passport as this is your identity in a foreign land. Never ever, give it away to others but try to safeguard it.

Find here information on how to apply for a duplicate Indian passport