List of top Universities to study in United Arab Emirates

Once decided to go UAE for higher studies, the next question which arises is from which University. In this article, you will find the details for top universities from the UAE which may help you in taking a decision.


Why the selection of good University is important
It is not sufficient to enroll for any course from any University abroad to have to have good career afterwards. The university from where you are pursuing your course, matters a lot in many aspects. The international reputation and marking of university, their teaching technique and stuff, arts plays an important role when you apply for a job. These are the basic reasons which make one think deeply while confirming any university for higher education.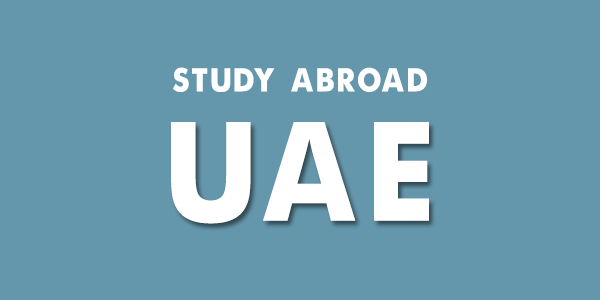 Below is the list of top universities from UAE for those who have planned fro their higher studies from UAE-

Khalifa University
Khalifa University is for Science education and is securing among 481-490 rank in the world. It was started in the year 2017 by the Abu Dhabi government and since then, it is working at a non-profit science-focused university.
The current student role is around 1500 and their new campus plan has a provision to teach around 6000studnets. This University has excellent world-wide partners and highly qualified staff to support advance research in UAE.
It offers 8 undergraduate programmes related to engineering and 7 graduate degree programs. It also serves as a home institute for many research centers in UAE.
The currently available research programs include research related to Energy and the Environment, Aerospace, Information and Communication Technology (ICT), Healthcare, etc.


American University of Sharjah
American University of Sharjah is at 7th position in Arab ranking system. Globally, it secures among 411-420 ranking. It offers education based on US model and has licensed form both UAE and US.
It was founded in year 1997 by His Highness Sheikh Dr. Sultan Bin Mohammad Al Qassimi who was the Ruler of Sharjah and member of Supreme Council of the United Arab Emirates.
It is again one nonprofit, independent institution which supports the co-education system. This University is well known for its Academic Excellence in Middle East region and nourish multicultural campus life. It is holding around 5000 students from all over the world and has around 350 well qualified full time faculty for teaching. AUS has 48 minor and 25 major courses for undergraduate level. It has 13 master's degree programs and one graduate certification program from different sections like College of Arts and Sciences, College of Architecture, Art and Design, the School of Business and Management and College of Engineering. It has accreditation by the Commission on Higher Education of the Middle States.
The fee structure is around 20,000 USD - 22,000 USD for undergraduate courses and is around 18,000 USD - 20,000 USD for postgraduate courses. Please keep note that, fee is similar for both domestic as well as international students.


University of Sharjah
It was started in the year 1997 by the by the Emir of Sharjah, Sultan bin Muhammad Al-Qasimi. It secures 21st rank in the Arab region rankings and through QS World University Rankings, it has a position between 601-650. This university plays an important role in the education of socioeconomic development of the emirate of Sharjah.
They offer educational as well as research programs which are multi-disciplinary in nature. The fee is around 10,000 USD - 12,000 USD for undergraduate courses.


United Arab Emirates University
The United Arab Emirates University is in 6th position in the Arab region ranking and placed in the top 421-430 band of the global rankings. It was established in the year 1976 in the city of Al Ain in the emirate of Abu Dhabi. Being the oldest university of the country, many leaders from politics and business world are belonging to its alumni.
It is offering many maters programs with a fee structure of around 8,000 USD - 10,000 USD for both domestic as well as international education. Its first PhD program was announced in May 2009 which are in connection with national university in the United Arab Emirates. Later on, it started enrolling qualified students for PhD programs in all available faculties. It's PhD program has a facility that a candidate can even pursue studies in his/her own country at the premier national university.
The PhD program is influenced by US and follow the same pattern that is- one year is completely course work which will be followed by research work and then writing of thesis during last 2-3 years of duration. The PhD course at UAEU is managed by the Board of Graduate Studies and interested candidates can contact the Postgraduate Admissions office for getting information about admission.


American University in Dubai (AUD)
It is a private institute started in the year 1995. It is in 19th position in the Arab region rankings and is among top 551-600 universities globally. It serves around 3000 students from all over the world.
It offers undergraduate and graduate degrees along with Certificates in Middle Eastern Studies and Professional Teaching. Along with the chosen course, undergraduate students from all disciplines needs to follow a curriculum in Arts and Sciences. It has accreditation from both US and UAE for all of its programs.
Apart from regular programs, it also offers English language programs at its Center for English Proficiency (CfEP) which, if focused to develop/ enhance the language skills of students. The fee is around 18,000 USD - 20,000 USD for all undergraduate courses.