Top Programs to Study Abroad in Sydney

Why study in Sydney? Apart from the fact that countless internationally acclaimed study programs are offered at the universities, the city has a lot more to its credit. It's among the top 15 largest economies in the world and offers study abroad aspirants a chance to study in an eclectic environment.


Higher education in Sydney reckons among the best in the world. With the QS listing universities in Sydney among the top ranked universities in the world, the city is emerging as a popular hub for overseas students looking to study abroad. Sydney draws students from all across the globe, bringing in lots of diversity into the classrooms. Apart from that the city promises you lots of sunshine, scores of beaches and plenty of activities to bring in an adrenaline rush.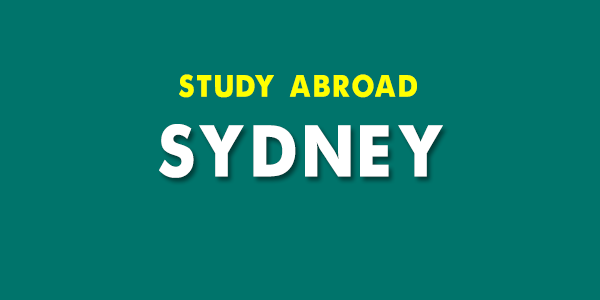 Top 5 universities in Sydney ranked by QS:


With a variety of programs on offer overseas students have a choice to study almost any major – ranging from pre-medical courses to business studies and accounting etcetera. But, which are the best subjects to study at a Sydney university? Here's a list –

Arts and Humanities

The University of Sydney, established in 1850, is the oldest Australian university. It has over the decades gained global recognition for its courses in humanities and arts and in research projects, centred on a field-based curriculum. Students, especially those, impassioned about the arts stand to gain from the numerous events conducted periodically at the museums and galleries around Sydney.

Students of music will find a way to hone their passion at Conservatorium of Music. The campus situated close to the Opera House comprises of over 50 teaching studios and more than 140 pianos, 2 recital halls and 63 practice chambers.

The university associates with international universities, for example Arcadia University in Pennsylvania, besides several global societies that offer student's programs, their home institution notwithstanding.

Some popular programs include:
Australian Studies
Language & Culture
Analysis of Music
Music technology
Biology

Why study biology in Sydney – because it creates the perfect backdrop for students of the subject. National parks, long stretches of coastal beaches and bush wildlife are a live laboratory for biology enthusiasts – providing hands-on experience working in actual habitats. Additionally, the strategically located Taronga Zoo and The Royal Botanical Garden inspire students. The zoo is set within reach of virgin locations, including the Blue Mountain and the Great Barrier Reef. There are several biology programs that students can benefit from, especially at Macquarie and UNSW.

Biology programs to study in Sydney:
Bioinformatics
Biotechnology
Biodiversity and Conservation
Biological Chemistry
Sports and Physical Education

International students can get a head start in their career with a degree in physical education or sports science from an Australian university. The Australian College of Physical Education (ACPE) is a pioneer in the field, having hosted the Summer Olympics in 2000. The institution boasts of several international standard sports amenities and conducts various courses that last between 3-12 months.

Physical education and sports courses that draw international students:
Applied Exercise Physiology
Coaching
Fitness industry trends and Issues
Physical Education Teaching Instruction
Sports Media Management

Sports and Physical Education aspirants can explore other cities in Australia for fitness courses.

Leadership Programs

Sydney has a global presence and is home to multi-national companies, distinguished universities and global organizations that embody leadership. The city is like a stage, set to create and provide education in leadership – which it does.

The Global Leadership Program offered by Macquarie University is best suited for students motivated to take on the world. The program is designed to improve and instil leadership skills through an international standpoint. The university's forte lies in subjects pertaining to the sciences, psychology and business and commerce.

Choice of leadership courses for study abroad students to opt for:
Media
Business in a Globalized World
Sustainable Development
Management

Management programs in Sydney universities are geared for students wanting a career in marketing, finance and international business. Additionally, management students stand to benefit immensely from the diversity the city offers. Opportunities of internships in international establishments can further add to the skill sets of management students in Sydney.

The ICMS International College of Management, Sydney boasts of highly skilled teaching staff with experience in the international business arenas. The universities management programs are therefore highly regarded locally as well as globally.

The country as such has relaxed student visa norms that allow international students to work while studying in Australia. The scholarships to study in Australia are plenty, and help to do away (at least partially) the burden of managing finances.

Management programs in demand at ICMS are:
Business
Event Management
Hospitality
Tourism