Indian Roadmaster review: bulky hulk, feature-packed touring bike

Are you looking for information on the unique features, price and tech specs of Indian Roadmaster bike? This article provides complete information on the various features, price tag and technical specifications of the Roadmaster touring bike.


Vrooming in with a considerable eye-popping impact on the Indian bike scene is the Roadmaster, from the biking stable of iconic brand Indian Motorcycle. Tipping the scales at just a little over 420kgs, it is a bulky hulk. Nevertheless, from top to toe & side to side it has drool-worthy looks and fabulous features. Of course, it is a different question altogether whether it is worth the price tag of Rs.38 lakh as it does not seem very conducive to ride on our wonderful Indian roads!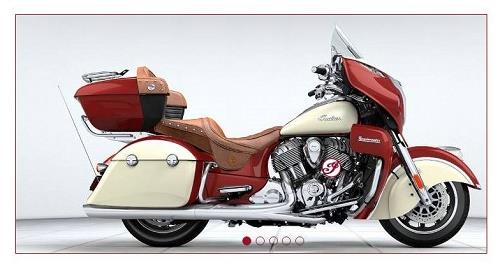 [Image source: http://www.indianmotorcycle.com/en-in]


The Design
The Roadmaster looks like an old-fashioned antique vehicle of a bygone era, at the same time with contemporary looks. There is the tall widescreen windshield at the front facing the rider, resembling the glass shield put up by a policeman when facing a mob. This screen overlooks the instrument cluster panel and wide handle bars. Speaking of the cluster panel, you do not have just the usual speedometer, tachometer, fuel gauge, clock, compass and what-not, but also alert notifications such as vehicle trouble code readout, low tire pressure alert, etc. Pathfinder LED lights illuminate the front war bonnet fender lights, the turn signals, fog lights and even the interior trunk storage lights.



Towards the back is a large trunk for luggage, but this is not the only storage space. On either side below the pillion rider are the panniers with more storage. You can safely keep stuff in any of the 3 spaces, all with secure locking services that can be operated remotely too.

In between the front and the rear is the usual tech stuff, with engine, chassis, etc. then there are the very comfortable seats. Not only can the rider sit and operate the bike with comfort, but the one on the pillion can be equally comfortable on the soft rear seat. This is thanks to not just the back rest (behind it is the afore-mentioned trunk) but also much-needed leather arm rests too (these are accessories). You will likely want never to get off!

As for colours, the options are: Thunder Black, Blue Diamond, Red & Ivory Cream combo (see image above), Springfield Blue & Ivory Cream combo, Steel Gray & Thunder Black.


The Power with grace
Those who have test ridden the Indian Roadmaster have given it a thumbs up for being a good ride due to its motor. It seems the 1,811cc air-cooled V-twin cylinder four-stroke engine does not emit any irritating vibes, accelerates with incredible smoothness and provides for precision turning.

Overall, you are thus not likely to find fault with this aesthetically designed powerful bike. As stated at the beginning of this article, it is probably not suitable for the roads in India. You are more likely to keep it parked in your garage to just enjoy its gorgeous looks & take it out for a spin only once in a while!


Technical specifications
For those particular about the tech specs here they are:

Dimensions: 2,656mm length/1,000mm width/1,491mm height


Displacement: 111 cu in / 1811 cc


Engine: 1,811cc, V-twin cylinder, air-cooled, 4-stroke


Torque: 138.9Nm@2,600rpm


Transmission: 6-speed gearbox, 5-up and 1-down


Fuel system: Closed loop fuel injection/54mm bore


Rear Brakes: Single/ 300mm Floating Rotor/2 Piston Caliper


Front Brakes: Dual/ 300mm Floating Rotor/4 Piston Caliper

Note: these are just the general tech specs. Check out the official website (given at the end of this article) for complete details.

Price of Indian Roadmaster: Rs.38lakh (ex-showroom Delhi)




Where to buy
The list of Dealers of the Indian Roadmaster bike is as follows:

Mahavir Deccan Auto Pvt. Ltd.
Habeeb Nagar, Moosapet, Hyderabad, Telangana 500072
Ph: 9985144005
Email: sales@mahavir-indian.com


Auto Hangar (India) Pvt. Ltd.
Unit No. 4 & 5 - G F, Hubtown Viva,West.hwy., Jogeshwari - (E), Mumbai-400060, Maharashtra
Ph: 07506725471
Email: manan.patel@indian-autohangar.com


West India Quads and Bikes
Nr. Sanathal Overbridge, Sarkhej-Bavla Rd, Sarkhej, Ahmedabad - 382210
Ph: 9978911901
Email: ravi.dave@groupwestindia.in


JMB Motors
New No.23,Nelson manickam, Aminjikarai, Chennai - 600 029
Ph: 9840361000
Email: satishmehta@gmail.com


Exquisite Moto LLP
Prestige Nugget, No 126 Infantry Road, Bangalore-560001
Ph: 9845002304
Email: exquisitemotoinc@gmail.com


Techno Automobiles Pvt. Ltd.
Indian Motorcycle, B-10, info City,Sector-34, Gurgaon-(Haryana) -122003
Ph: 9810007228
Email: care@indianmotorcycle.net.in


Official Website: http://www.indianmotorcycle.com/en-in

If you buy the Indian Roadmaster or are even lucky enough to test ride it, do leave a comment below and share your experience!