One day trip to Jagannath temple and Puri sea beach

Planning a short and quick one day travel to Puri and looking for information regarding Jagannath temple and Puri sea beach, the most important places to be visited in Puri, Odisha? Here is my own experience - A one day trip of Puri.


Puri, the home of Lord Jagannath, is a pilgrimage city in Odisha state of India. This is a great place to visit, it offers a lot to the travelers. Puri is famous for Jagannath temple which is one of the four dhaams (i.e. pilgrimage places), Rath Yatra (i.e. Chariot Festival) held at Jagannath temple and Puri sea beach witnessing thousands of devotees. We planned our one day trip to explore Puri and targeted only two places; they were Jagannath Temple and Puri sea beach. Let's see, how our one day quick tour in Puri was.

Jagannath Temple
Jagannath temple is one of the chaar dhaams in India. This is a major tourists' attraction among Indians as well as foreigners due to its vital significance in Hindu religion. This temple is situated in Puri district of Odisha state in India. This is a holy place where devotees love to visit at least once to have a sight of Lord Jagannath (believed to be the incarnation of Lord Vishnu). It was the month of March. We reached there in the afternoon; it was too hot and we were sweating like hell.
Private vehicles need to be parked in the parking place approximately 1-1.5 kms from the temple as they are not allowed to enter in nearby places of Jagannath temple. From this parking you may cover this minor distance on your own by walking otherwise you may hire a cycle rickshaw, auto rickshaw or a bus meant to deliver devotees nearer to the temple but not exactly in front of the temple. You have to walk little bit from this place too. Road in front of the temple is wider enough to accommodate huge crowd of lakhs of devotees gathering here during Rath Yatra festival every year. We found various small vendors with their stalls on the road or street to make business. There is no lack of beggars too. Have a look at the picture below.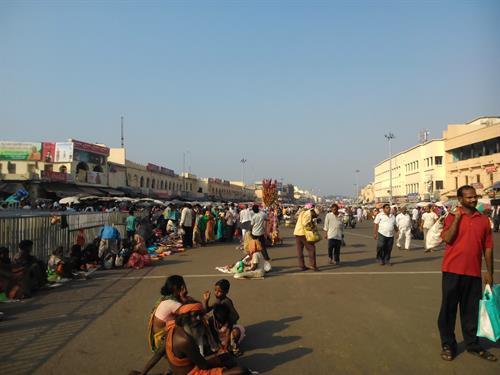 Entries of non-hindus are restricted inside Jagannath temple; a board with strict warning hanged at the entrance of the temple. I really don't understand, why non-hindus are not allowed in some temples? How can one explain a better logic for this thing? Anyways let's leave it here, move ahead and explore the beauty of Jagannath temple existing since many years with the blessing of Lord Jagannath, Lord Balbhadra and Goddess Subhadra.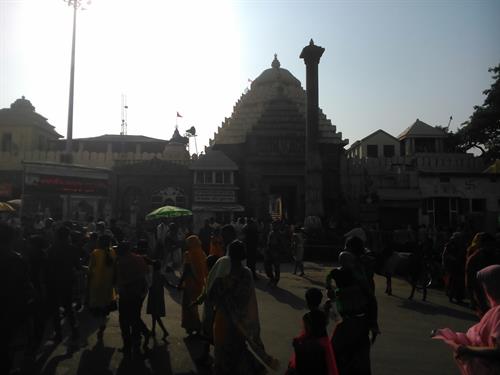 Infrastructure of Jagannath Temple
This is a very old temple spread across a huge area comprising any small temples altogether along with main temple where three deities Lord Jagannath, Lord Balbhadra and Goddess Subhadra reside. It has various sections involved within a complex, mentioned below:
Main temple: This is the main part of the Jagannath temple where three deities' huge idols in wooden form placed and worshiped every day. Other small temples are surrounding the main temple.
Mahalaxmi temple: This is a small and beautiful temple dedicated to Goddess Laxmi. Many other small temples dedicated to Lord Ganesha, Lord Shiva, Lord Ram, Lord Vishnu, Shani Dev, Lord Narsimha etc. are also there in the vicinity.
Mukti Mandap: This is the place where educated Brahmins are found under a roof advising about religious rituals. A common person seeking advice on various religious things can visit this place and ask Brahmins there. They got all answers for your questions.
Anand Bazaar: This is the place where food items for God called Mahaprasad, prepared in the kitchen temple, are served to the devotees at a reasonable cost.
Snana Mandap: This is the place next to the Anand Bazar where idol of Lord Jagannath given bath during Rath Yatra festival.
Niladri Bihar Museum: This is located opposite Anand Bazar and describes the various phases or incidents of Lord Jangannath through pictures and clay models. A minor entry fee of Rs. 5 charged from visitors.
Kitchen: This is known as the largest kitchen in the world and food served to the Lord Jagannath, called as Mahaprasad, is prepared here only. This is really large where everyday 56 types of food items prepared to offer deities of the temple. Temple kitchen is capable to cook for lakhs of devotees in a day. Kitchen area is open for the devotees in the morning while cooking for deities. Visitors are allowed to have a glance over cooking process while maintaining considerable distance. We reached in the afternoon and that time kitchen was closed so couldn't visit inside main kitchen but looked other parts of the famous kitchen area of this temple. All the food items appear in the Anand Bazaar are prepared in this kitchen only. Area dedicated to temple kitchen also consists of numerous rooms allotted to the cooks and assistants involved in cooking. Food is served here in clay pot and taste of the food is awesome. I loved rice kheer the most, it's mouthwatering.

Note:

Jagannath temple remains closed for 15 days during Rath yatra festival therefore devotees visit Alarnath temple in Brahmagiri. This temple is dedicated to the Lord Vishnu and located at a distance of 23 kms from Puri.
To enter into main sanctum you may have to reveal your name or religion and you will be forced by Pandas (priests of the temple) for some offerings. Do not argue with Pandas; they are very rude. Better stay away from them.
You will find many monkeys wandering here and there so stay alert for your belongings.
Winter season is the best time to visit Puri. During summer this is too hot, you won't enjoy your trip due to running sweat over your body.
Read Various Festivals of Odisha to know more about grand celebration of Rath yatra or car festival and other famous festivals of Odisha.
Puri Sea Beach
Now it was evening, after discovering the whole Jagannath temple we left for Puri sea beach one of the famous tourist spots in Puri, Odisha. The distance between Jagannath temple and sea beach is around 5 kms and this is easily reachable by road.
Puri sea beach is an amazing place to visit in the morning or evening period. You will witness here the views of sunrise and sunset both. This is mostly packed with local crowd enjoying their moments with the sea waves. Devotees visiting Jagannath temple do not miss this place because this is considered as a holy place connected with the origin of Lord Jagannath.
There are various small rides and stalls of snacks luring children. Elders love to have camel ride along sea beach. Numerous sea facing hotels are located close to the sea beach offering a better stay at this place.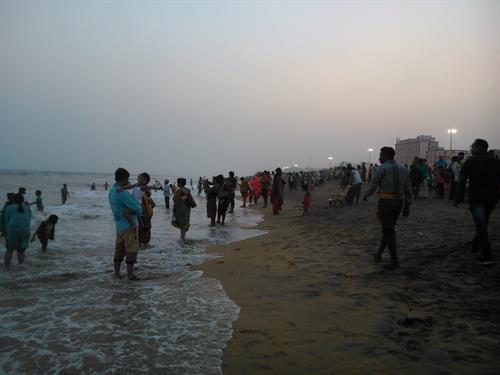 A unique thing, very often you may encounter with, here is the beautiful sand art. Sudarshan Pattnaik is a world famous Indian sand artist from Odisha who is known for his various masterpieces in sand sculptures created at Puri sea beach; he won several awards too including Padma Shri by Government of India. That day we saw a man creating Lord Shiva by sand in the beach. This is how it was looked.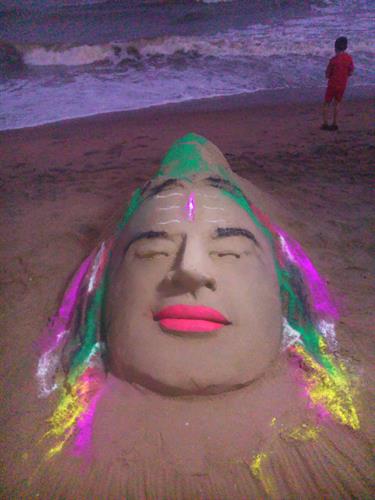 Puri sea beach festival is organized on the sea shore every year in the month of November, then this place looks more lively and enthusiastic with colors, crowd and several giant rides and activities.


How to Reach Puri
Puri is Well connected by road, rail and air.
Nearest railway station: Puri railway station
Distance between Jagannath temple and Puri railway station: 3 kms
Distance between Puri sea beach and Puri railway station: 5 kms
Nearest Airport: Biju Patnaik International Airport, Bhubaneswar
Distance between Jagannath temple and airport: 60kms
Distance between Puri sea beach and airport: 62 kms

You can easily find various transportation modes such as buses or taxis to reach Jagannath temple or Puri sea beach. Other nearby tourists spots such as Konark temple (Sun temple), Chandrabhaga beach, Udaygiri, Khandagiri etc can also covered within a day along with Puri if you leave earlier and have planned your travel perfectly.