SBI recruitment of Probationary Officers July 2016 preliminary exam results declared

Looking for results of the SBI Prelim exam for Probationary Officers? This article gives information on where to check online the results of the SBI Preliminary Exam (Phase-I) for recruitment of Probationary Officers.


In May this year, State Bank of India (SBI) had issued a recruitment notification for applying for appointment as Probationary Officers (POs) in SBI. As per the recruitment process, the exam for selection of candidates will be held in 2 phases - preliminary and main. Candidates qualifying in the preliminary examination would be shortlisted & then have to appear for the main examination. Those qualifying through the main exam would be called for a Group Discussion & Interview. The preliminary exam was held on 2nd, 3rd and 9th July. Now the results have been declared and candidates can check the results online at the SBI website.


Details of preliminary exam
The Preliminary Examination, which was Phase-I of the recruitment process, consisted of Objective Tests for 100 marks and was conducted online. The online test was of 1 hour duration. There were 3 sections:

English Language - 30 questions, 30 marks.


Quantitative Aptitude - 35 questions, 35 marks


Reasoning Ability - 35 questions, 35 marks

Total was thus 100 questions with 100 marks.



Candidates were required to qualify in each of the 3 above tests by securing passing marks as decided by SBI. Now, based on the results, candidates in each category have been shortlisted for appearing for the main exam, tentatively scheduled for 31st July 2016.


How to check results online
Here's a step by step guidance to know your marks of the prelimary exam:



Enter your roll number and your date of birth.

Alternatively, you can enter your registration number and date of birth.

Then enter the string of numbers/alphabets showing on your screen in the box provided for it.


Click on 'Submit' button.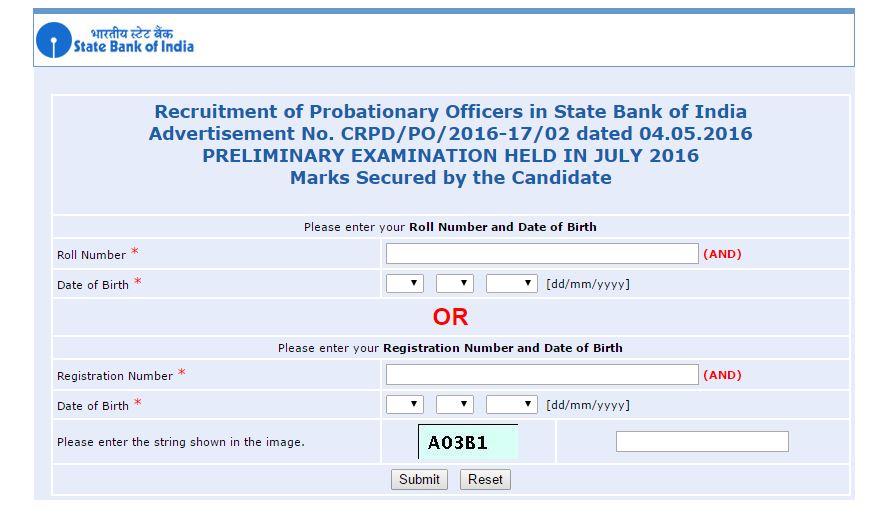 [Image courtesy: SBI official website]

That's it! You can now find out what you scored in the SBI preliminary exam.


What to do next
If you are one of the shortlisted candidates, you will need to download the call letter for the online Main Exam from 21st July onwards. Next, appear for the online Main exam on 31st July 2016. Results of the main exam will be declared on 16th August 2016.



The main exam will be of the format of objective questions & descriptive test. The objective type will be of 200 marks and the descriptive type will be of 50 marks. Both these types, namely objective and descriptive, will be conducted online only. You will first complete the objective test. On completion, right away, you will need to do the descriptive test too, which is by typing on the computer. The objective test is of 4 hours duration and the descriptive test is of 30 minutes duration.

Note that there is a penalty for wrong answers in the objective test, with 1/4th of the marks assigned for the question being deducted. However, if you leave it blank, there is no penalty. Furthermore, only if you have scored qualifying marks in the objective test and are placed adequately high as per total marks in that test, then only will your descriptive test be evaluated.

Website of SBI results: https://www.sbi.co.in/careers/recruitment-result.html

Best of luck!